Raining Aces in Dublin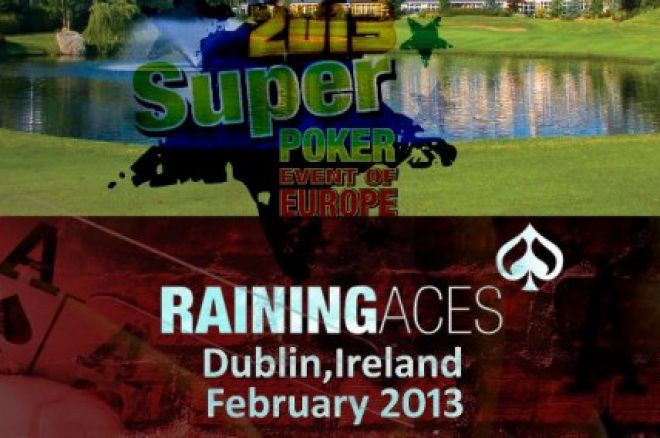 Kolkata-based Raining Aces has announced its maiden international tournament in Dublin, Ireland from 22-25 February 2013. The City West Hotel and Golf Resort in the Irish capital will play host to this event which will feature the Main Event with a buy-in of €300 + €50. According to this press release, the organisers are expecting in excess of 1000 players to show up for the event.
Here's a look at the schedule of events:-
Raining Aces Team Challenge
Buy-in – €460 / Team
22 February,2012.
Time – 7pm.
Rules
1. Players must register in teams of 4, €100 (+ €15 Reg) per player or €400 per team (+ €60 Registration Fee).
2. The tournament runs as a normal tournament does, with a random seat draw.
3. 90% of the prize-pool will go to individual players, while 10% will go to the best performing team.
4. Every finishing position of every player will be recorded. Each player receives the number of points for their finishing position (i.e finish 65th and you will receive 65 points). The team with the lowest score at the end is deemed the winner.
Main Event
Buy-in – €300 + €50
23rd February, 2013.
Time – 12 pm.
Expected Prize pool – € 300,000
Time : 12pm
Raining Aces High Roller Championship
Buy-in - €750 + €75
24th February,2013
Time – 6pm onwards
I love Cash Games
The rake on cash games is 5% capped at €15 per pot in normal stakes games (€50 up to €500 games) and 5% capped at €20 per pot on high stakes tables (€500+ buy-in).
Online and Live Satellites for the whole tour packages will be announced soon.
Packages include airfares, accommodation, Main Event & High Roller Championship buy-in and spending money.
Follow the Raining Aces page on Facebook for updates :
Registration : http://superpokerevent.com/register
For accommodation log on to : http://www.citywesthotel.com/index.html
For flight booking : http://www.makemytrip.com/international-flights/
Contact for flight booking over phone : Mr Vijay Singh - 9163610277 (Code : Raining Aces)
In order to know more details, please feel free to contact us:
Asia
Debarshi Chatterji
Mail: debarshichatterji@rainingaces.com
Mobile: +918793302857/+919831992311
Europe
Stephen Mclean
Mail : stephen@pokerireland.ie
Mobile : +353 (0) 87 2424 626