Help Yourself to a Free $50 on Poker770; Boost That to $70 With the Cash Machine Promotion
PokerNews Staff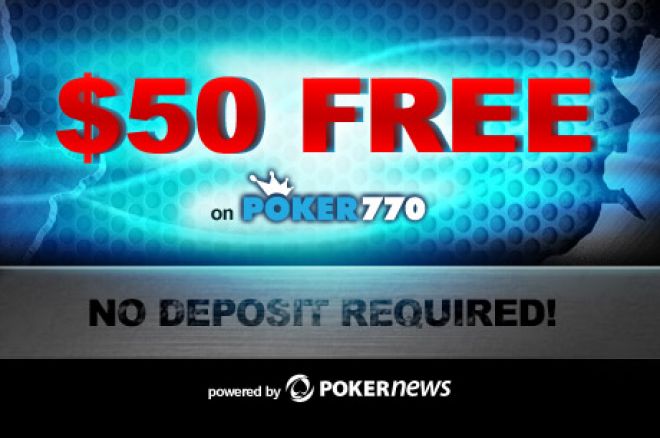 Thanks to the special relationship PokerNews and Poker770 share, PokerNews customers can help themselves to a free $50 to start their online poker careers. Interested? Of course you are! After all, everyone loves free money.
To take advantage of our long-running free $50 bankroll promotion just download Poker770 through PokerNews, enter the bonus code "news50in," and fill in and submit the details on the form.
Once you do this, a free $25 will be immediately released into your account. Then all you have to do is earn at least one Poker770 point within the first 60 days of receiving that bonus to lock up the money (if you don't earn at least one point in that time frame, you'll forfeit your right to the money). To get the other $25, you'll just need to earn 500 Poker770 points within the next 120 days. This is applicable to players in Andorra, Australia, Austria, Brazil, Canada, Germany, Greece, Holland, Iceland, Luxembourg, New Zealand, Portugal, Spain, Switzerland or the U.K.
If you live in any of the following countries, things are a little different, but you can still have a free $50: Argentina, Belarus, Bolivia, Chile, China, Croatia, Czech Republic, Denmark, Estonia, Finland, Hungary, India, Japan, South Korea, Latvia, Lithuania, Macedonia, Madagascar, Mexico, Montenegro, Norway, Paraguay, Peru, Poland, Russia, Serbia, Slovakia, Slovenia, South Africa, Sweden, Ukraine, Uruguay or Venezuela.
If you live in any of those countries, your free $50 will be split into three parts instead of two. The first $10 will be released into your Poker770 account immediately, and another $20 will be released once you have earned 500 Poker770 points within 120 days. Finally, the last $20 will be released once you have earned another 500 Poker770 points within 120 days.
If you're new to the registration process and need a little help, then our very own Lynn Gilmartin has got you covered. Here is a detailed walk-through of exactly how to sign up for your free $50 on Poker770. As you'll be able to see here, it'll only take you six minutes! Not bad, huh?
We wish you the best of luck at the tables, and hope that you can turn your free $50 into much, much more!
Add an Additional $20 to Your Free $50!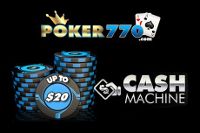 The popular Cash Machine promotion has returned to Poker770, albeit for a limited time only. Make a deposit into your Poker770 account between Jan. 23 and 01:00CET on Jan. 25 and Poker770 will match it 100 percent, up to $20, as a cash bonus! Combine this special offer with the free $50 one and that is $70 that you could be playing with for free!
If you experience any problems with this or any of our promotions, please contact our Ticketed Promo Support System.
Get all the latest PokerNews updates on your social media outlets. Follow us on Twitter and find us on Facebook and Google+!