Poker Legend Tony G Enters the Hall of Hands
PokerNews Staff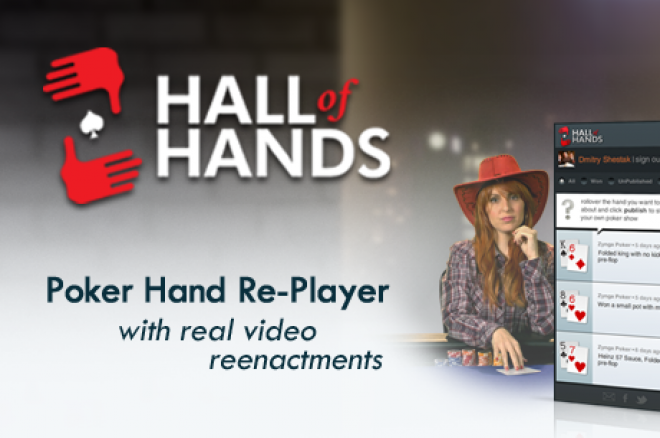 Lithuanian-born superstar ties in with unique poker hand replayer that reenacts online poker action as a TV Show with real life actors, running commentary and more.
January 15 — Hall of Hands Limited announced today that it has joined forces with living poker legend Tony G to bring its revolutionary hand replayer with video reenactment and its unique brand of viral bragging and swagger to the poker-playing masses.
Hall of Hands has recently turned the world of poker replayers on its head by transforming a player's poker hand into a dramatic and engaging TV show that can be shown to friends through social-media channels. Breathing real life into online poker, Hall of Hands has managed to recreate the real-time thrill and drama of a televised final table or even a local poker game among friends, and has successfully adapted these elements to online poker sharing and bragging.
With players able to replay any hand as a poker TV show, containing real-life actors, running commentary, hole-card cams and more, Hall of Hands is fast becoming the destination of choice for those looking to share their unique experiences at the table with friends or indeed with anyone interested in the game. Hall of Hands shows, which can instantly be posted on a Facebook wall at www.hallofhands.com and shared on a mobile device or by email, offer the latest thing in bragging rights and Lithuanian-born poker superstar Tony G, a man rarely accused of having nothing to say, can't wait to get involved.
"I'm really excited about this one," said the 38-year-old poker star, who kicks off the venture by launching Tony's Top 10, a feature in which he comments on his favorite hand reenactments of the week."Hall of Hands is a great social product for a great social game. Everyone wants to talk about poker. People are always telling me about the great hand they played last night. Now they can actually show me in a poker TV show. It's also where I'm going to stick my big hands, so if people have comments, I want to hear them."
Players of all the leading poker rooms who are looking to brag about their poker, simply need to install the free lightweight application, which stays active in the background while they play online. One click on a chosen played hand turns it into a poker show video within minutes.
Bringing in Tony G is another step toward establishing Hall of Hands as the No. 1 destination for poker-hand reenactment, says the company's vice president of business development, Roy Samuelov."We'll be running a channel showing replays of Tony's hands, a Tony G Poker Master Class and more. When you have a product that's as fresh and exciting as ours, you need to tie in with the very best and biggest, and that's what we've got with Tony G."
About Hall of Hands
Hall of Hands (www.hallofhands.com) is a fast-growing social media company on its way to becoming the No. 1, authoritative destination for poker hand re-players. The Hall of Hands patent-pending technology is capable of transforming a player's poker hand data into a dramatic and engaging TV show, perfectly placed to benefit from the "show my friends" essence of viral distribution through social-media channels. Hall of Hands, which is also a developer of cross brand and white-label solutions for gaming industry partners, has the unique ability to create a vibrant active community around poker hands and to open up new and exciting modes of communication with online players.
Contact
Roy Samuelov
VP Business Development
roys@hallofhands.com
*Source: Hall of Hands
For news, updates, and more follow PokerNews on Twitter and Facebook.