PokerNews Op-Ed: The GPI Shouldn't Remove Players from the Rankings
PokerNews Staff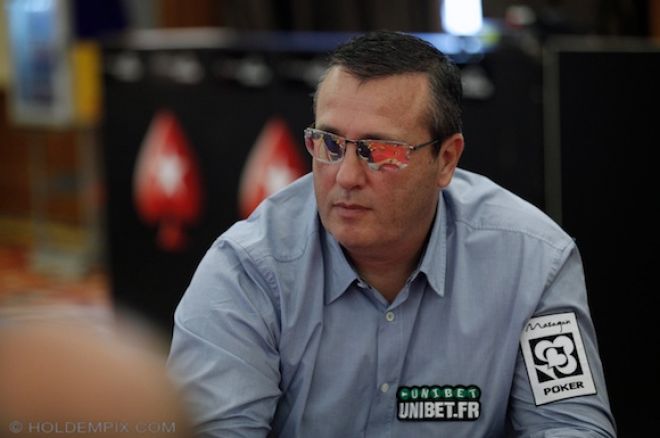 Numbers are unbiased. You can sabotage a formula and move around variables to manipulate numbers, but if the math is right, then numbers are unbiased. If a roulette wheel comes up red 50 times in a row, that doesn't mean that "black is due." If you're playing poker and there has been a
on the flop for three hands in a row, that doesn't mean that "sixes are hot." The numbers don't change.
On Thursday, Alexandre Dreyfus, the CEO of the Global Poker Index, announced that the GPI suspended Jean-Paul Pasqualini and Cedric Rossi. The two players were removed from the rankings, and the suspension is "clearly stated on their player profile page." Dreyfus goes on to say that he believes that poker still has its best years ahead of it.
"I'm not simply a believer. I'm investing a lot of money into this goal, to make the GPI a respectable tool for promoting poker players and poker playing performance."
PokerNews reached out to Dreyfus for a few questions after the suspensions were announced, and Dreyfus further discussed the dangers of "opening Pandora's Box."
"Indeed, the GPI is a poker ranking authority. We are not an ethics committee or a body able to judge morality. Whatever is done outside the table or not related to the game doesn't affect the GPI."
I love Dreyfus' attitude and his ambition. I also love his idea of developing a private "Player Trust Rating" that would be shared among casinos, because player protection and safety are paramount. However, I wholeheartedly disagree with removing Pasqualini, Rossi, and anyone else from the GPI rankings because you simply can't deny numbers. You can blackball a player from the community, you can warn casinos of their shady doings, but you can't make a player's statistics disappear into thin air.
In 1961, Roger Maris hit 61 homeruns, breaking Babe Ruth's single-season homerun record by one. New York sportswriter Dick Young suggested that an asterisk be placed next to the record because Maris played in 162 games while Ruth played in 154, but the asterisk was omitted. For 37 years the record stood, and then the steroid era in Major League Baseball began.
In 1998, Mark McGwire (70) and Sammy Sosa (66) both broke the single-season home run record. In 2001, Barry Bonds hit an incredible 73 homeruns, snatching the record away from McGwire, and after the 2007 MLB season, Bonds retired as the all-time homerun king with 762. All three players have been connected to performance enhancing drugs (PED's), and McGwire admitted to using steroids in 2010.
Bonds, McGwire, and Sosa have not been removed from the record books. You can find their names on MLB.com and in the National Baseball Hall of Fame in Cooperstown, New York. None of these players are members of the Hall of Fame, and that's perfectly OK.
It would absurd for the MLB to deny that these seasons happened. To deny that Bonds destroyed 73 baseballs in 2001, captivating all of baseball in the process. It is acceptable and sensible for the baseball writers to deny Bonds' entry into the Hall of Fame, and they have. They have also denied McGwire, Sosa, Roger Clemens, and other suspected users.
Subjectivity is welcomed when selecting the members of the Hall of Fame, while there can only be objectivity when dealing with numbers and statistics.
Team sports, particularly in the National Collegiate Athletic Association (NCAA), are more susceptible to statistical punishments. In 2012, the Ohio State Buckeyes football program was hit with a myriad of sanctions. Their entire 2010 season, including their Sugar Bowl victory over Arkansas, was vacated, and the University's share of the revenue resulting from the Sugar Bowl win was forfeited. The Buckeyes were banned from post-season play in 2012, including the B1G Championship Game, and Urban Meyer's team finished a perfect 12-0.
Despite breaking NCAA rules and having previous wins vacated, the Associated Press didn't ignore Ohio State. The AP ranked the Buckeyes throughout the season, and the team finished third in the country at the end of the season behind only Oregon (2) and Alabama (1).
The greatest example for Dreyfus, and anyone else who believes that players can be removed from the rankings, is Lance Armstrong. Armstrong, who participated in arguably the dirtiest sport on the planet and competed against teams and countries that absolutely hated him, had his seven Tour de France victories vacated by the U.S. Anti-Doping Agency and the International Cycling Union. Armstrong's 14-year cycling career vanished into thin air. If you head on over to LeTour.com they don't even list race winners from before 2010. The only tab you can click is "Race Winners Since 2010."
The entire website has been de-Armstrong'd.
Is that justifiable, though? If you follow me on Twitter, then you know I am completely anti-Armstrong. I think he's arrogant, I think his appearance on Oprah was a joke, and I think that it takes a real scummy person to hide behind this large of a lie for a decade. Having said that, can his seven wins be erased that easily? When cycling enthusiasts discuss the history of the sport that they love, do they just omit an entire decade?
Armstrong will never cycle again – nor should he. But his seven wins, many of which came against other cyclists who were using performance-enhancing drugs, can't fade away into oblivion.
Dreyfus is great for poker. The GPI has revolutionized the way we rank players. The GPI Player of the Year will soon become – if it hasn't already – the most important annual award in our industry. The Fantasy Poker Manager is ingenious, and has already become very popular on Facebook. But there is no need to remove Pasqualini and Rossi from the rankings, unless you want to send some kind of message to the community. The rankings are the rankings. If players are found to be cheating and are no longer allowed to play in tournaments, then their ranking will plummet anyway.
I encourage Dreyfus to continue to better our community, and again I love the idea of a private "Player Trust Rating" that would be shared among casinos, but removing players from the rankings is unnecessary.
Get all the latest PokerNews updates on your social media outlets. Follow us on Twitter and find us both Facebook and Google+!