The Biggest Hands from 2013 Aussie Millions Poker Championship
PokerNews Staff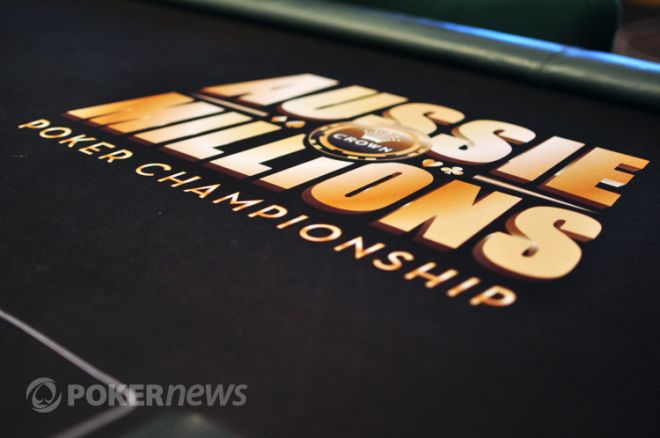 The 2013 Aussie Millions Poker Championship is in the books, and what a festival it turned out to be. Not only did Mervin Chan emerge victorious in the 629-player AU$10,000 Main Event for AU$1.6 million, but Andrew Robl and Sam Trickett also took down the AU$100,000 and AU$250,000 Challenge, respectively. In addition, numerous pros took down titles in the preliminary events, including Rupert Elder (Event #1 $1,1000 Opening Event for $250,000), Gary Benson (Event #6 $1,150 No-Limit Hold'em w/Rebuys for $109,000) and Mel Judah (Event #15 $2,500 H.O.R.S.E. for $25,000).
We thought we'd take a retrospective look at the biggest and most interesting hands from the three major events of the 2013 Aussie Millions — the AU$100,000 Challenge, AU$250,000 Challenge, and AU$10,000 Main Event.
Robl Busts, Then Comes Back to Win the $100,000 Challenge
The 2013 Aussie Millions $100,000 Challenge saw 21 players take to the felt, and Andrew Robl, who was recently featured in the new poker book Ship It Holla Ballas!, was the first to bust from that field. He subsequently became the first (and only) person to exercise his re-entry option, bringing the total field to 22 entries and creating a prize pool of AU$1,267,000.
Robl's bustout came just as Level 3 (500/1,000) was expiring on Day 1. Here's a look at the hand as reported in our Live Blog:
Andrew Robl

The last hand before the break was a long one that ran several minutes into the break. It all started when Andrew Robl raised to 3,000 from under the gun, and Masa Kagawa called from the cutoff seat. In the small blind, Dan Shak announced that he was all-in, having forgotten that the action preflop is only pot-limit. The dealer told Shak he could only raise the pot to 13,000. Shak was corrected and made it 13,000 to go.

Action got back to Robl, who took a minute before calling. Kagawa folded.

The flop came down , and Shak announced he was all-in for a little under 100,000. Robl had slightly less than Shak, but the stacks were close to even. After several minutes in the tank, Robl made the call.

Shak tabled the for just ace-king high. Robl had the best of it, flopping two pair with the .

The turn delivered the to put Shak in front. The river completed the board with the , and that was it. Shak had won the hand and eliminated Robl as the first to go.
Robl re-entered shortly thereafter, which proved to be a wise decision because he made the final table and punched his ticket to Day 2, albeit as the second-shortest stack. Not to be deterred, Robl slowly chipped up and put himself in contention. He eliminated Tobias Reinkemeier in seventh place and then made the money when Niklas "ragen70" Heinecker was sent home as the bubble boy. In Level 12, with the blinds at 6,000/12,000/1,000, Robl got lucky to double and put himself in contention. Here's the hand from our live blog:
Igor Kurganov opened for 32,000 under the gun only to have Andrew Robl three-bet to 110,000 from the small blind. Kurganov responded by four-betting big and Robl called off for 260,000 total.

Robl:

Kurganov:

Robl was way behind and in desperate need of an ace and didn't have to wait long — the appeared in the window followed by the and . Kurganov's kings were cracked, but he could still retake the lead with either a king or ten. The turn wasn't it, and neither was the river. Robl has been nursing a short stack most of the day but now finds himself second in chips.
From there, Robl had some other notable hands that helped him on his path to victory:

For a comprehensive look at Robl's win, check out our full recap.
By winning the 2013 Aussie Millions $100,000 Challenge, Robl not only walked away with the AU$1,000,000 first-place prize, but also added his name to this prestigious list of champions:
| Year | Winner | Prize | No. of Entries | Prize Pool |
| --- | --- | --- | --- | --- |
| 2013 | Andrew Robl | AU$1,000,000 | 22 | AU$2,167,000 |
| 2012 | Dan Smith | AU$1,012,000 | 22 | AU$2,200,000 |
| 2011 | Sam Trickett | AU$1,525,000 | 38 | AU$3,800,000 |
| 2010 | Dan Shak | AU$1,200,000 | 24 | AU$2,400,000 |
| 2009 | David Steicke | AU$1,200,000 | 23 | AU$2,300,000 |
| 2008 | Howard Lederer | AU$1,250,000 | 25 | AU$2,500,000 |
| 2007 | Erick Lindgren | AU$1,000,000 | 18 | AU$1,800,000 |
Trickett Takes Down the $250,000 Challenge
There's no doubt about it: Sam Trickett is a beast—a fact he proved once again by winning the 2013 Aussie Millions LK Jewelry $250,000 Challenge. The tournament attracted 18 entries (14 players and four re-entries) and created a prize pool of AU$4.5 million, AU$2 million of which went to Trickett for his win. Interestingly, that put the Brit in second place on poker's all-time money leaderboard.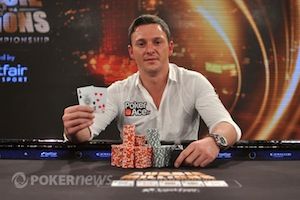 After seven players fell on Day 1, the final table of seven was set for Day 2, with only four getting paid. With a AU$500,000 money bubble looming, play started off slowly but eventually it was Richard Yong who busted in seventh place. Yong ran his ace-queen into Igor Kurganov's ace-king.
From there, Erik Seidel, a former $250K champ, went out in sixth place, and Winfred Yu followed him out the door in fifth place as the bubble boy.
Kurganov was in command for a big part of the final table, but a huge cooler ended his day and left him in fourth place. Kurganov turned a flush and got all the money in for the biggest pot of the tournament. Here's a look at the hand:
Sam Trickett and Igor Kurganov saw a flop together and it came after unknown preflop action. Kurganov was first and checked. Trickett bet 80,000, and Kurganov made the call.

The turn was the , and Kurganov checked. After Trickett bet 160,000, Kurganov check-raised all in. Trickett snapped.

Kurganov tabled a flush with the , but the turn card was extremely deadly, giving Trickett a straight flush with the . Kurganov was drawing dead, and the river bricked off to finish the hand.

Kurganov fell in fourth place for AU$500,000 and brought his 2013 Aussie Millions earnings to AU$1,110,000 when combined with his second-place finish in the $100,000 Challenge.
After Kurganov was gone, it didn't take long for Trickett to finish off the other two Germans. Fabian Quoss was the first to go (third place) AU$750,000, his biggest result to date, and Tobias Reinkemeier joined him on the rail a short time later. Here's a look at the final hand of the tournament.
Tobias Reinkemeier moved all in from the button, and Sam Trickett called from the big blind. Reinkemeier tabled the , and Trickett held the . With the lead, Trickett was now just five cards away from another major Aussie Millions title at Crown Casino.

The flop came down to keep Trickett in front. The turn brought the , and the river delivered the . Reinkemeier had whiffed on the flop, turn and river, eliminating him in second place. For his finish, Reinkemeier took AU$1,250,000. Trickett scored first place and AU$2,000,000.
For a full highlights of Trickett's win, check out our full recap. Here are the final standings of the event:
| Place | Name | Prize (AU$) |
| --- | --- | --- |
| 1 | Sam Trickett | $2,000,000 |
| 2 | Tobias Reinkemeier | $1,250,000 |
| 3 | Fabian Quoss | $750,000 |
| 4 | Igor Kurganov | $500,000 |
Have a look at Trickett's post-victory interview with Lynn Gilmartin:
Chan Navigates Crazy Day 4 En Route to 2013 Aussie Millions Main Event Title
The Aussie Millions Main Event was a seven-day affair with some interesting hands throughout. With that said, the entire PokerNews Live Reporting Team on the ground agreed that Day 4 provided the most entertaining action by far. That is when the field played down from 36 to the final table of six.
Check out our recaps from each day of the Main Event:

It was on Day 4 that the legendary Phil Ivey, who had to miss defending his title in the $250,000 Challenge because of his deep run, was eliminated from the Main Event. Here's a look at the hand, which happened in Level 18 with the blinds and 5,000/10,000/1,000, as reported in the Live Blog:
Phil Ivey playing the Main Event.

Last year Phil Ivey finished 12th in this very event and then went on to win the $250,000 Challenge later that night. Unfortunately for him (and plenty of poker fans), Ivey won't be bettering that result here in 2013.

His demise came when he opened for 20,000 from the cutoff and then called a three-bet to 56,000 from James Obst in the big blind. The latter led out for 60,000 on the flop, and Ivey quietly announced that he was all-in for roughly 330,000. Neither Obst nor the spectators heard the declaration, and the two players sat motionless for the better part of two minutes before the dealer informed Obst that action was on him. The Australian, who was clearly surprised, made a quick call.

Ivey:

Obst:

Ivey had flopped an open-ended straight draw to go with his overpair, but Obst, who killed two of his outs, had him pipped with a bigger overpair. The turn was of no help to Ivey, and neither was the river. Ivey was eliminated from the tournament in 30th place while Obst chipped up to 1 million.
Here are some other interesting/crucial hands from Day 4 of the Main Event:

Day 5 saw the final table of seven reduced to the final three, who returned for an impromptu Day 6. All eyes were on Patrik Antonius, but any hope of the Finn winning the title was quickly extinguished. Here's the hand from the live reporting blog:
Patrik Antonius

Early on Day 6 a huge hand developed that saw Chan double through Antonius. It happened in Level 29 with the blinds at 80,000/160,000/10,000 when Chan opened for 325,000 from the button and Antonius three-bet jammed for 4.96 million in the small blind. Joseph Cabret folded from the big and Chan snap-called.

Antonius:

Chan:

Antonius had shoved quite a few times late on Day 5 and early today, but he picked the wrong spot here because he was well behind. His best chance of winning was to catch an ace, but he was left wanting as the board ran out . Antonius was eliminated on the very next hand, earning AU$600,000 for his third-place finish.
Not long after Antonius' elimination the tournament was won by Mervin Chan, who took home the title and accompanying AU$1.6 million first-place prize. You can read all about his win in our full recap of the action.
Get all the latest PokerNews updates on your social media outlets. Follow us on Twitter and find us both Facebook and Google+!