Amit Jain wins Main Event at India Poker Championship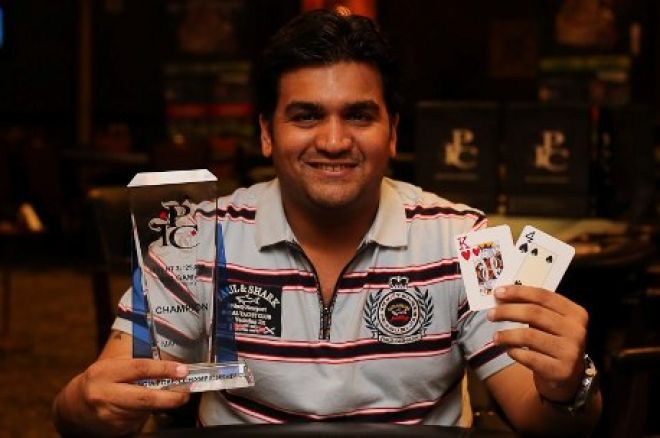 The March edition of the India Poker Championship saw Mumbai's Amit Jain winning the 25k Big Game (Main Event) outlasting a field of 51 players to be crowned Champion!
Saturday evening seemed like any other evening except that the Big Game was starting in a couple of hours in Goa and one man who waiting on his already delayed flight was ruing that he will not be able to make it as his flight from Mumbai got delayed by a couple of hours. As the final level of late registration began, one of Jain's buddies bought in for him and he started getting blinded out even as he made his way into Panjim. By the time late registrations were done, Jain had already blinded out half that level and was starting to blind out the next one too. He finally entered the poker room and took his seat and the rest, as they say, was history.
He kept building it up over the course of Day 1 and eventually entered the final table second in chips on the following evening. By the time he came into headsup against Kanishka Kapoor, he had a 3:2 lead over his opponent. In the final hand of the night, Kapoor limped in from the small blind and faced the all-in shove from Jain. A snapcall from Kapoor who was well ahead with his
against Jain's
. The eventual board
which put out a King in the window for Jain kept him ahead and won the pot and the title of Big Game champion for him!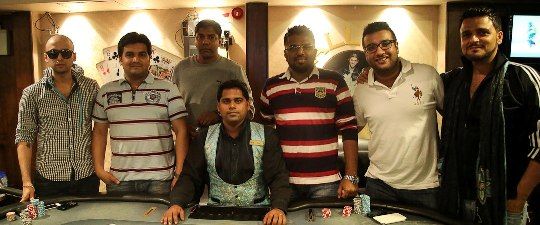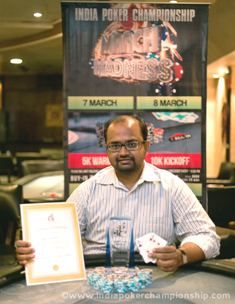 The second edition of the India Poker Championship this year took place from 07-10 March onboard Casino Royale in Panjim Goa. The start of the weekend was the 5k Warm Up event which saw a healthy turnout of 92 players take part. Heads-up play commenced with Mumbai's Deepak Bhambhani taking on Rajesh Vallabhaneni from Andhra Pradesh. Bhambhani made it 24000 to go and he got re-raised by Vallabhaneni to 50000 which got tank called by Bhambhani to see a flop of
. Both players checked the flop to see the turn
. Bhambhani now bet out 50000 and Vallabhaneni tanked for a bit before making the call. On the river
, Bhambhani fired a third barrel of 50000 which was again tank called by Vallabhaneni. Both players had King high but Bhambhani's
was outkicked by Vallabhaneni's
. Crippled to 48000, Bhambhani got it in
this time but unfortunately for him Vallabhaneni's
held on to finish the job and land him the title of 5k Warm Up champ.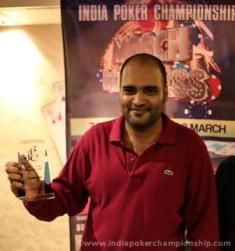 Saturday evening saw another Mumbai pro Jasven Saigal taking down a field of 81 players to win the 10k Weekend Kickoff event. He's been in good form off late by winning a title at the recent Golden Aces event a couple of weeks ago. So the confidence levels were certainly high coming into this IPC weekend. After slowing grinding his way through the field, Saigal made it to this final table 6th in chips. After knocking out 3 players from the final table, he entered 3-way action with a substantial lead. In the final hand of headsup with Ali Merchant, Saigal from the big blind makes it 20000 to go. A re-raise to 50000 by Merchant saw a flatcall from Saigal to see a flop of
. A bet of 40000 from Merchant gets an all-in shove from Saigal
who has a flush draw against the former's
. Brick
on the turn but a third club on the river
gets Saigal his flush and with it the title of 10k Weekend Kickoff.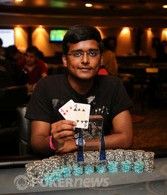 After busting out on the money bubble in Thursday's 5k Warm Up, Ahmedabad's Ankur Agarwal went the distance in 5k Deep Stack Turbo overcoming 71 entries to emerge as the winner of the final event of the India Poker Championship weekend! Three handed battle was a pretty up and down affair with all players being evenly stacked at a point, and when Kavish Kukreja was eliminated in 3rd place, we expected headsup battle to go for a while considering both Zarvan Tumboli and Ankur Agarwal were fairly even stacked. After a round of headsup it all came down to this hand where Tumboli with
moved all in and was called by Agarwal who had
which held up, giving him the win and title of Deep Stack Turbo Champion!
Congratulations to all the winners and from all of us here at PokerNews India and be sure to check out our live reporting blog for all the action from these events.
Get all the latest PokerNews updates on your social media outlets. Follow us on Twitter and find us both Facebook.