Inside Gaming: Funding for the Minnesota Vikings Stadium Falls Short, and More
PokerNews Staff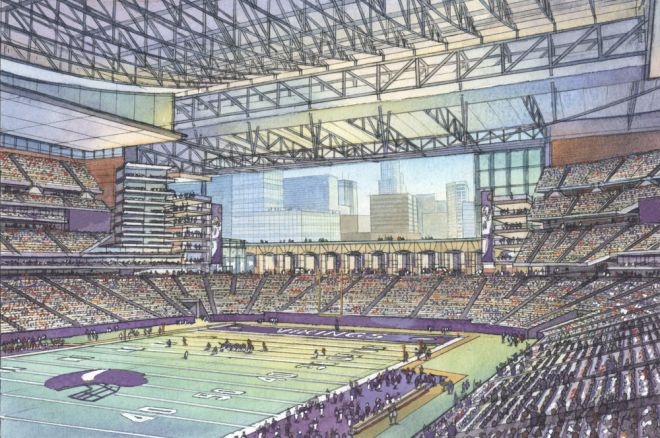 In this week's edition of Inside Gaming, e-pulltab gaming is failing to help build a new stadium for the Minnesota Vikings, the West Virginia Senate advances two pro-gambling bills, and a Miwok Tribe tries to build a casino in Sacramento, California.
Skol Vikings
Four weeks ago, Inside Gaming took a look at the attempt by Minnesota to use revenue from electronic pulltabs (e-tabs) to fund a new stadium for the hometown Vikings. Pulltabs are used for games played on an iPad in bars and restaurants. At the time, the revenue had fallen well short of projections, and more money was being spent on the project than had been collected to pay for it.
Now, the Star Tribune is reporting that the e-pulltab gaming projections were made using incorrect information. Rather than sampling from the charitable organizations in Minnesota that tend to use e-pulltab gaming, the Minnesota Gaming Control Board generated its estimates based upon other kinds of gambling devices played in other states. Such devices are made by national gambling equipment managers and vendors.
The charities selling the games to the state had little input into the projections.
The revenue estimates have been so wildly incorrect that the state Department of Revenue projection was more than halved from $35 million to $17 million in November 2012. In February, that number plummeted to $1.7 million.
The state share of the new Vikings stadium is $348 million, and state officials are now acknowledging they need an alternative funding source. Tom Barrett, executive director of the state Gambling Control Board, defended the decision to turn to the gambling industry for sales estimates because it has sales expertise. Barrett believes, however, that the state should have consulted further with local charities.
"We would have looked into the industry, including charities, bars, manufacturers, and distributors," Barrett said.
When the Vikings lease at the Metrodome expired, the team threatened to move from the city. Gov. Mark Dayton and several legislators were committed to keeping the team, so the sales estimates were generated quickly to make a number that would keep the team in town. Records show that neither the Department of Revenue nor other fiscal analysts challenged the number.
"There was a willful blindness… driven by pressure politics," David Schultz, a Hamline University political analyst and professor told the Star Tribune.
Despite being incorrect, the sales estimates were detailed, including the number of bars and restaurants that would install the e-pulltab games, the number of devices, the hours of operation, and how much money would be wagered. The projections were for 2,500 sites to be operational within six months, with 14 bars and restaurants joining each day. With an average of 6.16 devices per location and an average daily revenue of $225 per machine, the average gross income per bar or restaurant per day was to have been $1,386.
Before to this project, Minnesotans were already spending $1 billion a year on charitable gaming. These projections estimated that Minnesotans would spend another $1 billion for the electronic games.
"That kind of revenue stream takes a long time to build," Schultz said. "Especially in Minnesota where you already have one of the nation's most well-developed charitable gambling markets."
Roughly a year since the projections were made, about 200 Minnesota bars and restaurants offer e-pulltabs, 8% of the projected 2,500.
"The government wanted a stadium. The money couldn't come from the general fund. The charities had been asking for electronic games," Schultz explains.
With funding projections slashed by $33 million for 2013 alone, Barrett believes that future estimates will be more accurate.
For more, check out the Star Tribune.
Take Me Home, Country Roads
On Wednesday, West Virginia's Senate Judiciary Committee advanced two pro-gambling bills, reducing fees on existing casinos, and allowing the construction of a sixth casino in the state.
The first bill would reduce fees that the four existing racetrack casinos pay in order to offer table games. The second bill would allow for the creation of a new casino near the Highlands Golf Club in Franklin, West Virginia, which borders Virginia.
With casino gambling in neighboring Pennsylvania, Ohio, and Maryland expanding, West Virginia wants to make sure it can compete. However, according to Businessweek, casino analysts describe the industry in the region as a "pie that is not increasing, but is being divided into many more parts."
Thus, West Virginia's lottery commission predicts that revenues for the four racetrack casinos will decrease by more than $200 million from 2012 to 2013. That's roughly an $80 million decrease in tax revenue for the state.
In Wheeling, the racetrack casino located between Ohio and Pennsylvania has reported that it expects to lose $1 million on table games in 2013. The representatives say that if the $2.5 million table-game fee isn't reduced, the casino may not renew it.
If the first bill passes, Wheeling's fee would be reduced to $1.5 million per year. The money from fees is used to provide in-home health care services to seniors. An amendment to the bill would recover that money by cutting the state subsidy for purchasing slot machines. Under current law, West Virginia pays for half of the new slot machines. Under the amended bill, the state would only pay a quarter of those costs.
Sen. Herb Synder proposed the amendment to reduce state slot machine expenditures. Synder believes that, because slot machines generate the most revenue, it makes more sense to target them rather than table games or horse and dog tracks.
"You could not possibly fool with table game revenue," Synder said. "It's not big enough. You go to the one that's plump."
Casinos in Pennsylvania and Ohio don't receive such subsidies. The tax rates on slot machines are lower in Ohio than they are in West Virginia, but are higher in Pennsylvania.
The proposed new casino would target Virginians, especially from Lynchburg and Richmond. The bill only allows a casino to be built if the developers meet certain criteria. The developers must submit plans to build at least 1,000 homes and a hotel in the area (with at least 150 rooms), the total cost of the project must be $80 million, the development must be on at least 1,000 adjoining acres and must include recreational areas.
Stephen Conrad, a resident from the proposed area, believes that the casino would bring about 300 jobs. This would be great for the community, because a nearby U.S. naval facility is scheduled to be repurposed in 2016, taking away 330 jobs from the area.
Businessweek has more.
Potential Casino in Sacramento
On Friday, The Sacramento Bee reported that a lawsuit challenging a proposed tribal casino in Amador County has been moved to a federal court in Sacramento and away from Washington D.C.
The lawsuit was filed by Nicolas Villa Jr. who is challenging the Bureau of Indian Affairs' decision to acquire land in Amador County for Indian gambling purposes. Villa says Interior Department officials should not have acquired the land or recognized the Ione Band of Miwok Indians as a "restored tribe" under the Indian Gaming Regulator Act.
Villa leads what he believes to be the "true Ione Band" of Miwok Indians of California.
In an 11-page decision, U.S. District Judge Rosemary M. Collyer sided with Villa, concluding that "The Eastern District of California is located much closer to Villa's home and is perfectly capable of deciding this case carefully and fairly.
Andrew Franklin, chairman of the Wilton Rancheria, a 674-member, federally recognized Miwok Tribe, is leading the charge to build a major casino. The group has picked a cow pasture just west of Highway 99 and north of Galt.
Beyond Villa's objection, officials in Galt are wary of sacrificing the "character of the community" for 2,000 potential casino jobs. Even Franklin's mother is conflicted about the pros and cons of a tribal casino.
"I didn't want him to be the tribal chair," she told The Sacramento Bee. "I was kind of leery. I asked him, 'Are you willing to give up your career. You went to [UC] Berkeley.' He said he was willing to do this for his people. I said, 'Is this really what you want to do?'"
Boyd Gaming is backing the tribe's bid for federal approval.
"We look forward to working with them to develop and exciting gaming complex," Boyd Gaming president Smith said.
The development bid could take up to seven years to complete, but Franklin is confident.
"So much has happened, it's all so surreal," Franklin said. "But we've got a path, and we're sticking to it. We want to be self-reliant."
The tribe's self-reliance will be tested first by Villa's lawsuit. If the federal government maintains that Franklin's tribe is worthy of the title "restored tribe," then it will be allowed to advance with development. Galt Mayor Marylou Powers is waiting with open arms.
"My hope would be for jobs and economic growth, and that people going to the casino would also be checking out Galt."
The Sacramento Bee has more.
Photo courtesy of Vikings.com.
Get all the latest PokerNews updates on your social media outlets. Follow us on Twitter and find us both Facebook and Google+!