Inside Gaming: New Mexico's Profits in 2012, More Delays in NJ and Gambling in Uniform
PokerNews Staff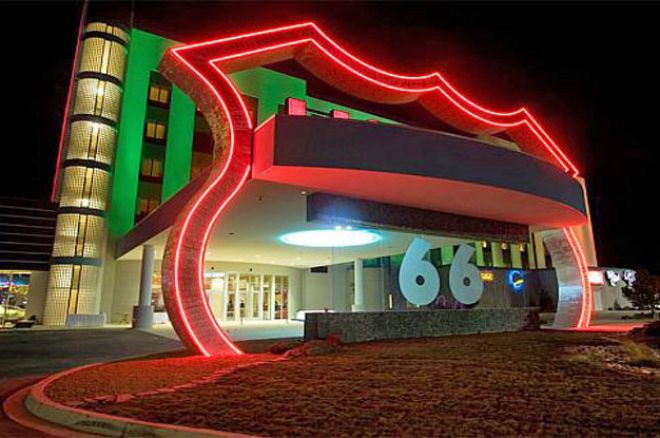 This week in Inside Gaming we examine New Mexico's profits in 2012, PokerStars' bid to take over the Atlantic Club, and a proposal to prevent U.S. soldiers from gambling in uniform.
That's Billion, With a "B"
The New Mexico Gaming Control Board announced that gambling activity in the state grew 4% in 2012, with the state generating a "net win" of more than $1 billion. According to the Albuquerque Journal, tribal casinos saw the largest growth in gaming activity, while the state's five track casinos dropped roughly 3% in gambling revenue.
In 2012, gambling venues in New Mexico paid the state government $131.4 million in taxes, a 9% increase from 2011.
There are 14 New Mexico tribes with revenue-sharing gambling compacts in the state, and they report quarterly earnings to the state's Gaming Control Board. These figures are not publicized, although the Gaming Control Board reports "net win" numbers. Money earned from games other than slots at tribal casinos is not included in the "net win" statistics.
According to the Journal, Tribal casinos recorded a "net win" of $759.6 million in 2012, a 6.4% increase from 2011. Those casinos paid the state $68.3 million in gaming taxes, a 4.8% increase from 2011.
In February, New Mexico governor Susana Martinez and the Navajo Nation agreed on key terms for a gambling compact that would allow the state's largest Indian tribe to operate five casinos.
"We've tried to build a compact that is fair to all sides," Gov. Martinez told ABC 15.
The proposed agreement extends the deal between the tribe and the state until 2037, the same date as 2007 compacts that were signed with nine other New Mexico tribes. The long-term deals allows the tribes to obtain financing for development and infrastructure projects.
The Navajos currently operate two casinos, and must close them for four hours each day. Under the new proposal, they would be able to operate for 24 hours a day. The goal is to have a new compact approved within the next few months.
"[The compact] provides much benefit not only for the Navajo Nation, but also for the state of New Mexico," said Karis Begaye, an attorney with the Navajo Nation Department of Justice.
For more, check out BizJournals.com.
Another Monkey Wrench in the PokerStars-Atlantic Club Deal
On Wednesday, John Brennan reported that PokerStars' bid to take over the Atlantic Club may not be decided until mid-summer.
"For insiders in the gambling industry, I have to tell you to be ready to 'fall back' — by several months — in setting your expectations for a very important regulatory decision in New Jersey," he wrote.
The Rational Group, PokerStars' parent company, filed paperwork with the Division of Gaming Enforcement in January, and the DGE has a 90-day window to decide whether or not PokerStars should be granted a license.
If the DGE believes that PokerStars is deserving, then they will send the information to the Casino Control Commission. The CCC has a 30-day window to make a decision, and that process would include a public hearing. The hearing would no doubt become a national event, with the American Gaming Associate now opposing PokerStars' proposal to purchase the Atlantic Club.
According to Brennan, none of these windows has even started yet, because the Rational Group hasn't finished the entire Interim Casino Application yet.
"The Division continues to work with Rational Group towards the filing of outstanding application materials," said Lisa Spengler, a DGE spokeswoman. "A petition filing does not complete the application package."
Brennan did the math, and if the ICA was finished tomorrow, then the final CCC deadline would be in the beginning of July. That means, if it takes a month or longer for the Rational Group to complete the application, we won't receive a decision until August or September.
No Gambling in Uniform
Lt. Col. Lars Zetterstrom, commander of a garrison in Kaiserslautern, Germany, has proposed a policy to prevent U.S. soldiers from gambling in uniform — even on American bases. According to Stripes.com, Zetterstrom has asked his Army Community Service staff to start drafting a policy to be staffed for approval.
Denise Fesel, manager of the Kaiserslautern ACS financial readiness program, believes that this proposal's purpose is to maintain the integrity of the uniform. She also wishes to address problem gaming in the Kaiserslautern community, where several casinos are located off of the base, and there are even a few on-base slot machines at military clubs.
Fesel says that about four soldiers a year develop fiscal woes because they have a gambling problem.
"Most people, when they're gambling, what they're going to do is they gamble at lunch, they gamble before they go home, they gamble on their way to an appointment — all of this in uniform," she told Stripes.com. "So if we can change a habit, we might be able to help them identify themselves [as problem gamblers]."
According to garrison spokesman Mark Heeter, the issue of gambling in uniform came up at an Army Family Advocacy Program conference last year. Zettestrom asked for the policy in response.
"You know, we're not allowed to go out and drink in uniform," Fesel added. "So why should you be allowed to gamble?"
Fesel is working with the legal office to determine the policy's scope, and while a firm ban on gambling in uniform is ideal, the new policy may only result in a restriction. For example, soldiers may be restricted from gambling during duty hours.
In 2003, the U.S. famously released a deck of player cards featuring the most-wanted members of the Iraqi military. The deck was officially titled the "personality identification playing cards." Saddam Hussein, the former president of Iraq, was the
.
In 2012, before enrolling in Army Flight School, Brandon Schaefer won Event #14: $1,500 No-Limit Hold'em at the World Series of Poker.
Photo courtesy of NewMexico.casinoguide2.com.
Get all the latest PokerNews updates on your social media outlets. Follow us on Twitter and find us both Facebook and Google+!