Indian player updates from the Red Dragon and the Asian Poker Tour
It's a jampacked 3 weeks ahead for poker players in Asia with three high profile tournaments taking place in Macau and the Philippines. The biggest of these is the Macau Poker Cup with the HK$ 5 Million guaranteed Red Dragon Main Event which will take place from 19-28 April in the new branded PokerStars room at the City of Dreams in Macau. The PokerStars juggernaut will then head to the beautiful island of Cebu in the Philippines for the Asia Pacific Poker Tour's next edition.
Meanwhile the overlapping tournament happening in the capital city right now is the Asian Poker Tour's Manila leg which is happening from 17-24 April at the Resorts World Casino. Given the bigger guarantees and fields expected in Macau, several Indian players have made plans for the Red Dragon. However there are a few players who're playing in APT Manila and will head to Macau immediately after in order to make the main event at the MPC.
Watch this space for updates from the Indian contingent as well get them:-

28th April
16:58 IST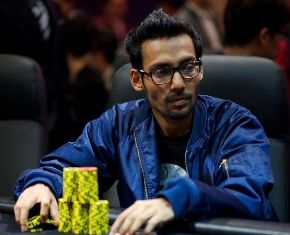 It seems the poker gods do not like Aces too much in this Red Dragon. First it was Dhaval Mudgal whose Bullets got brutalized and now the latest victim was last standing Indian Sailesh Lohia. Lohia's
went up happily against Fanny Li's
. All was well on the flop of
and turn
. But a fatal
on the river gave Li the win and eliminated the unfortunate Sailesh Lohia in 7th place from the Red Dragon Main Event. Fanny Li is also the only woman on this final table and has been running super hot hitting sets several times over the course of the past couple of days. This time too she comes from behind to win the pot by hitting her set and continue her march towards the title.
Tough luck for Sailesh Lohia but the HK$ 262,000 (INR 18.35 lacs) for his 7th place finish should soothe the sting just a wee bit.
15:30 IST
Dogged determination is probably what Sailesh Lohia had for breakfast because he has ridden his short stack extremely well to make it to the final table of the Red Dragon Main Event. He's still the shortest at 555,000 chips but as we've seen many a time in this fantastic game, it ain't over till its over!
14:22 IST
Sailesh Lohia still hanging in there with 11 players remaining. The last update received shows him crossing the 6 figure mark to 1.2 million chips. That final table bubble is getting awfully close...
As for the HK$ 6,000 side event going on, the three Indians who made it to Day 2 (and the money) have busted before the final table with Abhir Khanna, Rakesh Sharma and Ravichandra Bellam falling in 13th, 14th and 24th respectively.
12:15 IST
Hark! For 'tis be the day when a Dragon Slayer shall be crowned!
And with that tiny bit of drama the final 18 players took their seats at the Red Dragon Main Event. India's Sailesh Lohia still hanging in there with a short stack but he has survived early elimination and in fact doubled when his
spiked an Ace on the river against his opponent's
.
27th April
22:50 IST
And that will do it for Day 2! From 232 it is now down to the final 18 players who will return tomorrow to play down to the winner and that massive HK $1.7 million first prize. The Indian fight has diminished down to just one - Sailesh Lohia is on a short stack when he will take his seat tomorrow. He is currently in 17th chip position with a stack of 295,000.
Taking place alongside is the HK $6,000 NLHE event where at the end of day's play (this is a 2 day event), three Indian players in Rakesh Sharma, Ravichandra Bellam and Abhir Khanna have made the money. They will return tomorrow to compete for the title.
20:40 IST
More bad news for the Indians as Anju Abrol (29th), Dhaval Mudgal (41st) and Rajesh Goyal (70th) have crashed out of the Main Event.
17:10 IST
Day 2 brought with it a slew of Indian bust outs including Sangeeth Mohan, Bharat Naidu and Amit Ajawani. It was a longish wait as we neared hand-for-hand play prior to the bubble. The afore mentioned gentlemen did survive the money bubble and eventually min-cashed in this event. The Indian flag continues to fly at this Main Event courtesy Sailesh Lohia, Day 1A's chipleader, Dhaval Mudgal and Rajesh Goyal.
02:52 IST
And that's Day 1C done and dusted on a day which featured the largest single day turnout ever of 394 players in an Asian tournament. From 891, we are now down to 232 players who will be first hoping to break the money bubble (108 are paid out) and then onto slaying the Dragon. India has enough players in that field to get a sweat going so it should be an interesting Day 2 which is begin later tonight. Some of the names making it to tomorrow have already been there in Amit Ajwani who won a title and Dhaval Mudgal who's got back-to-back cashes including a third place finish. And here's that list of players with their starting stacks for Day 2 led by the quite monstrous stack of Sailesh Lohia:-
| Name | Chips |
| --- | --- |
| Sailesh Lohia | 164500 |
| Anju Abrol | 71500 |
| Amit Ajwani | 66000 |
| Dhaval Mudgal | 57600 |
| Ravichandra Bellam | 49900 |
| Bharat Naidu | 46000 |
| Rajesh Goyal | 35400 |
| Sangeeth Mohan | 33800 |
| Jagadeesh Pamidi | 25800 |
26th April
23:52 IST
Two Indian pros in Aditya 'Intervention' Agarwal and Jasven Saigal have busted the Main Event. A little over two levels of play to go before this final Day 1 comes to an end.
22:41 IST
Official confirmation is still being awaited but in all likelihood 891 players will be the final count in this 18th edition of the Red Dragon Main Event! That means the prizepool has crossed the US$ 1 million mark and the last player standing will take home approximately HK$ 1.77 million (a shade under INR 1.25 crores) for the win!
20:35 IST
At this moment the board shows a total of 808 players which is an Asian record for a poker tournament and it is a kind of organised chaos in the PokerStars LIVE! room with the tournament staff frantically trying to ensure they seat all players on the alternates list. Many have missed the chance to play tonight because registrations were officially shut down to ensure the alternates are accommodated. From the Indian perspective, there are at least a dozen Indian players participating in this final flight including names like Aditya 'Intervention' Agarwal, Jasven Saigal, Sangeeth 'Samoh' Mohan, Akash Malik, Sameer Rattonsey and Rajesh Goyal among others. With these kind of heavy hitters, there's plenty of talent and experience so we are expecting a few of them to go the distance by the time play is called off later tonight.
18:15 IST
Day 1C kicked off about 45 minutes ago and the attendance record's been obliterated with 311 players in the fray today. That makes it a total of 800 players and that will certainly not be the final number as late registrations will be available for about 80 more minutes.
15:30 IST
There's still more than an hour to go before the start of Day 1C at the Red Dragon Main Event but the standing record of 635 players has now been broken. PokerStars Country Manager for Macau, Fred Leung has confirmed that the current number of registrations has taken the number to 650 so this will be the biggest Red Dragon event from the 18 editions that have taken place thus far.
01:37 IST
They started Day 1B with 280 players and now its down to 78 who survived a brutal day at the felt. The only Indian surviving this flight is Amit Ajwani who has a stack of 66,000. There are still a few more Indians (including those returning from APT Manila) who are yet to participate in the Main Event and they will of course join on the final starting flight Day 1C tomorrow evening.
25th April
23:17 IST
A handful of Indians carrying on the good fight and Amit Ajwani, who earlier won the HK $3,000 Turbo event is doing quite well for himself in the Main Event. Giving him company are Lawrence Sanjay and Uday Patil who are seated around the massive PokerStars LIVE! room here in the City of Dreams.
22:20 IST
280 players was the final count of Day 1B which is keeping them on course to break the Red Dragon record. 1B has not been kind to the Indian players though with most of them busting out. Time to do some stargazing with 2-time WSOP Main Event winner Johnny Chan joining the Red Dragon towards the end of late registrations.
17:03 IST
Day 1B of the Main Event is underway and currently 270 players have registered. Adding that to yesterday's 209 and this edition of the Red Dragon look well on course to break its standing record 635 entries from its February 2012 edition. Remember there is one more starting day 1C tomorrow and typically the final flight always has the largest number entries so an 800+ field is definitely more than possible. Indian players who will play on Day 1B include Rakesh Sharma, Kavish Kukreja, Amit Ajwani, Abhishek Rathod, Uday Patil, Shravan Chhabria and Amit Jain.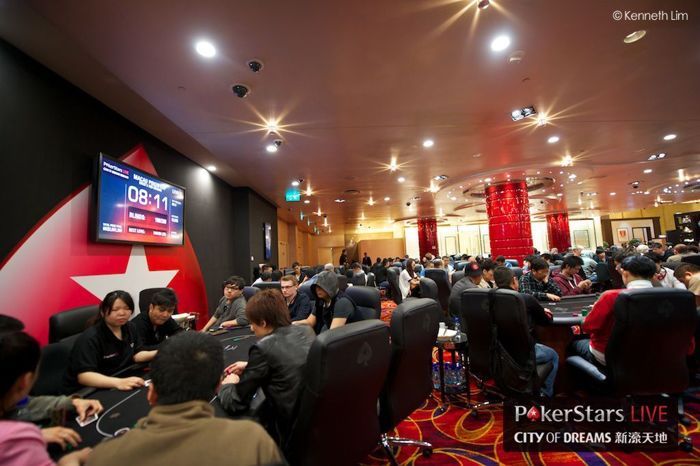 01:30 IST
We have confirmation that Sailesh Lohia has emerged as chipleader following the conclusion of Day 1A at the Red Dragon Main Event. From the 209 players who started the day, only 51 remain and Lohia is the biggest of them all sitting with a stack of 164,500. Giving Lohia company were a few other Indians who decided to take part in the first flight of the main. We don't have information about all their chipstack but will update the same when we do get it:-
| Name | Stack |
| --- | --- |
| Sailesh Lohia | 164500 |
| Dhaval Mudgal | 57000 |
| Rajeev Kanjani | - |
| Abhishek Goindi | - |
| Amit Varma | - |
| Bharat Naidu | 46000 |
| Romit Advani | - |
24th April
23:15 IST
Sailesh Lohia has now taken over the chip after a couple of big pots. After trading a few hands, he's still top of the heap with 130,000 chips.
20:36 IST
Bharat Naidu is one of the Indian players who is playing Day 1A of the Main Event. It's been a good start to his campaign considering he won his Main Event seat via a satellite. At present with blinds at 200/400, Naidu is sitting on one of the higher stacks in the room at 51,000 and the chipleader is on 60,000. Other Indian players joining Naidu on Day 1A are Rajeev Kanjani, Romit Advani, Amit Varma and Dhaval Mudgal.
17:11 IST
Today is the start of the Red Dragon HK$ 11,000 Main Event with a $5,000,000 Guarantee prizepool. There will be three starting flights for this main event. Last February saw the highest turnout at the Red Dragon with 635 players and they expect that number to be easily surpassed this year. And going by the 207 players who started Day 1A, that 635 figure looks to be easily surpassed.
24th April
01:09 IST
First title for India at the Macau Poker Cup with Amit Ajwani taking down the $3,000 NLH Turbo defeating 233 players in the process. Amit Varma finishes in 3rd place.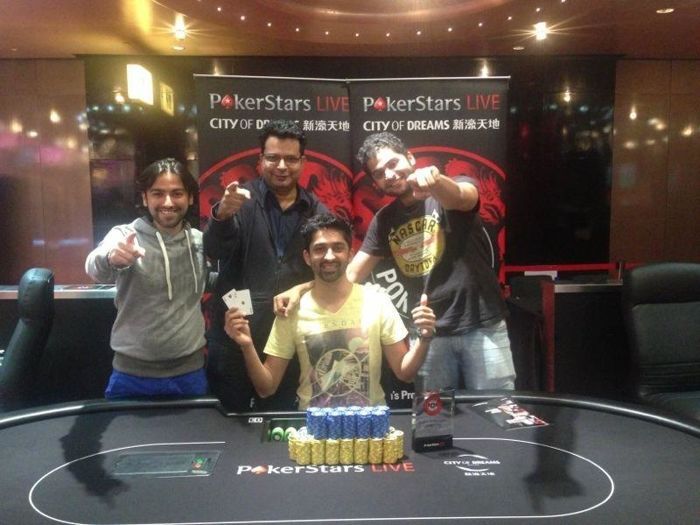 00:30 IST
Amit Varma, Kavish Kukreja and Amit Ajwani ran deep in the $3,000 NLH Turbo. All three made the money with Kukreja bubbling the final table. Varma and Kukreja in fact were involved in the hand for the chiplead where Varma's shove with
was called by the pocket Jacks of Kukreja
. An ace on the river gave Varma that huge pot and eliminated Kavish from the event. Varma and Ajwani still in it at the final table.
23rd April
17:51 IST
Dhaval Mudgal finishes 3rd out of 180 players in the $5,000 KO Bounty. Meanwhile 227 players have taken their seats for today's event the $3,000 NLH Turbo which is 20 min blind levels and no antes.
16:25 IST
Early bust outs for Abhishek Goindi and Bharat Naidu however Dhaval Mudgal still going strong at the now five-handed final table.
00:05 IST
Happening alongside was the $5,000 KO Bounty. This is also a 2-day event and each elimination will fetch the player HK$ 1,000. From the 180 players that took part, 22 places would make the money. A good outing for the Indians especially Dhaval Mudgal who makes the money once again and is in good company with Abhishek Goindi and Bharat Naidu.
22nd April
19:07 IST
Dhaval Mudgal made the final table and is eliminated in 9th place in the HK$ 5,500 NLH event.
11:32 IST
None of the Indian players who re-entered on Day 2 of this event managed to make it so Dhaval Mudgal will be the lone Indian hope going into Day 2 of this event. He's in good shape though with a stack of about 200,000 as action will commence today with blinds at 4000-8000.
21st April
17:44 IST
Final count for Day 1B is 162 which makes it a total of 308 players for this HK$ 5,500 NLH event. That's a massive HK $1.54 million in the prizepool with 38 places being paid out. The winner of this event will take home HK$ 346,500 (roughly INR 24 lacs).
16:04 IST
Almost all the busted Indian players from yesterday will re-enter and currently the player count is 144 so the field should likely cross the 300 player mark in this event as well.
20th April
11:40 IST
Dhaval Mudgal is the only Indian survivor on Day 1 of this re-entry event. He is doing well for himself having finished the day in second chip position. With that he assures himself of getting into the money as the top 10% of each day is expected to cash out. Day 1 had about 126 players take part.
4:00pm IST
Uday Patil finishes in 8th place in the HK$ 2,000 Deepstack.
4:00pm IST
Goindi tries to hang on but is eliminated in 23rd place. Kanishka Samant busts just outside the final table in 11th place and we're told that Uday Patil is currently on the final table during 9-handed action.
As Day 2 draws to a close in this event, cards are in the air for the HK$ 5,500 NLH ($500,000 Guarantee) event where 146 players have started the proceedings. No doubt that number will go up by the end of late registrations.
1:00pm IST
It's Day 2 of the 2k Deepstack Event and 34 players from the field of 334 will be paid out. From the latest information we have, Abhishek Goindi, Romit Advani and Uday Patil have made the money although Goindi is struggling with barely a few blinds in his stack. Patil however has a healthy stack and will be looking to go all the way today.
19th April
A huge 334 players took part in the opening event of the MPC series, the HK$ 2,000 Deepstack with $200,000 Guarantee. The huge new room at PokerStars LIVE! had Indian players scattered all over for this two day event but we have been informed that Amit Varma and Rajeev Kanjani have been knocked out at just past midnight local time.

24 April
After Amit Ajwani's title win in Macau, it was time for his friend Jasven Saigal to pull one off in Manila. Saigal outlasts 69 players to win Event 14: $270 6 Handed Freezeout!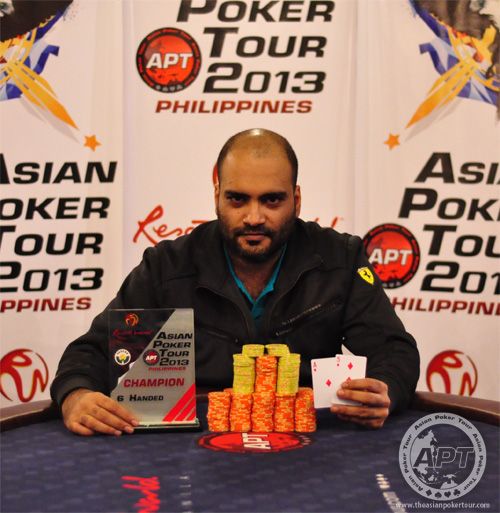 22nd April
With 27 players getting paid out, Jasven Saigal falls just short, busting out of the APT Main Event in 34th place. However Lawrence Sanjay did carry on to make the money eventually busting in 25th place.
21st April
With about a couple of blind levels left in the day, Sameer Rattonsey is eliminated in Level 6. Lawrence Sanjay (70,000), Jasven Saigal (30,000) and Shiva (22,000) survive and will return for tomorrow's Day 2.
19th April
Sameer Rattonsey finished 4th in a field of 109 players in Event #4: $270 Head Hunter
17th April
A few Indians including Mumbai's Jasven Saigal and Sameer Rattonsey participated in Event #1: $270 Mix Max 10-6-4 but neither player managed to cash.
Image courtesy: Kenneth Lim for PokerStars Blog
Get all the latest PokerNews updates on your social media outlets. Follow us on Twitter and find us both Facebook and Google+!