Terry Fan wins biggest ever Red Dragon; Sailesh Lohia finishes in 7th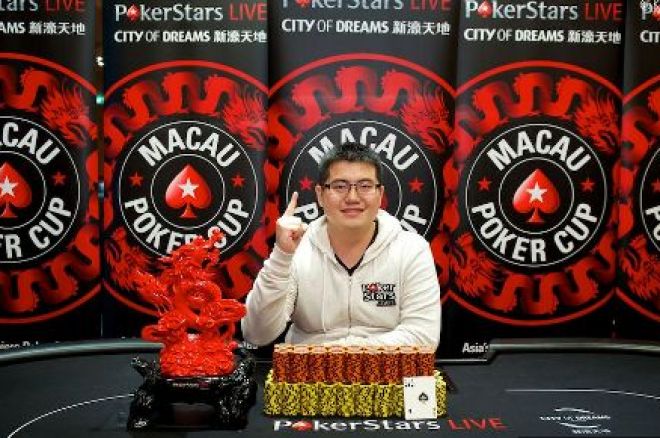 The Red Dragon has a new master.
Terry Fan from Taiwan has won the Red Dragon Main Event and HK $1,771,000. Fan won the largest prize in Red Dragon history by overcoming the largest field to ever assemble on the Asian continent. After three Day 1s, the 18th Red Dragon attracted 891 unique entrants, obliterating the previous record of 635. Day 1C even drew so many entrants that tournament staff had to shut down late registration.
Then the slaughter happened.
Around 75 percent of the field was eliminated on each Day 1 and 232 survivors came back for another day of poker. While the levels were longer on Day 2, the action didn't slow down. We quickly hit the money with 108 players and got all the way down to 18 by the end of the day. They came back today to play for the title. Fanny Li started the day with a massive chip lead. After hitting a series of sets and eliminating a few players, Li started Day 3 with 2,171,000. Li was more than 1 million ahead of her closest contender but would end up falling in 6th. The Red Dragon is a viscous and mysterious creature.
We started the day at 2 pm and got down to the final table in less than four hours. Wesley Zhu nearly became our final table bubble but got saved on the river. Then Zhu knocked out Yufei Zhen when his
hit four hearts to flush out Zhen's
.
Terry Fan started the final table with the chip lead, but it wouldn't be an easy victory as Fan found himself short several times during the final table. At first, there was a small lull in the action when we hit the final table, but the Red Dragon doesn't stay calm for long.
Ryan Yu was the first to fall when Fei Xie cracked his aces with
. A few minutes after that, Wesley Zhu lost with
to Andy Asihwardji's
. Then Gie Angelo Reyes and Terry Fan had their first large final table clash. Reyes and Fan were faced with a
board and action had been raised and re-raised. Fan four-bet to 1.455 million and Reyes moved all-in.
Fan folded and Reyes turned over
for ace-high. Reyes became our chip leader but Fanny Li started catching up.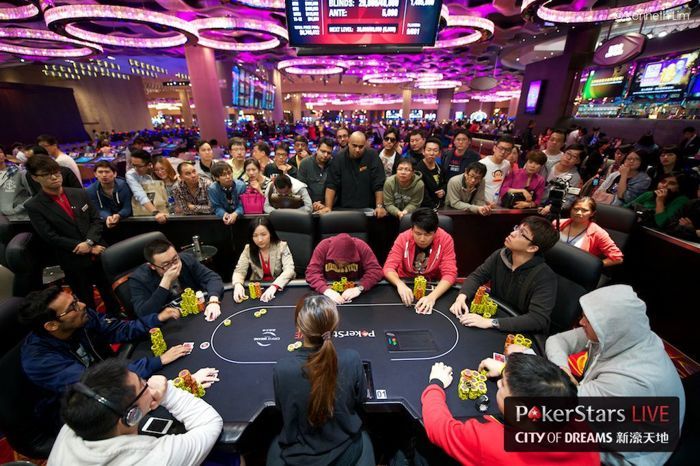 Li and Day 1A chip leader, Sailesh Lohia, got it all-in preflop and Lohia turned over
. He was way ahead of Li's
but Li had a knack for turning pocket pairs into sets. Everything was looking good for Lohia on the
board, but then the river brought a devastating
. Li jumped to second in chips but then gave them all to Reyes. Li didn't have a set when she was eliminated. She did have a full house though. Li held
on a
board. The chips went in on the turn and Reyes turned over
for quads. It was the only way to beat Li.
With five players left, Terry Fan was nearly tied as our short stack with Andy Asihwardji. But Fan took all of Asihwardji's chips after his
held up against Asihwardji's
. Then Neil Chen knocked out Fei Xie with the old one-two knockout. First he cracked Xie's aces and doubled up, then he finished Xie off with
to Xie's
. Both players paired their low card but Chen's 9s brought us down to three players. Once again, Terry Fan was the short stack.
We can't emphasize how unpredictable this Red Dragon was. Fan then got a one-two of his own. First he doubled through Reyes. Then he got pocket queens and eliminated Neil Chen and Chen's pocket sixes. Fan went from short stack to overcoming Reyes' seemingly insurmountable stack in less than half a level. Fan started the heads-up match with 8,450,000 to Reyes' 4,630,000. The heads-up match was deceptive. It felt like it was going to last a long time but then it finished in about 20 minutes. Players started passing around the blinds and only one hand went down to the river in 15 minutes.
The stacks hadn't changed much and then they got it all-in preflop. Fan raised to 200,000 and Reyes made it 600,000. Fan asked for a count on Reyes and then moved all-in. Reyes hesitated for a bit and Fan says that's when he knew he was good. Reyes called and showed
, Fan was ahead with
. The flop came
and Reyes and his rail exploded. Media and staff started hunkering down for a long heads-up match, but this is the Red Dragon we're talking about. The turn was a
and then a river came to end all Red Dragon rivers: the
.
Fan had been very calm and quiet the entire tournament, but exploded when the river hit. He jumped over to the rail and hugged multiple people multiple times. Fan became the fourth Taiwanese player to win the Red Dragon and took the largest prize in Red Dragon history, HK $1,771,000 (US $221,375). It was a fairly large ROI considering Fan qualified on PokerStars for just $320. Terry Fan's name is now set in Red Dragon history as this 18th and indeed historic installment of the Macau Poker Cup is wrapped up.
Indian contingent does well
Considering that this was the biggest ever turnout for the Red Dragon, it comes as no surprise that players from India made their presence felt at the PokerStars LIVE! room in Macau not just in terms of numbers but also in terms on results. Almost 50 players from India participated in the Red Dragon including many of the regulars on the Goa tournament circuit.
Sailesh Lohia of course came away with the biggest result of them - a 7th place finish at the final table of the Red Dragon Main Event. Lohia managed to avoid the "curse of the Day 1 chipleader" when he finished with a monstrous 160,000+ stack. It's almost a given that chipleaders on Day 1s rarely make it to the final table of the tournament let alone the final table. Lohia had a great warm leading to the Main Event by scoring a 23rd place money finish in Event 4: HK$ 3,000 Turbo tournament and capped it off with a final table finish at the Main Event which netted him a payday of HK$ 262,000.
Amit Ajwani though was the only title winner from the Indians with his win at the above mentioned Event #4 and he too min-cashed in the Main Event. This event seemed to be quite the Indian favourite as several players made notable scores Amit Varma (3rd), Kavish Kukreja (9th) and Romit Advani (17th).
If there was an award for sheer consistency, Dhaval Mudgal would win it hands down given that he cashed three times in the series including two back-to-back final tables and a cash in the Main Event as well. The latter was particularly a harsh exit for the Delhi-based player when his short stack shove with Aces got decimated by the rivered flush of his opponent's. Mudgal could find solace in that at least he lost it to the eventual winner of the Red Dragon. Yes, it was indeed Terry Fan, who lay that beat down to eliminate Mudgal in 41st place.
In all there were 26 cashes by the Indian contingent which included a title, a final table in the Main Event event and seven final tables in the side events. It's fair to say that Indians are steadily making their presence felt on the Asian tournament circuit and it shouldn't be too long before one of these high profile tournament trophies finds it way to our shores.
Content courtesy: PokerStars Blog
Image courtesy: Kenneth Lim for PokerStars Blog
Get all the latest PokerNews updates on your social media outlets. Follow us on Twitter and find us both Facebook and Google+!