Circuit Grinder: Cord Garcia and Ben Reason Discuss Being Roommates on the Road
PokerNews Staff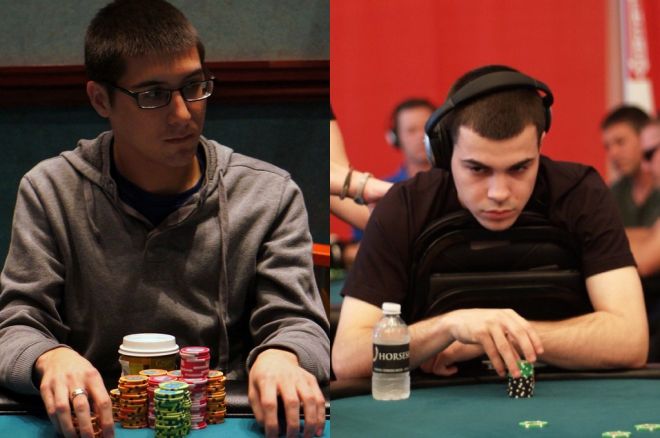 Traveling the poker circuit can be lonely, which is why so many players run in packs. In an attempt to help alleviate overhead, it's common for players to bunk up at a stop. That's exactly what Ben Reason and Cord Garcia have done during the 2012/2013 World Series of Poker Circuit.
Primarily an online player in the past, Reason, 24, has ventured into the live realm and has begun to find success. Last September, Reason took down the $580 No-Limit Hold'em event at the WSOP Circuit Bossier City for $14,098 and his first gold ring. More recently, the Stephen F. Austin graduate with a degree in music education (violin) finished fifth in the WSOP Circuit Foxwoods Main Event for $49,007. Not too shabby for the guy who used to work at Jason's Deli, play gigs, and donate plasma to get his bankroll up.
If Reason is the Jedi master, then 23-year-old Garcia is his Padawan. The oldest of three children, Garcia hails from Houston, Texas and has been playing poker professionally since he turned 21. Just days prior to Reason's ring win, Garcia had one of his own when he topped a field of 251 players to win a WSOP Circuit Bossier City Event #1 $365 No-Limit Hold'em for $18,449. Interestingly, Garcia matched his friend's fifth-place finish in a Main Event at the WSOP Circuit Council Bluffs in late April, a performance worth $30,635.
Both Reason and Garcia were kind enough to sit down with PokerNews to talk about their history, life on the circuit and the upcoming National Championship.
PokerNews: How did you guys get your start in poker?
Reason: My dad taught me five-card draw when I was young, which quickly lead me to playing for Pokémon cards in about fourth grade or so. When the poker boom hit, I was always trying to get $5-$20 games together with my friends. Taking the game more seriously in college, I was really making it a point to study with close friends/get coaching/read books...really whatever I could to do improve my game. I started to win at a consistent rate online early my sophomore year.
Cord: As for most of us, the Moneymaker era really inspired me to chase poker. I was playing online since ninth grade and by my senior year I had played enough to become a winning player. I started playing around Houston until I turned 18. That's when I found out that the Winstar/Choctaw age limit was only 18, and since then, I haven't stopped playing. This is my first real WSOP summer, so I'm very excited to battle on the felt!
We understand you're roommates and best friends from Houston. How did you two first meet?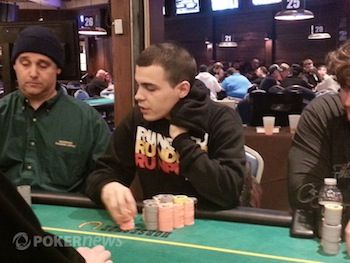 Reason: It was about six months or so after Black Friday. I was taking the semester off to focus really hard on my game so I could stay ahead of everyone else for when online came back. I had bigger time frames to work with for poker trips, which lead me to a tournament series at Choctaw in Durant, Oklahoma. Cord and I didn't know that many regulars on the scene at the time, so it felt natural to see what the other was up to. Him and my girlfriend are from the same city, so we made it a point to keep up since there was a good chance I was moving there after graduation.
Cord: Over the past year Ben and I have become pretty close. I learn from him every day. He's a great person with huge goals in life. He saw how eager I was to get back online and helped get me set up on the American sites. When he graduated last year he wanted to move to Houston where I lived. After quite a bit of procrastination by the three of us, Sebastian is our third roommate, we signed a lease on a house. We haven't enjoyed it as much since we have been traveling so much, but it's been a great experience.
Do you always travel together? What's life on the circuit like?
Reason: We certainly try to when possible, but sometimes our schedules outside of poker don't always correlate. Circuit life is rewarding in a lot of aspects, but tough in many others. It's always fun to spend time with other circuit regs, have access to great cash games, and big tourney fields with nice prize pools. On the other hand, it's difficult to maintain a balanced life style.
Cord: It's funny because Ben comes from the online poker world with hardly any live experience. I somehow talked him into going to Bossier City stop. That was a really special stop as we both won our first rings. Once we got back home, first thing Coach does is check the rest of the schedule to set plans immediately. I'm glad he chased the points with me. Regardless of the outcome, the New Orleans stop should be a great experience.
Do you ever get sick of one another?
Reason: Haha not that much, just when he doesn't do the dishes.
Cord: Ben is one of the few people I've met in life that I don't get annoyed with. He always has something intelligent to say about whatever the discussion is. He's a great teacher of both the game and life in general. I'm lucky to have him on my team.
What's the story behind the name Cord?
Cord: My government alias is Lance Cordell Garcia. Apparently I didn't like either as a kid but was alright with Cord. Most of my closer friends call me Lance though, so it seems I didn't accomplish much. I'm going to go on record and claim the nickname "Coach" for Ben. Anytime I have a question about a hand, we go to Coach.
What are your proudest poker accomplishments and why?
Reason: I generally feel the most proud when I see my students crushing over large samples. It's a testament that I know the game well enough to teach it and a way for me to give back to the community. Aside from that, I probably felt the most proud when I had a $1,000 score in Midnight Madness on Full Tilt many years ago. I was just beating micro stakes at the time and that was my biggest score by a wide margin.
Cord: Final tabling the Winstar was definitely my biggest accomplishment career wise. Although making this freeroll is, by far, my biggest personal accomplishment. Last year, I played a couple of the stops and found out about the freeroll thru another good friend, Huy Nguyen. He told me I should chase the points, it's a great opportunity to win a bigger buy-in tournament and get my name out there.
Cord, what was it like to win your first WSOP Circuit ring last year in Bossier City?
Cord: Man, winning that ring was pretty special to me. I was coming off the Winstar final table and had a ton of momentum going into the Bossier Series. Then when Ben won his ring a couple events later, I knew we had something special going on.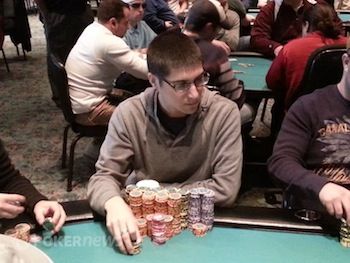 Same question to you Ben.
Reason: I was disappointed I wasn't there for Cord's win. I had something going on and was only able to make a few of the events at the stop. The timing of it felt nice though as I had just bought a car the day before the win. We'd both been putting in a lot of volume during that time and Cord was coming off his final table at the Winstar main. Lots of positive momentum.
With your recent fifth-place finishes you're both likely to qualify for the WSOP Circuit National Championship. How does that feel?
Reason: This is my first time grinding the circuit and I had made it a goal to make the freeroll after the Bossier win. I've only grinded two full stops and two half stops, so it really feels nice to lock it up in such a short time span.
Cord: I mentioned before how much this freeroll tournament meant to me. Ben, Steve Hesse and I will be rooming together for the whole NOLA stop. We're looking forward to some good food, great memories and, of course, some high level of poker. Oh, and one of us winning it wouldn't be too bad either!
What will you guys do to prepare for the National Championship?
Reason: Well the actual WSOP is right after, so I'm going to continue to prepare extremely hard like I have been the past few months. I study frequently with my horses/students and put in a lot of volume online while not playing live; this makes all the difference in the world. Physical and mental endurance is also paramount for optimal brain function, so emphasis on eating healthy and doing yoga, exercise, and meditation is high on the priority list. I am going to immerse myself in everything that I am aware of to enhance my ability to make the best decision at the table. If I do this, I know results will follow.
Cord: Unfortunately, due to procrastination, I'm not able to rest up before the freeroll. I'm looking forward to seeing all my boys in New Orleans. My predictions foresee some special moments next month and I feel lucky to be a part of it!
PokerNews will be in New Orleans to cover the National Championship later this month. You can follow the action in our Live Reporting section.
Get all the latest PokerNews updates on your social media outlets. Follow us on Twitter and find us on both Facebook and Google+!