Ivey Purportedly Won £7.8 Million Playing Punto Banco by Reading Back of Flawed Cards
PokerNews Staff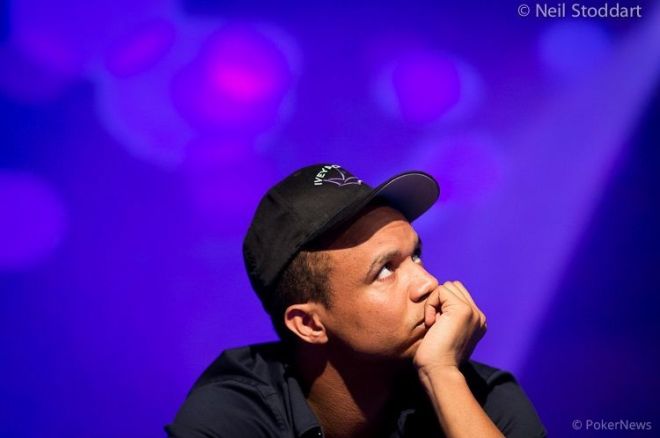 Last week, PokerNews reported that Phil Ivey was suing a British-based casino, Crockfords, for withholding £7.8 million ($12.1 million) he won playing Punto Banco in August 2012.
Now, according to the dailymail.co.uk, the Genting-owned casino believes Ivey and his female acquaintance were "reading" cards that contained tiny manufacturer flaws caused by "a mistake during the cutting process at an overseas manufacturing plant."
First reported in the English newspaper the Daily Mail, Ivey's sizable Punto Banco win apparently came from playing £50,000-£150,000 per hand over two nights. Stuck £500,000 at one stage, Ivey went on a winning streak to recoup his losses and finish £2.3 million in profit. The following night, Ivey returned to Crockfords and won an additional £5.5 million.
The purported flaw made it so that the cards did not look exactly the same when turned 180 degrees, allowing players to use a system known as "playing the turn."
"By turning an asymmetrical card 180 degrees it is possible to identify what the value of the card is before it is revealed," leading casino surveillance specialist Willy Allison explained in the Daily Mail. "You simply glance at the edges on the back of the card ... Essentially, playing the turn has the same effect as marking the cards and gives players a huge house edge ... Who needs invisible ink and red-tinted sunglasses when you've got manufacturer-made 'marked cards?'"
Here's a graphic from the Daily Mail that shows how the game might have unfolded: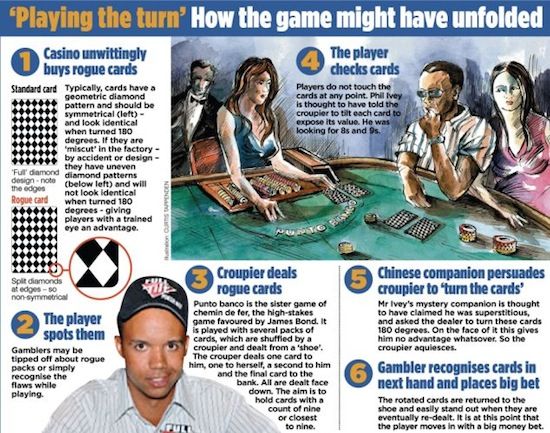 Last week, Ivey, who is represented by Archerfield Partners and Richard Spearman QC, commented on the suit:
"I am deeply saddened that Crockfords has left me no alternative but to proceed with legal action, following its decision to withhold my winnings. I have much respect for Gentings, which has made this a very difficult decision for me.
"Over the years I have won and lost substantial sums at Crockfords and I have always honoured my commitments. At the time, I was given a receipt for my winnings but Crockfords subsequently withheld payment. I, therefore, feel I have no alternative but to take legal action."
The 184-year-old casino, which has returned Ivey's initial £1 million stake, have said that they "shall be defending [Ivey's claim] vigorously."
PokerNews will keep you updated as to any more developments on this case as it progresses.
Get all the latest PokerNews updates on your social media outlets. Follow us on Twitter and find us both Facebook and Google+!