Paul Volpe Denies Shaun Deeb Sixth SCOOP Title
PokerNews Staff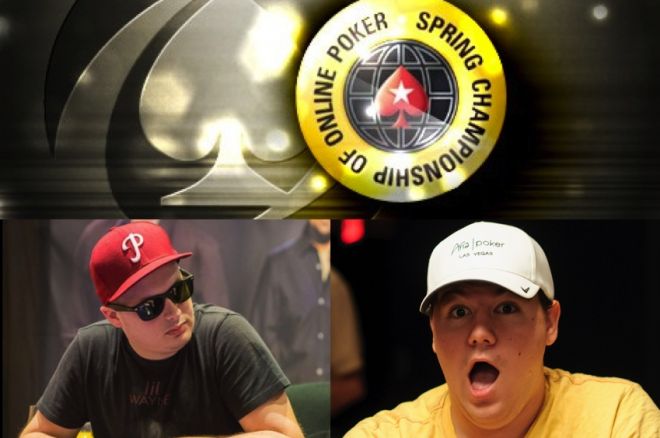 On Monday, Shaun Deeb nearly won his sixth Spring Championship of Online Poker title on PokerStars, but was denied by Paul "paulgees81" Volpe. Last year, Deeb stole the show earning four SCOOP titles, all of which were in "High" events. Having won a SCOOP event previously, that brought Deeb's overall count to five.
With the potential of winning his sixth SCOOP event, Deeb made it to heads-up play in Event #4 High $2,100 Badugi, but lost to Volpe, who claimed the title and $34,780. In the same event last year, both players made the final table. In that event, Volpe notched a fifth-place finish for $8,850, and Deeb took seventh for $5,130.
Event #4 High $2,100 Badugi attracted 47 entrants to build a $94,000 prize pool, nearly double that of the $50,000 guarantee, with the top six finishes in the money. It was a tough playing field with notables like Team Online member George "Jorj95" Lind III (18th), Team PokerStars Pro Jose "nachobarbero" Barbero (14th), and Team PokerStars Pro George Danzer (10th) each making deep runs.
After over two hours of play, the final table was set with Deeb as chip leader and Volpe third in chips. With the elimination of "MagicDeal" in eighth and "filfedra" in seventh, the top six saw themselves in the money with blinds increased to 1,000/2,000.
In the elimination hand of Phil "Jackal69" Shaw, which was reported in the PokerStars Blog, Shaw raised from the small blind with only 4,290 chips left behind. Volpe called from the big blind, then Shaw drew one card while Volpe drew two. Shaw bet, Volpe called, and Shaw drew one card while Volpe drew two again. Shaw bet, Volpe raised, and Shaw called all in. Both players drew a single card on the third draw, and Volpe showed the
to beat Shaw's
. With that, Shaw was eliminated in sixth place collecting $5,170.
Chris "d0r1t0s" McClung was the next to go in fifth place for $7,050. Deeb raised from under the gun, McClung three-bet from the button, and Deeb called. In the first draw, Deeb replaced two cards, and McClung stood pat. McClung bet, and Deeb called. In the second draw, Deeb took one card, and McClung continued to stand pat. Deeb check-raised McClung's bet. McClung reraised, and Deeb called. On the third draw, Deeb stood pat only to find McClung drawing two cards after two rounds of not drawing. Deeb showed
for an eight Badugi, and McClung showed
for a three-card jack sending him to the rail in fifth place.
A dozen hands later, it was time for "Fresh_oO_D" to end his run leaving home with $9,400 in cash for fourth place. After three draws and betting, "Fresh_oO_D" saw all his chips in the middle with
with a Badugi ten while his opponent, "Stroynowski," had a better hand of
.
Eliminating a player wasn't enough to keep "Stroynowski" alive, and he was the next to bust after being the short stack between Volpe and Deeb. Play reached the nine-hour mark, and the stakes jumped to 1,400/2,800. In the hand that broke "Stroynowski", Deeb stood pat for the last two draws to show a king-high Badugi with
against "Stroynowski," who only had a three-card four with
. He was out in third place for $14,100.
Heads-up action began with Volpe as the chip leader with 191,675 chips to Deeb's 43,335. Chips went back and forth and at one time Deeb even took the lead reaching 158,325 chips to Volpe's 76,675, but the lead came back to Volpe who maintained it to the end.
It was 45 minutes into heads-up play when Deeb finally caved and ended his run, finishing as runner-up. Volpe raised to 3,200 on the button and Deeb called with both players drawing two cards. Deeb led with a bet, Volpe raised and Deeb called. Both players drew just one card on the second draw and Deeb check-raised Volpe's bet. On the third draw, both players drew just one card again. Deeb pushed his remaining 650 chips to the middle and Volpe called. Deeb showed a
for a three-card 5-2-A and Volpe showed
for a better hand with a three-card [3-2-A].
Deeb had a great performance but couldn't obtain his sixth SCOOP win, instead taking home $23,500 for his second-place finish. Volpe was crowned the victor of the $2,100 buy-in Badugi event adding a SCOOP title to his résumé and $34,780 to his bankroll.
Here's a look at the top six finishes:

PokerStars SCOOP 4-High Limit Badugi ($50K Guaranteed)
| Buy-in | Entrants | Prize Pool |
| --- | --- | --- |
| $2,100 | 47 | $94,000 |
| Place | Player | Prize |
| --- | --- | --- |
| 1 | Paul "paulgees81" Volpe | $34,780 |
| 2 | Shaun "shaundeeb" Deeb | $23,500 |
| 3 | "Stroynowski" | $14,100 |
| 4 | "Fresh_oO_D" | $9,400 |
| 5 | Chris "d0r1t0s" McClung | $7,050 |
| 6 | Phil "Jackal69" Shaw | $5,170 |
For more on the event, check out the PokerStars Blog.
Get all the latest PokerNews updates on your social media outlets. Follow us on Twitter and find us both Facebook and Google+!