WPT on FSN Five Diamond Part I: Negreanu's Six Bullets & Esfandiari's Final Table Magic
PokerNews Staff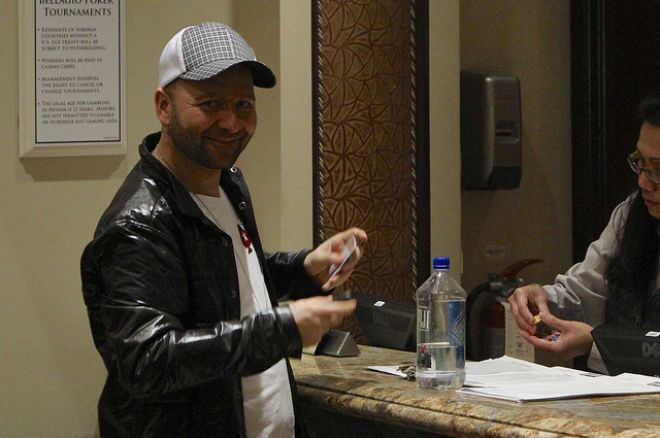 The World Poker Tour Season XI continued Sunday night with a new episode on Fox Sports Network. The first of three episodes from the Five Diamond World Poker Classic featured the lead-up to the final table. The $10,000 Main Event, which took place at the Bellagio in Las Vegas from December 4-9, 2012, attracted 503 entries and created a prize pool of $4,879,100, which was distributed to the top 54 finishers with $1,268,571 set aside for the winner.
Where It All Began: The broadcast started with a look back at the Five Diamond World Poker Classic, the tournament that started the WPT phenomenon way back in Season 1 when Gus Hansen defeated a field of 146 to capture the $556,480 first-place prize. From there, the stop developed a strong tradition as some of poker's biggest names captured the title including Daniel Negreanu (Season 3), Joe Hachem (Season 5), Eugene Katchalov (Season 6), Chino Rheem (Season 7), Daniel Alaei (Season 8), Antonio Esfandiari (Season 9) and James Dempsey (Season 10).
Firing Multiple Bullets: While most WPTs allow for reentries on different starting flights, the WPT Five Diamond World Poker Classic allowed for unlimited reentries until the start of Level 8 on Day 2. Among the pros to fire more than one bullet were Jason Koon, Kyle Julius, Vanessa Selbst, Andrew Lichtenberger and Will "The Thrill" Failla It's also worth noting that Jason Somerville bought in three times while Daniel Negreanu fired an incredible six bullets! Unfortunately, it didn't help "Kid Poker," who busted by the end of the day.
Unlimited reentries can be discouraging, especially for amateurs like myself. As a player I must admit I don't like it, but since I don't play $10Ks and observe as a fan, I like that my favorite players can continue to play if they so choose.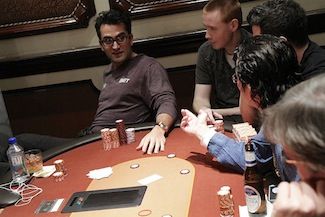 Esfandiari & the Five Diamond: When it comes to success at the WPT Five Diamond World Poker Classic, no one has impressed as much as Antonio Esfandiari. He cashed in four consecutive seasons and made the final table in both Season 9 and 10, even winning the former on his birthday for $870,124.
The thought of "The Magician" making the final table three years in a row is just plain sick, but it became a real possibility when he finished Day 3 and Day 4 as the chip leader. With just 22 players remaining, Esfandiari had ensured his fifth consecutive cash in the event and was just 16 players away from the final table three-peat (a feat that had never been accomplished in the history of the WPT)!
What's It Like to be Cheered on By the All-Time Greatest Olympian?: I know Michael Phelps, who has 18 Olympic gold medals and 22 medals total, likes to play poker, and I've even had the opportunity to stand next to him while he played the 2013 PokerStars Caribbean Adventure, but can you imagine having him on your rail?
Phelps is friends with a number of poker players, including Esfandiari, whom he wished good luck to in person on the fifth day of play. Nothing like having one of the most famous people in the world cheering you on!
A High-five and a Hug: With just seven players remaining, Jonathan Aguiar moved all in holding
and was called by Esfandiari with
. It seemed as if Esfandiari had a date with destiny for his third final table, and he wasn't late for it as the board ran out
and Aguiar finished as the TV final table bubble boy for $143,933. After the hand Esfandiari got a high-five and a hug from his father, also his best friend. Good friends with your dad and Michael Phelps—sick life.
Here's how things stacked up at the start of the final table, which began in Level 26 with the blinds at 20,000/40,000/5,000.
WPT Season XI Five Diamond World Poker Classic Final Table

| Seat | Player | Chips |
| --- | --- | --- |
| 1 | Antonio Esfandiari | 4,215,000 (105 BBs) |
| 2 | Andrew Lichtenberger | 2,875,000 (71 BBs) |
| 3 | Jeremy Kottler | 1,880,000 (47 BBs) |
| 4 | Ravi Raghavan | 1,205,000 (30 BBs) |
| 5 | Shawn Buchanan | 3,300,000 (82 BBs) |
| 6 | Thomas Winters | 1,620,000 (40 BBs) |
The Final Table Fashion Report: Mike Sexton has always said it's good for the games when players dress up for the TV final table. So did the Five Diamond World Poker Classic finalists take his advice? Here's my take on each player's wardrobe.
Thomas Winters: He reminded me of the good-looking older man you might see in the Fall collection advertisements for J-Crew, minus the stylish clothes. Instead, the silver-haired statesman donned a long-sleeve black button-up complimented with a silver watch. It was conservative and nothing too special. Grade: B-
Antonio Esfandiari: When you're a representative of a brand or a company, you've got to sport the goods. Esfandiari did just that in a yellow tee with 3-Bet and Aria logos. You just know the Bellagio wasn't a fan of that. I guess when you're the all-time tournament money leader you can wear whatever the hell you want to. For that reason… Grade: A+
Andrew Lichtenberger: A gray sweater getup over a baby blue tee. I like the colors, just not on "luckychewy." Not that I'm a stylist, but I imagine him more of a red or green man. Grade: C+
Jeremy Kottler: A black sweater over a white button-up. Nice, but accessorize with a nice watch and a pair of tinted shades and you've got one well-dressed poker player. Grade: A-
Ravi Raghavan: The plaid button-up that Ravi was wearing could make some players look like a lumberjack, but oddly it seemed to work for him. The only thing that was off-putting was a big gray patch on the right breast. My guess is it was covering up a logo of some sort. Whatever the case, it was a bit of an eyesore. Grade: C+
Shawn Buchanan: A black hoodie pulled up over a baseball cap isn't very flattering, but it is Bucky's trademark look. It's what you'd expect from a consummate poker grinder, and while that would not normally get a good grade from me, I give Buchanan credit for staying consistent over the years and developing an image. It can go a long way in this industry. Grade: B
Lichtenberger's Laugh: If you know Andrew "luckychewy" Lichtenberger, you know he has a unique and infectious laugh. It was even featured in a short prefinal table interview in which he explained his nickname (he got it because his mom used to pack him a chewy granola bar in his school lunch). We don't have the video the WPT aired, but if you want to hear Lichtenberger's laugh, check out this WAG Diaries interview he did alongside his girlfriend, Caity Green, at last year's World Series of Poker.
Short Stay for Kottler: I always feel bad for the first person eliminated in a new WPT on FSN episode. Here they are on one of poker's biggest stages primed to make their mark in the industry, and then their time is cut dramatically short. They say everyone has their 15 minutes of fame, but in this case it was more like three minutes of fame for Jeremy Kottler.
In the last hand of the broadcast, Kottler moved all in for 720,000 holding the
after Tommy Winters had opened for 115,000 with the
. Winters made the call and it was off to the races. Both players sat patiently on both the
flop and
river, and then Kottler, who is a Buckeye from Ohio, shook hands with his opponents after the
blanked on the river. Kottler took home $187,845 for his sixth-place finish.
Tune in Next Week: Part II of the Five Diamond World Poker Classic is set to air on Sunday, May 26 on FSN, so be sure to check your local listings. If by chance you miss it, check back next week for the latest recap of all the action here on PokerNews.
Who will be the next player to add his or her name to this prestigious list of champions?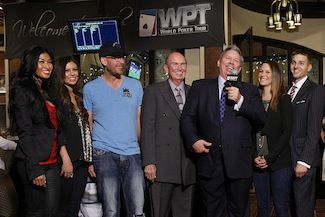 Past Five Diamond World Poker Classic Champions
| Season | Player | Entrants | Earnings |
| --- | --- | --- | --- |
| 1 | Gus Hansen | 146 | $556,480 |
| 2 | Paul Phillips | 314 | $1,101,908 |
| 3 | Daniel Negreanu | 376 | $1,770,218 |
| 4 | Rehne Pedersen | 555 | $2,078,185 |
| 5 | Joe Hachem | 583 | $2,207,575 |
| 6 | Eugene Katchalov | 626 | $2,482,605 |
| 7 | Chino Rheem | 497 | $1,538,730 |
| 8 | Daniel Alaei | 329 | $1,428,430 |
| 9 | Antonio Esfandiari | 438 | $870,124 |
| 10 | James Dempsey | 413 | $821,612 |
| 11 | ??? | 503 | $1,268,571 |
*Pictures courtesy of World Poker Tour.
Get all the latest PokerNews updates on your social media outlets. Follow us on Twitter and find us both Facebook and Google+!