Ebony Kenney Discusses Her Love for the Game, Modeling, Acting, and Women in Poker
Pamela Maldonado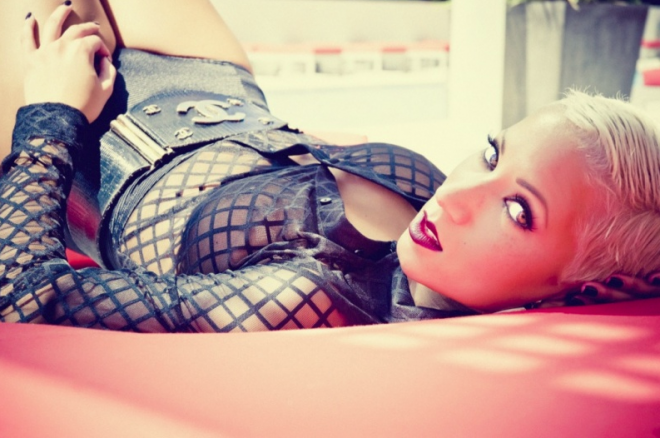 Ebony Kenney is perhaps most recognized as part of the World Poker Tour's Season X Ones to Watch. She was amongst some of the game's notable names that included Maria Ho, Dan O'Brien, William Reynolds, David "Doc" Sands, and Matt Marafioti. Although Kenney has been in the poker industry for a decade, it wasn't until the last couple of years that she has been making quite the impression both on and off the felt. With nearly $200,000 in tournament winnings according to Hendon Mob, Kenney is not just an up-and-coming face on the scene, but also a mother of two and successful model with future hopes of landing in the acting biz.
Kenney recently nearly final tabled the WPT Caribbean event in St. Maarten. Finishing just shy of a final table in 10th place, Kenney bagged $10,500 for her efforts. While that wasn't her largest cash on the tour, it was Kenney's deepest run in terms of finishing position. Her other deep in-the-money runs on the WPT include 29th at the WPT bestbet Open, 30th in the WPT Seminole Hard Rock Showdown, and 41st in the WPT Borgata Poker Open, all of which came in 2013.
PokerNews had the opportunity to sit down with Kenney to discuss her poker endeavors, her recent reignited love for the game, and success with a modeling career.
PokerNews: First off, why don't you tell us a little about how you got your start into poker?
Kenney: My ex-boyfriend taught me how to play and I never looked back — that was almost 11 years ago. I started real small by playing $20 tournaments with friends just to get a feel for the game and slowly learned a bit more. I then transitioned from that to playing cash games, and it just blossomed from there.
According to Hendon Mob, you cashed your first event in 2007 then not again till 2010. Can you explain the three-year gap?
Actually, there are a couple of tournament cashes that are missing. In summer 2009, I had a score for $54,000 at the Hard Rock in Florida. It was on the site, but then I noticed it was taken off for whatever reason. It was before poker in Florida became mainstream. I didn't travel as much and wasn't playing many big tournaments, but was rather playing a lot of smaller, local cardroom events. I was doing well but nothing that was trackable.
Do you prefer cash games or tournaments?
I definitely prefer tournaments. I love the grind of tournaments and the high variance. I think because it's how I got my start in the game, I just appreciate it more. I can truly say it is my first love and something that will always be my favorite.
When and why did you transition into modeling?
I started modeling in August 2010. It was right around the same time that my tournament run in Florida began. I was getting approached from different photographers and I think it was because I had just cut my hair. It was previously black, curly and long, and I chopped it all of and dyed it bleach blonde. I have been a makeup artist since I was 16 and never once considered myself to be the modeling type because I was always behind the scenes. However, I was approached so often that I thought I would give it a try. Right from the start, I was hired for some jobs. It was definitely a different change of pace, but so much fun.
Your modeling site says you have done some music videos. Which ones?
I was casted in "Sweet" by Bow Wow featuring Lil Wayne, "Sex Ain't Better Than Love" by Trey Songz, "Rap Song" by T-Pain featuring Rick Ross, and a couple of smaller videos from local artists. I was very fortunate because it was at 28 that I decided to give it a shot, and that doesn't happen when you are that age. I was pretty much a senior citizen starting out.
Which career is most important for you to excel in?
The funny thing is, just recently in August I had made the decision to pursue acting full time. I was going to move to Los Angeles and play cash games and just really put the tournament grind on hold. However, I met some people over the summer that really ignited my passion for poker. One of my girlfriends final tabled the Caesars Main Event, and it was during Day 2 and Day 3 that I sat behind her and was coaching her between hands. She really helped to reignite my love for tournament poker just by seeing her excitement. I guess I was so jaded from the hustle and the grind and from the negativity from other players, but being around her really jump-started my passion. Whatever is going on must be the cure because I'm now cashing again and probably playing the best poker I've ever played.
If you do choose the acting route, when will you begin pursuing that adventure?
Probably within the next two years or so. I'm in the process of starting a cold-pressed juice company and going to give that all I have combined with poker, and if nothing happens, then off to L.A. I go!
How do you think modeling either affects or contributes to your poker career?
Modeling affects poker because people tend to not take me seriously. Anyone can Google me and see pictures of my butt, so they think that I'm only getting ahead in poker because I model. However, people don't realize that I've put in the time and have been playing for over a decade. It may appear that I'm a model who started playing poker, but in fact it's the other way around. It's the good and the bad, but I'll take any perception.
From when you first started playing to now, how do you think women in poker are perceived?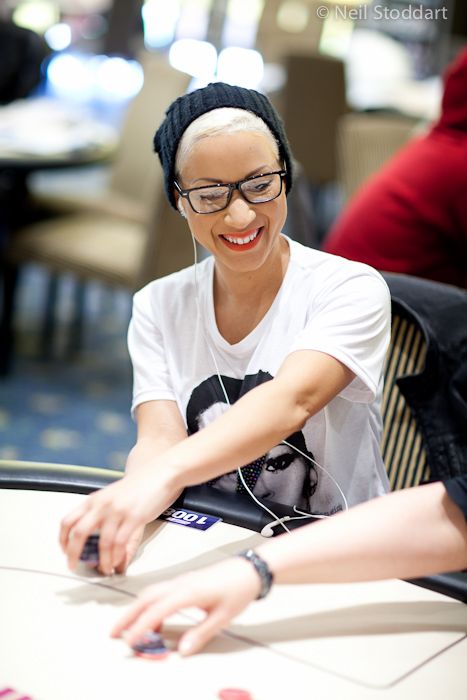 It's a double-edge sword because if you are feminine and comfortable being feminine then people will perceive that as someone just wanting male attention. Like myself, I am a woman and am proud to be a woman, but people don't understand that I actually do love the game. Before, I wanted to defend myself all the time, but then realized that it didn't matter what I did or how I did it. People will have their own perceptions of others. When I first started playing, I showed up in jeans and heels but then transitioned into wearing sweat pants, sneakers and t-shirts. Still, though, no one took me seriously so I figured I would stay true to myself and be who I am, which is really girly and feminine. Sometimes people consider me to be overtly sexy, but I don't care because I am who I am. I'm not going to change my appearance because it makes people uncomfortable. I don't think it matters how the attention comes. I think it's what you do with the attention that matters most.
Do you think women are more inclined to be recognized for their beauty rather than poker skills?
I definitely think that, yes, that is the perception. The thing about it is if you are attractive and make it to Day 2 of a tournament then you will get more attention because for every 200 men in the field there is only one woman. So we naturally just stand out. I think our game will be picked apart a lot more and we will be under more scrutiny than a male player. There aren't a lot of women who play poker as a profession so those who do will just be looked at with a close eye.
What do you think would have to happen for that perception to change?
Unfortunately, I don't think it will ever change. I think there will always be naysayers, someone always saying "It's just luck, she's just running well, she's this and she's that." It will always be something. Some people can't just swallow the truth and admit [a female] is a great player. Unfortunately, it's a double standard.
What is your motivation as a woman to play poker?
I get so excited when I see any woman have any type of success in poker. Obviously we are breaking against barriers that have been put up by men and just to have any type of success in this field is amazing. I am a single mother of two children and for me it's great to show my kids, especially my daughter, that you can do anything. I'm really trying to refocus and be successful doing what I love.
What are your feelings towards ladies events?
I love them. I'll tell you what, I don't have an ego when it comes to poker and I think a lot of women tend to hate on ladies events, but for some it's their start into the game. It can be very intimidating for a woman to come in and sit down at a table full of guys and play. There is a camaraderie amongst women, and sure there are the caddy female players, but for the most part it is a welcoming environment. People should realize that a lot of women play for fun and are still learning. Besides, I would rather sit and play a softer tournament than a harder tournament any day of the week. Anyone who says that they disagree with that is lying straight through their teeth.
In Season X, you were part of the WPT's Ones to Watch. Did that have any type of impact on you as a player?
It was interesting because it was an on-going joke, unfortunately. That was the year I didn't cash in any event. My friends would mention that I was one of the Ones to Watch and I would come back with, "Yeah, and the only thing you get to watch me do is walk out the door." Now, I am getting approached and people are recognizing me so it's crazy that wherever I go, someone knows me. It was so humbling because that group consisted of some pretty tough players. When you look at their stats, everyone had $2 or $3 million [in winnings] and I only had about $200,000 in scores. I'm on the road to redemption, so it's very exciting.
What goals do you want to accomplish with your poker career?

I want what everybody wants; I would love to win a bracelet. A girlfriend of mine, Loni Harwood, made three final tables and won a bracelet this year. I mean, that is incredible. She is such a beast. So yeah, when I grow up I want to be like Loni. I would obviously love to be the first woman who takes down a World Poker Tour open-field title. Honestly, if I can continue to play poker and have some success along the way, while spending time with my kids and traveling the world, then I don't have any complaints. I'm very blessed to be doing what I love.
With you as a mother, do you think poker is a positive lifestyle choice for those thinking about doing poker full-time or already in the industry thinking about having a family?
With anything, you can turn it positive or you could turn it negative. My children (Jadyn, 12 and Cade, 9) have known poker their entire lives, so they think it's cool. My daughter recognizes that people know who I am. From my realtor who sold me my home in Fort Meyers to the plumber who came in to fix the water heater, they all recognize who I am and are excited. It's all very humbling. As long as I am happy and proud of what I am doing, then my kids will pick up on that and there will not be any shame with it.
If you could only choose one, poker or modeling, which would it be?
It would definitely be poker if it were between the two. However, if it was between poker and acting I think I would choose acting. Modeling is tough work, actually. I never gave models credit, but it is hard. Everyone criticizes because they think it's just putting on makeup and taking pictures, but so much more goes into it than people think. Even myself, I did makeup for five years and thought it was a piece of cake until I actually tried it.
What does your 2014 poker calendar consist of?
I will be playing the PokerStars Caribbean Adventure for the first time ever, which I am very excited about. I'll be playing quite a few more WPT events, and definitely the World Series of Poker. I'll definitely be "going ham," just full blown. I plan to be very busy.
You can follow Kenney through her video blogs posted on her website at EbonyKenney.com and on Twitter @Ebony_Kenney.
*Lead photo courtesy of Ebony Kenney.
Get all the latest PokerNews updates on your social media outlets. Follow us on Twitter and find us on both Facebook and Google+!