MagicHoldem Partners with William Hill and Poker770
Jason Glatzer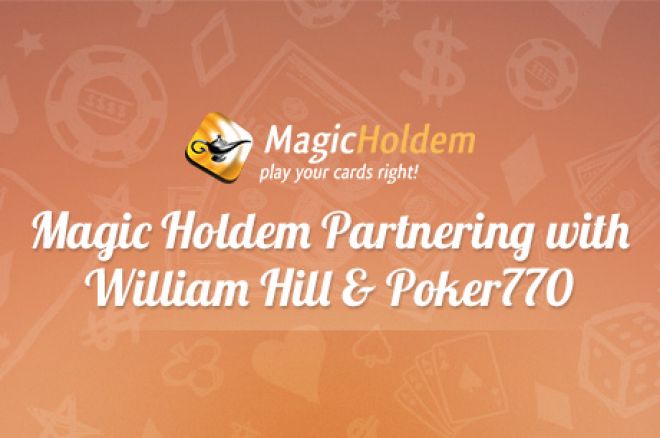 Ever wonder what it would be like to play on a poker site where all players have access to a HUD? Well now you can! MagicHoldem, a leading developer of online poker-related instructional tools and services, has entered into new agreements with two of the iPoker Network's premier skins, William Hill and Poker770.
Under the terms of the new agreements, MagicHoldem will provide William Hill and Poker770 with fully licensed versions of its Texas Hold'em Calculator, Video Poker School, and Heads-Up Display (HUD).
Many poker sites want to protect their ecosystem by providing poker tools to advance their casual players and MagicHoldem is committed to providing the best B2B solution. "We are committed to making advanced poker tools and training more accessible to casual and enthusiastic beginner players," says MagicHoldem's Roy Samuelov. "A user-friendly HUD that doesn't just show statistics, but tells you what's important, is just the next logical step for card rooms wanting to protect their beginners and recreational users."
The HUD is the latest exciting addition to MagicHoldem's poker product suite providing a player-friendly easy-to-follow display. This real-time, companion poker tool provides analysis based off your opponents playing history against you and presents the most important data about their playing style. The HUD also uses a red/green coloring system to identify areas of opportunity and danger against the players at your table. This should make it easy for recreational players to identify which opponents are aggressive, which are passive, and adjust their play accordingly against those opponents.
PokerNews owner and famous poker professional Antanas Guoga, better known in the poker world as Tony G, consulted with MagicHoldem on the HUD's development and believes this is a unique product for recreational poker players: "If you've never used a regular poker Heads Up Display before, the numbers and stats can make it pretty confusing," Tony G explains. "The MagicHoldem HUD cuts through all that, creating a simple, yet perfect companion poker tool for beginners and casual players."
Unlike most other HUDs, Magic Holdem's HUD is completely cloud based. This means players are no longer required to store their hands locally and will have access to all of their data regardless of which computer they are using.
MagicHoldem not only provides a powerful yet easy-to-use HUD, it also includes a dynamic online Odds Calculator and Bankroll Management tool, two aspects of poker that recreational players often struggle with.
MagicHoldem, founded in 2010 by a group of software and business professionals, is also one of PokerNews' strategic partners and is available to download via our links.
Check out our full review of the MagicHoldem software at our dedicated
MagicHoldem page.
Get all the latest PokerNews updates on your social media outlets. Follow us on Twitter and like us on Facebook now!