Unibet Poker Leaving Microgaming, Launching Standalone Network in 2014
Brett Collson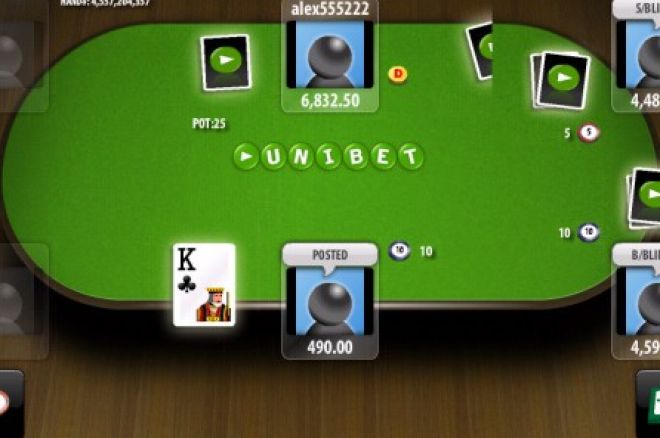 On Tuesday, online gambling company Unibet announced that it will be leaving the Microgaming Poker Network (MPN) and launching its own standalone network as early as next month. The company said in a press release that it will be working with software developer Relax Gaming to provide a new social gaming community for online poker players.
"The environment in the online poker industry has changed over the years and we have come to the insight that being part of a poker network is not sustainable for Unibet in the long term," said Daniel Eskola, Head of Gaming at Unibet. "This project has given us the possibility to start from a blank piece of paper and define everything we believe is important for a fun poker experience. In a way, our goal is to bring the fun back to poker by creating software with a clear focus on the casual player."
Unibet Poker's new user-friendly software will include a new lobby, 3D backgrounds, ability to change avatar and screen name, and gameplay features such as achievements and missions. The software will be available for PC and Mac download, browser, and tablet versions for both iOS and Android.
PokerNews Nordic's Per Wolf recently sat down with Eskola to discuss Unibet Poker's move into a new direction. Here's a look at the interview:
Hi, Daniel. Can you please tell me why you are doing this change right now and not earlier?
Eskola: Of course it is a strategic decision. Earlier it has only been focus on the big liquidity and security that comes with it and thus has poker networks were the answer. We want to focus more on casual players today, those that do not grind every day but play because they love the game. That is a lot harder when being part of a big network.
PN: So you want to have more control over the product?
Eskola: Yes, exactly. We need that control and the last seven months of work together with the team at Relax Gaming has given us the faith that they are up to the challenge.
What features do you see in your new product?
Eskola: It is a lot more focus on the social aspect of poker. It will be more rewards and achievements. You will be able to change your avatar and alias at the site whenever you want. We want to make poker more fun, as it was. Less grinding with statistics programs and HUDs.
So I assume such software will not work at your site?
Eskola: No, you are correct. You will not be able to save your hand history for tracking software purposes and in addition the possibility to change aliases will make tracking close to impossible.
You do not think there is a risk that this can be used for collusion and such?
Eskola: No, we have a really good system and team to detect players using bots, colluding or chip-dumping, and it is a priority for us.
So for tournament players a lot will change, right?
Eskola: Yes, we will not be able to compete with the big sites when it comes to have massive starting fields and gigantic guarantees. However, we do not see that as something negative — rather, the opposite. A lot of our players have told us they prefer to play tournaments with under 100 players and with smaller buy-ins. We can now offer this, with an occasional big tournament as a complement.
Will you continue with your live tournament series Unibet Open?
Eskola: Yes we will continue with satellites and to promote this very popular series also with the new software.
Will this mean you will have to hire someone new?
Eskola: No, we can handle this with our team together with the people from Relax Gaming. We have started to work more closely with experts in the field of security though to better be prepared and handle such things as collusion and bots.
Thank you for your time and good luck with your new product! We look forward to test it next year.
Eskola: Thank you!
Get all the latest PokerNews updates on your social media outlets. Follow us on Twitter and find us on both Facebook and Google+!