Connor Drinan Signs with Underground Cellar
PokerNews Staff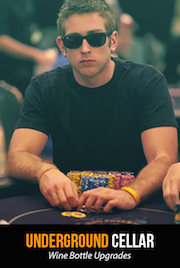 Connor Drinan has been moving up the ranks as one of poker's biggest tournament winners, banking over $4 million in cashes, including an 11th-place finish in last year's $111,111 One Drop High Roller at the World Series of Poker. Today, Drinan just banked another score, securing a lucrative patching sponsorship.
The sponsorship deal comes from Underground Cellar, an online wine company based in San Francisco, whose website appears to work just like roulette — but for buying wine. The site, located at www.UndergroundCellar.com, rewards wine buyers with free randomized upgrades to premium and "large format" wine bottles.
While most poker-player endorsements tend to be for poker sites or food brands, Drinan's sponsorship deal appears to be a clever fit given Underground Cellar's "randomized upgrade" approach, and what seems to be an edgy marketing strategy that targets younger affluent buyers. The endorsement may also be related to Underground Cellar's financial backers, which "includes a prolific high-stakes poker staker," revealed to us by company insiders.
Underground Cellar opened their site up late last year to a small 'pilot' test group, and has already sold over $150,000 worth of wine and partnered with over 30 preeminent wineries. They have focused on the poker community since their inception, receiving positive feedback from other notable players such as Maria Ho and Faraz Jaka.
Just discovered Underground Cellar! For the wino in you to get amazing vino delivered to your door sign up at http://t.co/qJERLuU60d .

— Maria Ho (@MariaHo)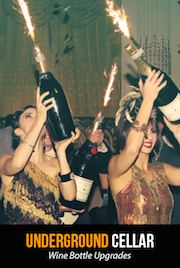 Company insiders we interviewed told us they are currently looking to expand their team of poker players, and that interested parties should contact them directly at sponsorships@undergroundcellar.com.
They were also kind enough to pass along $20 of free wine to all PokerNews fans, which can be claimed by entering promotion code "PKRNWS20" during checkout at www.UndergroundCellar.com.