Tony G and Pedro Marte Announce First-Ever Online OFC Poker Series on Tonybet Poker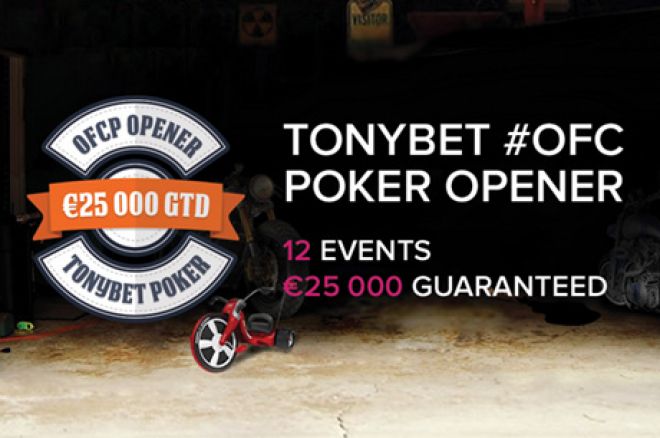 TonyBet Poker just announced the launch the first and biggest open-face Chinese poker tournament series ever held online.
"This is what we have been working towards to all this time," TonyBet Poker founder Tony G told PokerNews. "We wanted to give players the best online open-face Chinese poker experience and I'm very happy with the result."
The series, which will run between April 28 and May 8, 2014 will feature 12 different events and give away as much as €25,000 in guaranteed prize pools.
"I'm positive this is going to be a great series," said Tony G. "There are loads of cash to be won and hopefully a lot of players will come to play. If not, we will have overlays, which is also good for the players. At Tonybet Poker, we want to reward every player and this is a great way to do this."
The series will kick off on April 28 with a €10 pineapple tournament starting at 10 p.m. (UTC+3) featuring a valuable €1,000 guaranteed prize pool. Right after the initial event, the initiative will continue to keep open-face Chinese poker enthusiast busy for a full week of action with other 10 more tournaments leading to a conclusive €25 MAYjor Event scheduled for May 8 which promises to be the biggest OFC poker tournament ever held thanks to its €5,000 guarantee.
"I will be playing most of the tournaments and am very much looking forward to it," continued Lithuanian pro and soon-to-be candidate at the European elections Tony G. "Maybe I will even put a bounty on my head, who knows. The only way to find out is to play."
Enthusiastic about the launch of TonyBet Poker's OFC poker series, and also the room's pro and open-face champion, is Brazil's Pedro Marte. "I'm very excited to start playing OFC poker tournaments for big prizes and the OFC Opener series will be the best opportunity for that," he commented to PokerNews.
"I will try to play all events and see how I do on the rankings and can't wait for the €5K MAYjor Event. I've talked to some OFC players about this event and they are all waiting for it."
In between the €1,000 guaranteed initial event and the €5,000 guaranteed finale, the series will feature 10 more tournaments with buy-ins ranging from €10 to €100. High-roller players will also get the chance to try some tasty action on May 4 during the €300 High Roller Special with a €3,000 guaranteed prize pool.
"High-stakes players are very much looking forward to playing the biggest tournaments," explained Marte. "While the less experienced have the chance to win prizes that can actually turn their OFC careers around. OFC Opener has everything it needs to make history."
Here's the full schedule of the event with buy-ins and starting times:
| Name | Date* | Buy-in | Type | Game | Guaranteed |
| --- | --- | --- | --- | --- | --- |
| My First Trike | 2014-04-28 22:00 | €10 | Freezout | Pineapple | €1,000 |
| On Ya Bike! | 2014-04-29 22:00 | €20 | Freezout | Pineapple | €1,000 |
| Sunset Bike Ride | 2014-04-30 22:00 | €30 | Freezout | Classic | €1,000 |
| Rickshaw Tour | 2014-05-01 22:00 | €50 | Freezout | Pineapple | €1,500 |
| Fancy Scooter | 2014-05-02 22:00 | €50 | Freezout | Pineapple | €1,500 |
| Turbo Quad | 2014-05-02 23:00 | € 30 | Freezout | Turbo | €1,000 |
| Dirty Enduro | 2014-05-03 21:00 | €50 | Freezout | Pineapple | €2,000 |
| Hardcore Chopper | 2014-05-03 23:00 | €75 | Freezout | Pineapple | €2,000 |
| Бritva | 2014-05-04 21:00 | €50 | Turbo | Pineapple | €2,000 |
| Main Event | 2014-05-04 23:00 | €100 | Freezout | Pineapple | €4,000 |
| High Roller Special | 2014-05-05 00:00 | €300 | Freezout | Pineapple | €3,000 |
| MAYjor Event | 2014-05-08 22:00 | €25 | Freezout | Pineapple | €5,000 |
*All the tournament starting times are UTC+3
How to play for the €5k gtd. MAYor Event for free
As if a €25 buy-in was too high for a €5,000 guaranteed prize pool event, TonyBet Poker decided to give players two different opportunities to get a seat at the world's biggest OFC tournament ever — completely for free.
At first, everyone who will join at least one of the events included in TonyBet Poker Series will get the chance to compete for one of the 20 tickets available for the big tournament on May 8. Tickets will be awarded to the top players who will show the best overall performance and get one of the first 20 spots on the series leaderboard.
What's even better is that every player opening an account through PokerNews will be rewarded with a free ticket for the MAYor Event worth €25 with the only condition of making a deposit of at least €50.
So, make sure to visit TonyBet Poker today to get yourself an active account, deposit €50 in it and be ready to join the first open-face Chinese poker series ever since the "My First Tryke" opening event on April 28.
To keep updated on the latest news on TonyBet Poker, we recommend you follow them on Twitter, and on Facebook.
Get all the latest PokerNews updates on your social media outlets. Follow us on Twitter and find us on both Facebook and Google+!