Virtue Poker: Buy VPP, Play WSOP!
PokerNews Staff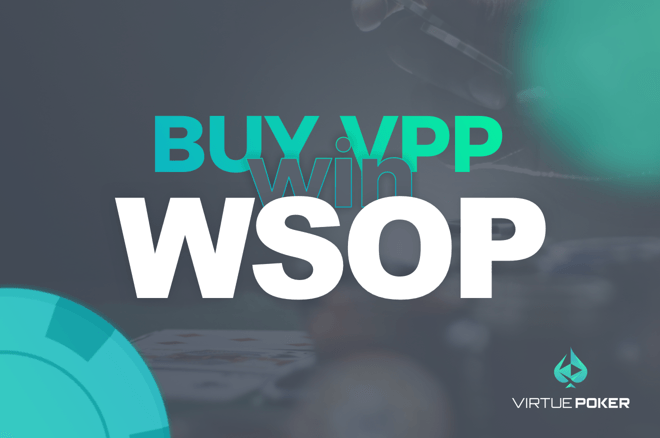 There are poker tournaments, and then there's the World Series of Poker®. Virtue Poker wants you to play in the Main Event!
The WSOP has grown into the largest tournament of any kind anywhere in the world. The WSOP Main Event last year attracted 7,221 hopeful poker players who each put up $10,000, and the winner took home $8,150,000 and a very nice bracelet.
Virtue Poker wants to put you in the game. They're giving everyone who contributes to the Virtue Poker Early User Sale a chance to play in the world's biggest poker tournament.
How to Get Into the WSOP Main Event
There are two ways to get into the WSOP Main Event for free, courtesy of Virtue Poker:

They're holding a random drawing on June 23, 2018, for five World Series of Poker Main Event packages valued at $13,000 each (the package includes $3,000 for travel). You can receive up to 5 additional entries:

If you contribute at least 150 ETH to the token sale, you'll be entered into the 2018 World Series of Poker $10,000 Main Event and give you $3,000 for travel.
Virtue Poker is excited to announce amazing perks for our upcoming token sale to grow our community, including an exclusive $1 million equivalent freeroll event and entries into the biggest tournament in the world. Learn more here: https://t.co/z3BEcLm1Yr

— Virtue Poker (@Virtue_Poker) April 12, 2018
More Perks
And they have even more perks to entice you to join them:

Every contributor of at least 4 ETH to the token sale will be automatically entered into a 8 million VPP Early User Appreciation Tournament after their main launch. At the hard cap token price of $0.125, that's a $1 million freeroll. Only token buyers in Phase 1 may participate in this exclusive private event.

As a contributor, you will be part of the exclusive Virtue Poker Alpha Test. During the Alpha, Virtue Poker will conduct regular random drawings among seated players for airdrops in amounts from 0.1 ETH to 5 ETH. They'll give away 50 ETH this way during the Alpha, as well as some sweet swag and other prizes.
That's how much they want you to join the Token Sale and help with the Virtue Poker Alpha. In addition to these perks, as an Alpha user, you will have exclusive access to gameplay on the Virtue Poker platform, and you will become a core part of their product evolution. Your feedback will have a direct impact on the product roadmap. You will help shape the gameplay experience for millions of players. And they'll be providing you with plenty of opportunities during the testing phase to win prizes, VPPs and ETH - Virtue Poker will be contributing an additional $100,000 in value to players during the Alpha test.
The goal of Virtue Poker is to build a poker platform for players and by players. They invite you to join them in this vision by becoming an Early User and Participating in Phase 1 of the Virtue Poker Token Sale at 10 am EDT on April 25th, 2018. And maybe we'll be watching you at the WSOP Main Event Final Table this July!
Important note: the aforementioned opportunities are not open to US residents.