Most Anticipated WSOP 2018 Events At A Glance
Rahul Singh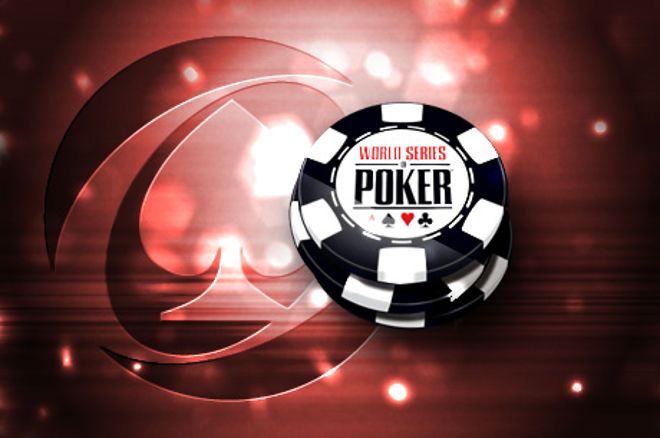 It's time for the biggest spectacle in the world of poker. You guessed it; it's time for World Series Of Poker (WSOP). Punters from across the globe will flock to the mecca of gambling, Las Vegas to try their hand at winning one of the 78 bracelets up for grabs.
In this article, we'll quickly glance at the most anticipated as well as the most popular event of the WSOP:
Tag Team: $1,000 buy-in (June 27th)

The Tag Team tournament in 2017 was won by the Indian pair of Aditya Sushant and Nipun Java. Previously, it was won by Doug Polk and Ryan Fee. There will be no $10K event this year. Only a $1K buy-in. This is one of the favorite tourneys of poker pros.
Colossus: $565 buy-in (June 2nd–4th)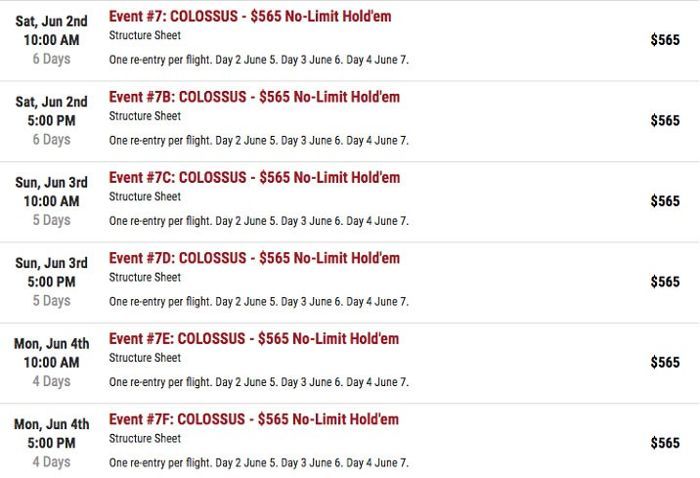 The Colossus has been added to the series schedule for its 4th edition this year. There was speculation that it might get shelved, however, it has continued to be a popular event. The Colossus's little brother is also back:
Giant: $365 buy-in (Every Friday/Sunday)

The Giant is a No-Limit Hold'em event that will run every Friday and a Pot-Limit Omaha event that will run every Sunday for the duration of the series.
Online Tournaments: $365, $565, $1,000 and $3,200 buy-ins (June 3rd, 22nd, 29th, 30th)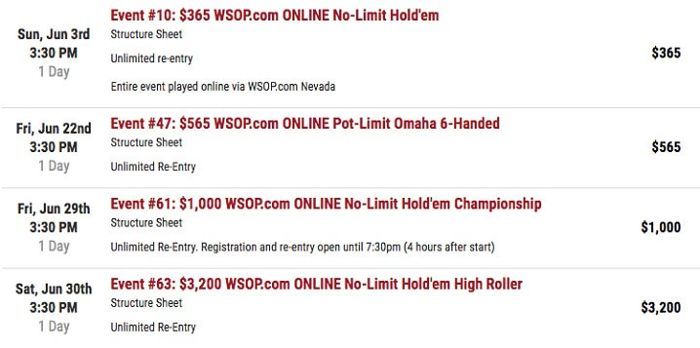 These are the online tournaments being organized on WSOP.com. They are a welcome addition for those people who want to chill at home and still be a part of the tournament.
The Marathon: $2,620 buy-in (June 11th)

This is the deep stack tournament with longer blind levels than normal events.
Super Turbo Bounty: $1,000 and $10,000 (May 30th, June 29th)

With the success of the introductory $1K Super Turbo Bounty last year; this event has been given a place in the series for the second time. Since it was such a success, WSOP has added a $10K event as well. Bounty tournaments are gaining traction around the world, so it was no surprise that WSOP added it to the schedule.
Millionaire Maker: $1,000 buy-in (June 9th, 10th)

This is one of the classic events of the WSOP. The name also has a cool ring to it, doesn't it? The winner goes home with a guaranteed 1 Million US Dollars.
The Main Event: $10,000 buy-in (July 2nd–4th)

This is self-explanatory I guess. It's the Granddaddy of all tournaments!
The Little/Big One for One Drop: $1,111 and $1,000,000 buy-in (July 7th,8th,9th,15th)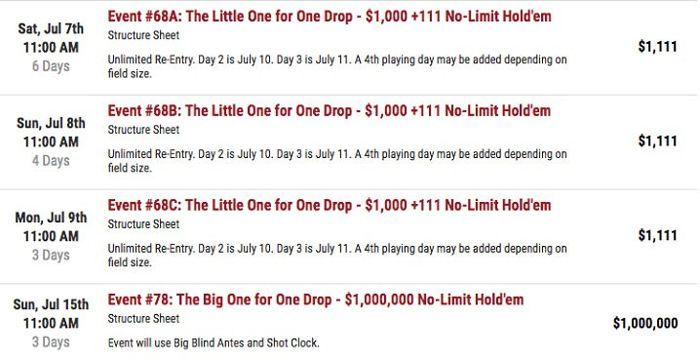 This event is a treat for high rollers. It also addresses a very important social cause. There is also a Little One for One Drop which is always a crowd pleaser.
This is it, folks! Wish you luck and see you at the tables!