WSOP 2018 Event 3: Joe Cada Wins the $3,000 NLHE SHOOTOUT for $226,218
Rahul Singh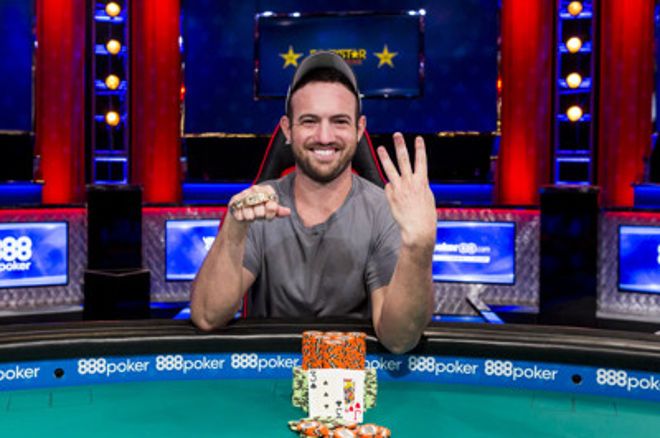 WSOP Event 3, the USD 3,000 No-Limit Hold'em Shootout, was thrilling and nerve-racking, to say the least. Joe Cada was crowned the champion and raked in a whopping USD 226,218. If the readers remember, Joe Cada became the youngest-ever WSOP Main Event winner back in 2009. This was his 3rd Gold WSOP bracelet and probably his favorite one!
This year, there were 363 entries, a tad lesser than last year. However, there was a turn out of many world-renowned players like Main Event winner Joe McKeehen, Sam Phillips, Anthony Reategui, Ihar Soika, Harry Lodge, and Joshua Turner.
"I'm feeling great, it's tough to win any No-Limit tournament," Cada commented. A jubilated Cada also added "It means a lot to win my third bracelet. I have loved the WSOP ever since being a kid, I watched it all the time on TV. Winning these bracelets, it's unreal. You've got to just run good and I'm lucky to run better than everyone else. I like shootouts because you have to adjust constantly."
Joe Cada won two other tables in the first two days of the tournament and it took a total of 194 hands on the final table for him to clinch the title. Following is the final table action.
The first person to get eliminated was Jeffrey Trudeau by Joe McKeehan. Joe hit his nut flush on the river against the raiser Jeffrey, who had flopped AQ two pair. Trudeau was placed 10th with USD 14,437 in winnings.
Reategui was playing aggressively since the start of the day but it was Sam Phillips who sent Joshua Turner to the rail. The flop hit 2-9-Q, Phillips flopped top pair with KQ while Turner had a flush draw with 9-8 suited. The flush didn't complete on the river and thus Turner had to bow out of the tournament in 9th place with USD 18,526.
Just after the break, Taylor Wilson was the next to get eliminated by Reategui. Wilson shoved pocket Kings against Reategui's pocket 6s. The board ran to give the latter a straight on the river, and thus Wilson was placed 8th with USD 24,013.
Reategui's aggressive run came to an end against McKeehen; when they both flopped a flush draw. The flush completed on the turn and Reategui was eliminated with the smaller flush in 7th place with USD 31,435.
Joe McKeehen chipped up and started giving more action. He took out Ihar Soika who played his K-9 against the A-Q of McKeehen. Soika hit a pair on the flop but McKeehen hit a higher pair on the turn. Soika bagged the 6th place with USD 41,559.
The next to get eliminated was Harry Lodge. Lodge had A-K with a flush and straight draw on the flop, but neither completed and McKeehen's pocket 10s were good. Lodge came 5th and cashed out USD 55,480.
It was Jack Maskill's turn to get eliminated now when he called the all-in of Cada with Q-10. Cada held pocket Jacks and the board ran Q-9-A-K-10. Maskill's two pair weren't good enough for Cada's straight. Jack Maskill was awarded the 4th place with USD 74,782 in prize money. After this hand, Cada started giving more action and doubled up against Phillips. Phillips tripled up in the very next hand and a bit later Cada doubled him up again.
The 2015 Main Event champion, Joe McKeehen had to settle for 3rd place when he four-bet shoved his pocket 6s against Cada's pocket Kings. Cada flopped a set and McKeehen hit a set on the turn. However, the river was a brick, and McKeehen was knocked out in 3rd place with a USD 101,766 purse.
The very next hand saw Sam Phillips doubling up with K-2 against Cada's A-J. They both flopped a pair but Phillips hit two pair on the turn. In the 18th hand of heads-up, Phillips doubled up again with A-4 against Cada's Q-9. The action was neck-and-neck and both players held almost even stacks.
Soon after, Phillips three-bet shoved A-4 and Cada called with pocket 6s. Sam did not hit anything and was reduced to 2 big blinds. While explaining his action on this hand, Cada said "I knew it was a call, just by playing so many heads-up matches, but the stakes were high. You want to give it a couple of seconds to just make sure, you know. It was for over 30 big blinds, so you know it was a big pot. But ultimately I just knew it was the call to make."
The very next hand, Phillips shoved 8-6 against J-3 of Cada. They both flopped a pair with Cada holding the higher pair. The turn gave Cada trips and Phillips was left with zero outs. Thus, after 194 hands at the final table, Cada was declared the winner of the tournament. Sam Phillips was paid USD 139,804 for his efforts while Cada seized the coveted Gold bracelet and bagged USD 226,218 for winning the tournament.
Cada had the following to say about Sam, "I couldn't get rid of Sam and he couldn't get rid of me, he had his chance. But hats off to Sam on playing so well."
Final Results
Place Player Country Prize
| Place | Player | Country | Prize |
| --- | --- | --- | --- |
| 1 | Joe Cada | United States | $ 226,218 |
| 2 | Sam Phillips | United States | $ 139,804 |
| 3 | Joe McKeehen | United States | $ 101,766 |
| 4 | Jack Maskill | United Kingdom | $ 74,782 |
| 5 | Harry Lodge | United Kingdom | $ 55,480 |
| 6 | Ihar Soika | Belarus | $ 41,559 |
| 7 | Anthony Reategui | United States | $ 31,435 |
| 8 | Taylor Wilson | United States | $ 24,013 |
| 9 | Joshua Turner | United States | $ 18,526 |
| 10 | Jeffrey Trudeau | United States | $ 14,437 |