#9stacks TeamIndia creates history at the World Series of Poker 2018
Rahul Singh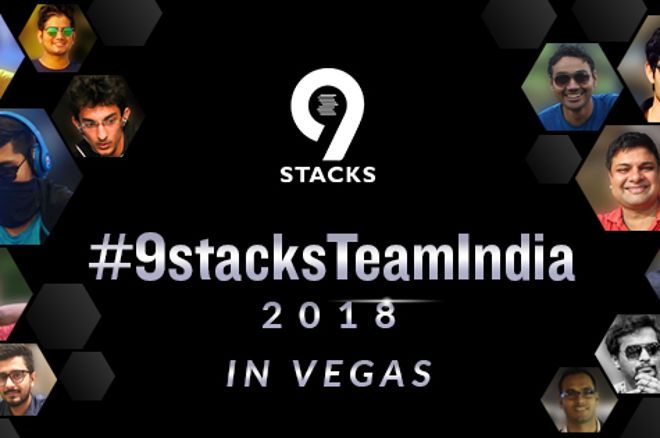 #9stacksTeamIndia, a 25-member strong team of poker players, who won a trip to Las Vegas during the World Series of Poker 2018 by participating and cracking the #LFGVegas contest run by 9stacks, has put up a sparkling performance and created history!
The team consisted of a healthy mix of notable upcoming professional poker players like Nishant Sharma, Vivek Rughani, Mayank Jaggi, Arsh Grover, Sanjay Taneja and regular recreational players like Vishal Tuslyan, Nishaanth Shanamugam, Rishab Jain, Pratik Kumar, Dinesh Singh, Prateek Mishra, Aditya Pratap Singh, Sandeep Narayanan, Ravi Shankar, Amresh Kumar, Amit Khanna, Pranay Kapoor, Harsh Dhingra, Divanshu Khurana, Naman Gulati and Saurabh Arora.
The players participated in the 4-month long #LFGVegas contest run by 9stacks wherein they had to reach certain milestones to win prizes. All users who reached Level 42 on the website won a free trip to Las Vegas + $999 worth bankroll to play during the WSOP 2018. The ones who went on to crack Level 75, won the $10,000 Entry ticket to the Main Event.
40+ users cracked the contest to win free trips and after factoring visa issues and dates; 25 players finally boarded the flight to Vegas. For most of these players, it was their maiden trip to Vegas during the WSOP.
Mayank Jaggi (AlwaysLimpAA) was the first player from the team to announce his arrival at the championship. He final tabled the Wynn Summer Classic and finished 6th, winning 56K USD.
Soon after him, Nishant Sharma and Vivek Rughani stunned the world by breaking the top 100 position barrier in the Main Event. Nishant and Vivek are the only two Indian poker players in history to have made it so far. Vivek bust out at the 87th place on Day 6 and cashed out INR 53.5 Lakh.
Nishant Sharma however, went on to achieve greater heights and kept us all at the edge of our seats on Day 6. On Day 5, he ended on a high note at Rank 15, then maintained his position for the most part of the day before he finally busts out at Rank 34, winning a whopping INR 1.6 crore.
Rishab Jain (VegasBaby), Arsh Grover (BigggTymeR), Vishal Tulsyan (Spartacus) participated and fought valiantly against 7874 other entrants at the Main Event too.
Sanjay Taneja (Werewolf) finished 29th and in-the-money at the Little One for One Drop tournament.
Aditya Pratap Singh (@muck_u) cashed $1000 in the Goliath 500K GTD tournament & the Nuggets 500K GTD each on his maiden venture at the WSOP 2018.
9stacks has always aimed at being a platform that puts player talent, skills, and hard work above everything else. Known for coming up with unique tournament formats, 9stacks has been upping the ante in the Indian poker scenario. The company launched the Money Laaa contest in June, a month-long challenge where players had to win 50K points to win a trip to Manila and an entry ticket for the Main Event.
Initially aiming at sending at least 15 players to Vegas, 9stacks is now ready to launch more contests where winners will get to travel to the most revered poker destinations in the world to play poker. Next year, 9stacks aims at sending at least 100 players to Vegas!