Dangal Star Fatima Shaikh Celebrates MukkaMaar Girls' Victory
Rahul Singh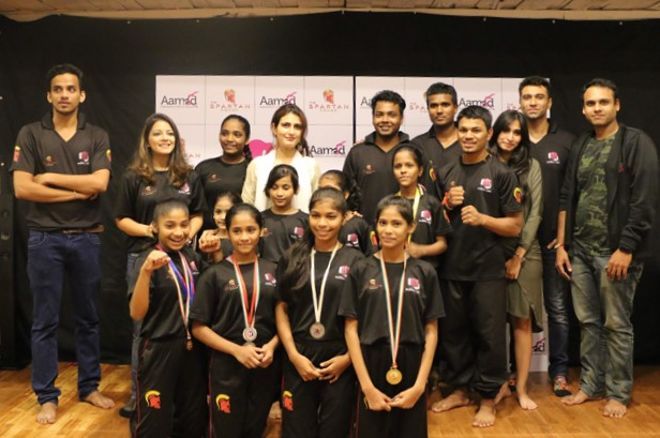 Fatima Shaikh, who played Geeta Phogat in Aamir Khan's Dangal, celebrated the victory of the MukkaMaar girls at the District level Wushu Competition. Last week, the MukkaMaar girls participated in the 10th Mumbai city District level Sub-Junior, Junior and Senior Wushu Championship, where 14-year-old Sheetal Jaiswal won the Gold in the Sub-Junior category, while Mehek Shaikh and Pooja Jhadav won Silver and Bronze respectively on 23rd & 24th August 2018. Fatima Shaikh presented them their respective medals and the team trophy. "Winning or losing is not important but striving hard for perfection and aiming to be the best is necessary," said Fatima, in her motivational interaction with the girls. She also urged parents to support and encourage the girls with their presence at all their events.
Talking about the initiative and the success they have seen so far, actor Fatima Shaikh said, "Thanks to all the parents, competitions boost the child's self-confidence, it gives them a sense of pride. Also, a big thank you to all the parents, and you guys should keep up the efforts, self-defense is really important from every perspective. When we were doing Dangal, it was very difficult for us, because within a few months you had to look like an international wrestler and I had fractured my rib during the training of Dangal, I didn't tell anyone because I feared they'll throw me out of the film, my bone broke during a practice session, so the conclusion is there is a fun in injury as well, even pain is a kind of joy, so keep practicing!"
The safety and security of women is a rising concern in the country. A thriving self-defense initiative for girls, started by actor Ishita Sharma, called MukkaMaar was launched in Feb 2016 and has hence been supported by her performing arts institute Aamad and India's leading poker gaming platform, TheSpartanPoker.
Speaking about the initiative, actor, and Founder of MukkaMaar, Ishita Sharma said, "We have come a long way from 2016, and grown from 5 girls to 1500 today, with a presence in more than 10 MCGM schools, in English, Hindi, Marathi, Urdu and Telugu medium. Last year the girls made it to the State Level, and this year we are aiming at Nationals. I owe so much of our initiative's success to our strongest supporters, Mr. Amin Rozani and The Spartan Poker, they have believed in the cause, and have helped us tremendously. For the girls, it was a dream come true to receive their medals at the hands of Fatima, who has been their idol since Dangal."
Adding to the excitement, Mr. Amin Rozani, Co-founder & MD of TheSpartanPoker said, "We are glad to have been a part of this initiative, as a brand and an individual, I am proud to extend our support to MukkaMaar. The initiative has gone above and beyond to educate women and girls about self-defense via training." From Versova Beach to Municipal Schools, Ishita and her team have left no stone unturned to help them and we applaud her for her efforts. "I hope that with the support of Fatima Shaikh and others, the initiative grows with every year", she added.
About MukkaMaar:
MukkaMaar is an initiative for FREE self-defense training for all girls, by Ishita Sharma Foundation, led by actor Ishita Sharma and supported by Aamad and TheSpartanPoker. It started in Feb 2016, when Ishita decided to start a free self-defense class for girls from challenging socio-economic strata in the Versova area. Soon, the numbers grew from 5 to 100 at the beach, and in November 2017, as the initiative picked up, MukkaMaar tied up and was granted permission from MCGM (Municipal Corporation of Greater Mumbai) to bring the program to all their 1100+ schools. The self-defense training is conducted at NO COST to the schools or students, across 10 MCGM schools currently. Their aim is to reach 100 schools by 2020.
About TheSpartanPoker:
TheSpartanPoker is an India-centric online gaming hub that aims to bring the sophistication and quality of a world-class online gaming platform to poker enthusiasts in India. With a plethora of Poker tournaments, huge payouts, exciting offerings and a variety of formats; TheSpartanPoker is India's leading and most trustworthy online poker platform.
TheSpartanPoker, founded in 2014 by one of the most influential personalities in the Indian poker industry, Amin Rozani, has become the hotspot for Poker aficionados across India. The payment and transactions management infrastructure is specifically designed keeping in mind the unique needs of the Indian audience. To ensure completely fair gameplay, TheSpartanPoker software is certified by iTech Labs, Australia. The Random Number Generator (RNG) of the software ensures that all cards dealt are completely random without any bias or predictability.
Kudos to the Ishita Sharma Foundation, Aamad and TheSpartanPoker for organizing such a beautiful and imperative initiative. PokerNews wishes them the best for all their future endeavors!