PokerNews India Exclusive: A Candid Chat With Lex Veldhuis
Rahul Singh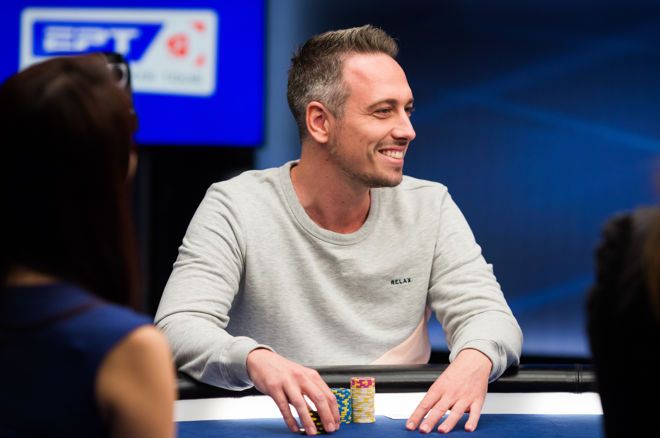 Recently, I got a chance to chat with PokerStars Ambassador, Lex Veldhuis. Lex is one of the biggest crushers of online poker and arguably the most followed poker player on Twitch. Not only is he one of my favorite poker players, but he's also a great guy who's doing his bit for the poker community.
Following is our chat:
PokerNews India: How did your poker journey start?
Lex Veldhuis: I played a lot of video games as a kid. I started playing online in my teenage years and progressed from there. While in university, one of my gaming friends told me that there is a game called 'poker' which you can play for money. I was looking for a summer job, so I started playing poker.
I was making good money on the side by playing poker. I played a lot of cash games and one day I registered for a big tournament which was on the same day as my university exam. I finished the tournament and quit university and haven't look back since.
PokerNews India: Did you have a regular job before you got into poker full-time?
Lex Veldhuis: No. Actually, I dropped out of university to play poker. I would definitely not recommend anybody to do this; especially nowadays where the skill level is so high. I suggest that one should always have something on the side along with poker.
PokerNews India: What does a typical day look like for you?
Lex Veldhuis: I get up early in the morning and start the day with some exercising. Then I do some stream preparations and usually start streaming at 9 in the morning till about 4 – 8 pm depending on whether I'm deep in a tournament or not. Sundays are a little different; I start late to catch all the big tournaments in the evening.
PokerNews India: How often do you play live tournaments?
Lex Veldhuis: I've played a lot of live tournaments in the past especially the EPT Circuit. I really enjoy live tournaments but my roots are online. Now that I'm streaming more frequently, I feel that if I have to invest time in poker, it should go towards the stream. I don't go out and play those many tournaments now and prefer streaming my games on Twitch.
PokerNews India: What resources would you suggest to newbies who are just starting out in poker?
Lex Veldhuis: I would suggest that they register at PokerStars School as it builds you from the ground up. You find a lot of like-minded people and get access to a ton of resources for free. The forum is very active and people are always ready to help you. You can discuss hands, talk about strategy and get great advice there.
I would suggest new players to not invest a lot of money in the beginning. The aim should be to become a good player first before playing big tournaments or cash games. It's not about making big profits in the beginning; you should be focused on truly learning the game.
Also, they should invest in expensive online training and coaches once they've reached a certain proficient level, after exhausting all free resources and content.
PokerNews India: Do you know any Indian poker players? Do you know about the poker scene in India?
Lex Veldhuis: I've been following Muskan Sethi's journey and Aditya Agarwal is a colleague of mine at PokerStars School. There are many Indian poker players in my Twitch chat who ask me whether I plan to come to India to play live tournaments. I know PokerNews is doing a lot of content there and I also follow Muskan's Instagram account. So, yes, I'm aware of the poker scene there and I'm really intrigued and would love to visit India soon.
I also heard that PokerStars entered the Indian market this year as a separate entity.
PokerNews India: Any plans of visiting India soon? Poker or otherwise.
Lex Veldhuis: Two of my friends travel a lot and they said that their favorite country is India. Once they got over the culture shock, they found it really beautiful. Maybe not for poker, but I would really like to visit India soon.
PokerNews India: What has been your biggest win?
Lex Veldhuis: I came 7th at the $40,000 NLHE 40th Anniversary WSOP event for $280,000. Online, I came 3rd in the Sunday Millions for $77,000. I played cash games for the first 12 years of my career. Only recently I've started playing tournaments seriously.
PokerNews India: Do you have a training regime? Do you read books etc.?
Lex Veldhuis: I don't read books. I have a poker coach with whom I interact a lot. The thing with Twitch is that it makes you think out loud. I feel at times the best way to learn is to actually teach. So, while streaming, you do a lot of introspection and look at your own fundamental understanding of the game as well as recognize your own weaknesses.
PokerNews India: Is there a reason you got so good at poker right from the beginning?
Lex Veldhuis: I played a lot of online games and most of them were strategy-based. I played a lot of Starcraft which is all about 'out-strategizing' your opponents. I also played a lot of chess as a kid which again is a one-on-one strategy game.
So, subconsciously I got a lot of experience in strategy dynamics while playing these games. I think all these games laid a very good foundation for me since I hadn't played any other card games till then.
PokerNews India: Why is your Twitch channel so popular?
Lex Veldhuis: I guess because it's really consistent and I've been posting every day for the past two and a half years. I've been on Twitch for a long time and know how the platform works.
PokerNews India: Tell me about your other social media channels.
Lex Veldhuis: Here's the list of my social media channels:
YouTube: https://www.youtube.com/user/BaboRaSZi
Twitch: https://www.twitch.tv/lexveldhuis
Instagram: @ lexveldhuis
Twitter: @RaSZi
PokerNews India: Do you have any favorite poker books? Which books did you read while learning poker? What books would you suggest?
Lex Veldhuis: I didn't read any books while learning how to play poker.
I really like The Mental Game Of Poker by Jared Tendler. It's an incredible book because it talks about the psychological aspect of poker in a beautiful manner. Even in 20 years, this book will be relevant to the game of poker. I also like The Poker Mindset by Matthew Hilger.
To learn strategy, I suggest going to forums or watch streams. You get to learn about the current strategies which might be a little dated in books. Even if there's a great book, it's not of much use if it was written 10 years back. Poker is really dynamic and we need to constantly update our skills with the latest strategies.
PokerNews India: Do you ever plan to write a poker book?
Lex Veldhuis: I'm not a huge fan of reading strategy books and I really don't plan to write a strategy book.
One of my favorite books is Poker Wisdoms Of A Champion by Doyle Brunson where he talks about his experiences over the years as a poker player. I found his stories amazing and learned many interesting lessons from it.
I've been in many crazy live games and tourney situations. So, if I would ever write a book, it'll be more on the lines of memoirs and experiences than strategy.
PokerNews India: You've been known to bluff a lot; do you have a favorite bluff moment or the biggest bluff that you'd like to share with me?
Lex Veldhuis: I don't really have a favorite bluff moment but an instance that really stands out was at the WSOP 2009. I don't know what happened that day; people were talking about sponsorships and getting on TV. It seemed their only concern was to get some TV limelight and not actually play the tournament. So, I decided to run that table as fast as possible. That day, I probably made 25 big bluffs almost all of which worked. So, yeah that was one memorable day for bluffing.
PokerNews India: What are your thoughts on GTO and exploitative play?
Lex Veldhuis: I do a lot of both depending on the situation. Against good opponents, I choose a math-based, un-exploitative style. When I'm playing against recreational players, I get as exploitative as it gets. I don't care about GTO at all in such situations.
I think the player who can manage both GTO and exploitative play at the same time is going to win the most money in poker.
PokerNews India: What are your thoughts on the new PokerStars School in India?
Lex Veldhuis: I'm involved in some awesome projects which are in the pipeline for PokerStars school. I read that the PokerStars School has been set up in India. I think it's incredibly important to learn before you just dive-in to play poker. Learning strategies and fundamentals can have a very positive impact on your game; I know people who straightaway want to play poker without studying the game.
So, I'm glad PokerStars has set up the school to help players learn the fundamentals of poker.
PokerNews India: Do you plan to monetize your teaching/strategy videos?
Lex Veldhuis: No. I'm getting involved with PokerStars School which is quite similar to Twitch. So, in terms of creating strategy videos, I'm going to pursue these two avenues.
To answer your question, I don't plan to monetize teaching at all because poker has given me a lot and this is my way of giving back.
PokerNews India: What's your most cherished poker memory?
Lex Veldhuis: I was playing $1,000 - $2,000 high-stakes poker which was the highest I had played till then. I won a $200,000 pot against Doyle Brunson, who's the biggest legend of poker. He was bluffing and I made the best call of my life with bottom pair. That was also the biggest pot I had won up until then.
I've been watching and learning about high-stakes poker for a very long time. To reach that level and play against the greats like Brunson, Ivey, and Negreanu was very special to me.
PokerNews India: Do you have a favorite starting hand?
Lex Veldhuis: Besides the obvious Aces, I like Jack-Ten suited.
PokerNews India: What has been your ultimate 'tilt' moment?
Lex Veldhuis: It's funny. I don't tilt often, I generally get angry. I think one can get angry and yet play a good game. 'Tilting' is when you are pissed and playing the game all wrong.
Many years back I was playing $50 - $100 Heads up on my laptop. I lost 3 all-ins to sucks out on three different tables at the same time. I lost 30K within 20 seconds to bad beats and threw my mouse at my laptop. My laptop broke and I asked myself "what did I just do? I lost to weak players and also broke my laptop in the process. That instance taught me a lot and I made it a point to control myself in the future.
PokerNews India: Who's your favorite poker player?
Lex Veldhuis: I really like Daniel Negreanu because he's the best ambassador of poker in my opinion. Also, it's really impressive that someone as big as him in poker is so approachable to fans as well as students. Plus, very few people are doing what he's doing for poker.
I really like Viktor Blom as well, purely because he's had a big impact on my game. Watching him come up the ranks and become a high-stakes player caught my attention and inspired me.
PokerNews India: How does one brush up their PLO skills?
Lex Veldhuis: Contrary to what many people believe, PLO is a very technical, strategic game and not gambling at all. I would suggest to check out reputed training sites, go to forums, and talk to other players. There isn't a specific book I would recommend.
There is a lot of math and deep strategies in PLO. So, if you're just starting out or switching to PLO; do your homework properly.
PokerNews India: What's your favorite poker strategy HUD software?
Lex Veldhuis: I don't use HUDs anymore. I used HUDs before but there's a very specific reason why I stopped. When I'm streaming on Twitch, I want the people to know that you can approach poker without having external tools. I want people to learn the core strategies and dynamics of poker. For e.g., you don't play a particular hand because of a particular reason or you play certain hands from certain positions etc. Also, I don't want my stream to be an endless discussion of numbers; instead I want to focus on strategy.
My Twitch channel is for entertainment and at the same time, I feel I can teach people about poker better without all the stats.
PokerNews India: Tell me about your PokerStars Platinum Pass Adventure.
Lex Veldhuis: The PokerStars Platinum Pass Adventure is a $30,000 package to the upcoming PokerStars Players No-Limit Hold'em Championship in The Bahamas in January 2019.
As a giveaway, I offered one person a chance to win a Platinum Pass. Entering the contest was very simple, all one needed to do was do something special for other people. You could demonstrate what you have been doing via video or write a blog and add pictures describing it. Players needed to post their submissions on Twitter using the hashtag #PSPCitFWD before September 30th. I shortlisted my five favorite entries and a panel of judges decided on a winner on October 5.
Huge congrats to Benjamin Alvarado. He has done incredible work for cancer patients. He cut his hair after having it long for 17 years! I thought his entry was very moving, and the jury agreed. I'm very excited to hear he is going to continue with his work and efforts. It will be fun to see him at the PSPC. Easy guy to root for if you ask me!
Here's the link to the article about the Lex Veldhuis Platinum Pass Adventure winner.
Also, a special shout-out to stream-viewer 'AussieInSweden'. Upon seeing the entries, he has pledged $1,000 to be divided over the other four finalists. Everyone has done amazing work and I'm so glad the challenge resulted in these stories.
I'm really proud of our community on Twitch and the support system it has become for many people across the globe. So, I took this opportunity, thanks to PokerStars, to create a contest where you need to simply do something nice for someone! That's it.