Aditya Sushant Ships WPT 2018 Kickoff ₹20,000 NLHE Event For ₹935,000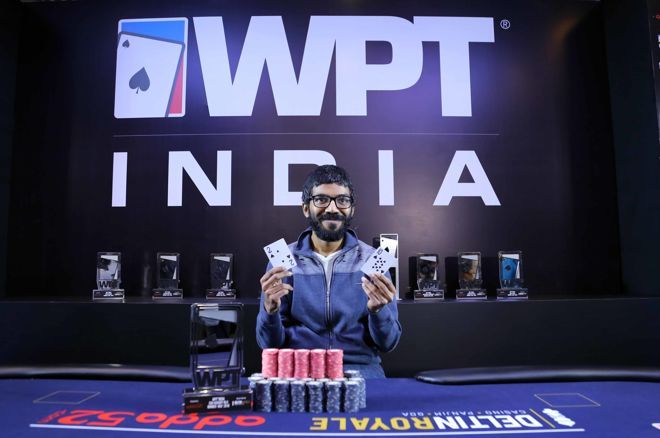 The WPT 2018 Kickoff ₹20,000 NLHE Event resumed play from Day 1 with 9 players on the Final Table. Aditya Sushant started out as the chip leader with 773000 chips, Kunal Patni in the hunt as the next big stack with 536,000 chips and Abhishek Grover as the Shortest Stack with 106,000.
The final table lasted 2 hours with Aditya Sushant being crowned the winner for ₹935,000 after a brief heads up battle with Abhishek Grover.
The first player to hit the rail was Lokesh Budhiraja for ₹93,512. He held
against
of Ashish Kaushik. The flop gave Ashish trip Jacks which improved to quads on the river. The next to bow out of the tournament was Himanshu Kataria for ₹111,400. He was the short stack with 3 BBs and shoved with
against
of Aditya Sushant who was the Big Blind. The flop gave Sushant trip 6s which sent Kataria to the rail. The next to depart was Dr. Shambhu Mandal for ₹129,300. He, too, busted against Sushant. Shambhu held
against Sushant's
. Sushant hit the straight which sent Mandal out of the tournament in 7th place.
Then, we had Abhishek Garg busting in 6th place for ₹151,700 against Aditya Sushant. Garg was dealt
against Sushant's
. The flop gave Sushant the
which was good enough to take down the hand. Bharat Bhushan played brilliantly but had to settle for 5th for ₹183,000. Ashish Kaushik was doing well and got dealt
, which he jammed against Sushant's pocket rockets.
proved too good for Kaushik and he had to bow out in 4th place for ₹ 237,000.
The final three were going well with a minimum ₹3.8 Lakh in guaranteed finish. Abhishek Grover who started the final table with the shortest stack doubled up 4 times in the course of two hours. He held tight and bled chips on a few occasions. Then, Kunal Patni, who recently finished runner-up in WPTDeepStack Berlin Main Event for USD 115K, was up against Aditya Sushant. Patni held
against
of Sushant. Sushant flopped
pair which was good enough to send Patni to the rail for a brilliant ₹389,700.
Finally, after a brief too-and-fro battle, Aditya Sushant held twice the chips than Abhishek Grover. At Level 23, the blinds were up at 20K/40K with 40K Big Blind ante. Sushant was the dealer who raised it to 100,000. Grover called and the flop hit
. Sushant raised 100,000 which Grover flat called. The turn was the
and Grover raised 100,000 which Sushant flatted. The river was the
. Grover shoves and Sushant called with a wry smile. Grover held
while Sushant held
. Sushant made a single carder Full House which beat Grover's Two-pair. Grover's long-run finally ended and he got a handsome payout of ₹ 649,000. Sushant was crowned the champion for a whopping ₹935,000!
WPT Goa 2018 Event #1 Kickoff INR 20,000 NLHE Official Final Table Results:
| Position | Name | Prize (in INR) |
| --- | --- | --- |
| 1 | Aditya Sushant | 935000 |
| 2 | Abhishek Grover | 649000 |
| 3 | Kunal Patni | 389700 |
| 4 | Ashish Kaushik | 237000 |
| 5 | Bharat Bhushan | 183000 |
| 6 | Abhishek Garg | 151700 |
| 7 | Shambhu Mandal | 129300 |
| 8 | Himanshu Kataria | 111400 |
| 9 | Lokesh Budhiraja | 93512 |
We now look forward to Event #2 SuperStack ₹35,000 NLHE.