Nikunj Jhunjhunwala Wins WPT India Main Event for ₹6,635,000 ($92,180)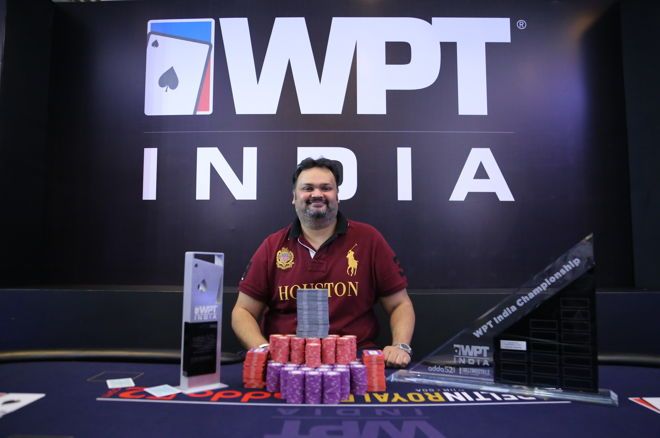 Nikunj Jhunjhunwala topped a record field of 697 players to win the second ever WPT India Main Event. After coming into the final table as the second-shortest player in chips, he rode out a topsy-turvy day to emerge as the winner and take home ₹6,635,000 (~$92,180) in prize money.
The prize is by far Jhunjhunwala's most significant recorded cash of his career, and he was a wildly popular player with the rail here aboard the Deltin Royale in Goa, India.
The runner-up Sahil Mahboobani takes home ₹4,653,000 (~$64,644), falling just short after a real tussle of a heads-up match. Start-of-day chip leader Deepak Singh finished fourth and Adda52 Team Pro Amit Jain seventh.
2018 WPT India Main Event Official Final Table Results
| Position | Player | Country | Prize in INR | Prize in USD |
| --- | --- | --- | --- | --- |
| 1 | Nikunj Jhunjhunwala | India | ₹6,635,000 | $92,180 |
| 2 | Sahil Mahboobani | India | ₹4,653,000 | $64,644 |
| 3 | Vidur Singhal | India | ₹3,000,000 | $41,679 |
| 4 | Deepak Singh | India | ₹2,207,000 | $30,662 |
| 5 | Hidangmayum Somesh | India | ₹1,683,000 | $23,382 |
| 6 | Akshay Nasa | India | ₹1,341,000 | $18,631 |
| 7 | Amit Jain | India | ₹1,111,000 | $15,435 |
| 8 | Kanishka Upreti | India | ₹884,000 | $12,281 |
| 9 | Harsh Dembla | India | ₹663,976 | $9,225 |
Despite securing the most significant victory of his career so far, Jhunjhunwala says that just three weeks ago he was on a "poker sabbatical."
"Coming here, I had this prop bet with my friend that I was either going to final table the Main Event or the High Roller," he said shortly after his victory. "So now that it's all happened, it's just starting to sink in."
Jhunjhunwala's most substantial cash so far came in 2015 when he won a Main Event and High Roller in the space of three days for over $50,000. He said he was glad that this time around his rail was here to witness his victory.
"There was a point in time where my stack was down, and he had a 3-1 chip lead over me. My rail was on him and in his ears, and honestly - it was fantastic.
"Once [Amit Jain] lost his stack, it made things easier for me."
"I had a sleepless night; lots of anxiety. I knew there were two people at the FT that I wasn't going to get into hands with until I got a double up. Then, I'd have 25-30 bb stack and I'd open up and widen up my range."
Both Jhunjhunwala and Adda52 Team Pro Amit Jain have played cash games together previously. They both said they wanted to play each other heads up.
"I had Amit to my immediate left, and we play a lot of cash games in Bombay together. He knows my game through and through. Once he lost his stack, it made things easier for me."
The stacks at the final table were shallow, but more importantly, balanced, something that Jhunjhunwala said worked in his favor.
"I play high stakes cash games compared to the other players. I play a lot of PLO where it kinda gets swingy. You get used to that variance, that was something I used to my advantage.
Getting to heads-up with a level stack with opponent Sahil Mahboobani, he took his time before starting to make moves.
"I just wanted to see how he was doing and get a feel for the player. I know if it's a deeper structure in a heads-up match it's better for me to be playing post-flop than pre-flop. He's out and out an online player, so I just wanted everything to be postflop."
Though he was a short stack at one point, he managed two consecutive doubles to snatch victory over his opponent.
"That's the beauty of these blind levels," he said. "There were instances yesterday when a player had two big blinds, and six hands later he's rallied to 515,000. I knew that it's not impossible, so I knew not to lose morale. I had my rail there cheering me on, and that was great."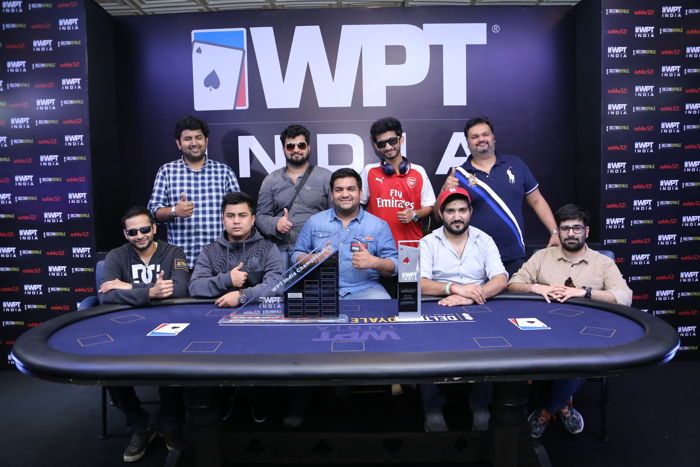 2018 WPT India Main Event Final Table Action
Harsh Dembla came into the day with a four big blind stack, and on the third hand of the day managed the rare feat of chopping a pot and doubling in the same hand! However, despite doubling once more - the proper way this time - he was eliminated by start-of-day chip leader Deepak Singh.
He was quickly followed by Kanishka Upreti who ran ace-jack into the ace-king of Sahil Mahboobani before Hidangmayum Somesh doubled through Amit Jain.
Adda52 Team Pro Jain suffered a terrible start to the day and barely won a pot before shoving ace-ten into the ace-king of Nikunj Jhunjhunwala to bust in seventh.
Like the first elimination, Jain's was quickly followed by that of Akshay Nasa whose king-jack was no match for the pocket queens of Jhunjhunwala, with the latter making backdoor quads to move over five million in chips.
It was Singh and Jhunjhunwala at the top of the counts, and although Vidur Singhal doubled through Singh twice, the elimination of Hidangmayum Somesh by Singh with kings against ace-queen would ensure both he and Jhunjhunwala remained level-pegging.
However, soon after play resumed four-handed, Mahboobani doubled through Singh with sevens against king-ten, and Singh eventually three-bet shoved jacks into the ace-five suited of Jhunjhunwala to bust in fourth.
The average stack by now had crept up to over 45 big blinds, but when Singhal shoved small to big, Mahboobani woke up with ace-ten and held against his opponent's king-nine to bring the tournament to heads up.
The stacks were dead level, and so it would remain with neither player giving the other any room to gain an advantage. That was the case until Mahboobani bet all three streets and opened up a sizable gap.
After that, Mahboobani looked to press home his advantage, but with the blinds so high, all it took was two quick doubles for Jhunjhunwala to wrestle back the chip lead, and on the very next hand the tournament was over.
This concludes the PokerNews coverage of the WPT India Main Event from the Deltin Royale in Goa, India, in what was PokerNews's first ever event covered in India.