PokerNews India Exclusive: A Chat With 'Chess Queen' Jennifer Shahade
Rahul Singh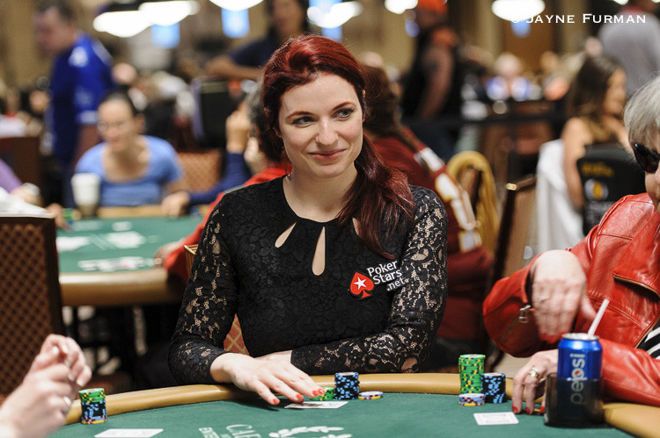 PokerNews India spoke to PokerStars Ambassador, Jennifer Shahade. Not only is she an excellent poker player, she's also a two-time US Women's Chess Championship winner, a US Junior Open Championship winner and an Olympic medalist.
She divides her time between playing chess and poker, giving commentary on chess and poker tournaments, writing for uschess.org and providing private coaching on Run It Once. She's also a public speaker, giving talks across the world, motivating young kids and adults and she's also an advocate for US Chess Women.
If you think the above is a handful; she has also penned two books; Chess Bitch: Women in the Ultimate Intellectual Sport and Play Like a Girl!
It was great interacting with her and following is our conversation:
PokerNews India: Tell me a bit about your background.
Jennifer Shahade: I was born in Philadelphia and my father who is a chess player taught me the game when I was 5. At age 10, I became passionate about chess and then went on to play throughout school and college.
I studied literature and art at New York University and it turned out to be a great combination with the vigorous, analytical side of chess. This amalgamation of chess with the creative aspects of art and literature really shaped my career.
PokerNews India: How did your poker journey start?
Jennifer Shahade: My brother is a professional poker player as well as an International Master in Chess. He taught me poker in 2005 and I liked it right away. Even though I loved poker, it was more like a hobby back then. I got serious about poker in 2010 and started studying the game more.
PokerNews India: How have your chess skills helped your poker game?
Jennifer Shahade: Chess is a deep, complex game which forces you not only to learn and analyze strategies but also look at your weaknesses. Chess also makes you disciplined and shapes your mind in a way which I think is really conducive for poker. Chess also teaches you key decision-making skills rather than hoping to get lucky, because there is no margin for error.
Being a chess player makes you a bit calm about the outcome; it's more about the quality of your decisions rather than the result. Also, in the past few years, studying poker has become similar to training in chess.
PokerNews India: Can you share some highlights of your chess career?
Jennifer Shahade: I was the first woman to win the US Junior Open Championship in 1998. I have won the US Women's Chess Championship twice and I've also won the Silver Medal in the Olympic team chess event.
PokerNews India: Besides playing chess and poker, what all do you do?
Jennifer Shahade: I give talks on poker and chess often. I love connecting with people and talking about the power of both games and how you learn to make better decisions. I see chess and poker as self-improvement tools; like pseudo mirrors which make you introspect and improve the overall quality of your life.
I also do a lot of commentary on chess and poker tournaments and will be commenting on the World Chess Championship in November at uschesschamps.com. For the first time in decades, we have an American challenger for the undisputed World title- Fabiano Caruana will face World Champion Magnus Carlsen.
PokerNews India: How often do you play live and online tournaments?
Jennifer Shahade: I live in Philadelphia which is close to New Jersey. Since PokerStars Live is in New Jersey, I visit it from time to time. Other than that, I go to the World Series and the PokerStars Caribbean Adventure (PCA) in the Bahamas each year.
I like the social aspect of live poker and it's a lot of fun meeting new poker players. Live poker isn't only about the game, it's also about meeting people.
I love playing online because of the number of hands one gets dealt. Also, because I have a 2-year old son, online poker suits me.
PokerNews India: What resources would you suggest to newbies who are just starting out in poker?
Jennifer Shahade: There's a lot of great content on YouTube, Twitch, PokerStars School and Poker GO. I think this is a great way to get started.
I think it's more about finding out what works for the individual since there is so much content available nowadays, both online and offline. If you are a book person, read books. In case you learn better from videos, then watch good video content.
PokerNews India: Do you know any Indian poker players? Do you know about the poker scene in India?
Jennifer Shahade: I know Muskan Sethi and Aditya Agarwal who are both PokerStars Ambassadors from Team India.
I've heard a little bit about the Indian scenario. I know that PokerStars recently entered the Indian market. It's a burgeoning scene there and it sounds really exciting. Other than that, I've heard about poker in Goa from friends.
Also, I heard that Viswanathan Anand is advocating for poker, which is great. He is an inspiration as well as one of the best ambassadors of chess. If he is getting into poker, I think it's exciting news for the sport.
PokerNews India: Any plans of visiting India soon? Poker or otherwise.
Jennifer Shahade: Not immediately but I would love to, sometime in the near future. It would be great to talk to people who are thinking of taking poker more seriously. I would also like to visit different cities which offer chess programs for kids and inspire them, especially the girls, and report on my findings for US Chess.
Since chess is so popular in India, it would be great to talk about both chess and poker. I think it would resonate really well with the Indian audience.
PokerNews India: Do you have a training regime? Do you read books etc.?
Jennifer Shahade: I study poker using game theory software plus I watch videos. At the same time, I write about poker; which I think really helps in understanding the game as well as helps you identify issues in your own strategies.
I write about the math behind hands, from particular spots. I also write about situations which arise a lot and analyze hand histories and talk about patterns and give rules of thumb. Other than that, I write about the theory of poker as well as the mathematical aspect of it.
PokerNews India: Tell me about your social media channels.
Jennifer Shahade: I'm active on the following social media channels:
Twitter: https://twitter.com/JenShahade
Instagram: https://www.instagram.com/jenshahade/
PokerNews India: Do you have any favorite poker books? Which books did you read while learning poker? What books would you suggest?
Jennifer Shahade: I really like Jared Tendler's The Mental Game of Poker and also Matthew Janda's books.
When I was learning about poker, I read everything available at the time. Most of it might not be relevant today since the game has changed so much now.
PokerNews India: Any plans for writing a new book? You already have written 3 books? If yes, what's the theme of the book going to be?
Jennifer Shahade: I've been doing some live beginner tutorials lately, and it just feels like so many people are watching videos now, that there is once again a need for poker books.
Many friends and acquaintances ask me for book recommendations. Since this is an intellectual crowd, they don't want to watch videos per se because they are pressed for time and already spend so much time on screens. They really don't want to become professionals, but want to learn about poker when they play in their respective charities. So, yes, I plan to write a book but it wouldn't be like a course or a curriculum.
PokerNews India: What are your thoughts on GTO?
Jennifer Shahade: I think GTO is a great way for chess players to study poker. Nowadays, a lot of importance is being given to GTO play and how one should play the game to be as close as possible to the equilibrium. Still, there are many people out there who don't think of poker from a GTO standpoint.
It's great to study the theory and science behind the game. But, you can also overtire yourself while thinking about all this and playing poker.
PokerNews India: Tell me about your poker coaching. Do you plan to train on other sites besides Run it Once?
Jennifer Shahade: Currently, I'm a coach on Run It Once, where I did dozens of videos on Open Face Poker a few years ago. Other than that, I might do something on PokerStars or start a YouTube channel.
PokerNews India: What's your most cherished poker memory?
Jennifer Shahade: It was in the WSOP Main Event two years back. At that time, I was 3 months pregnant with my son and I hadn't told many people about it, only close friends. I wanted to finish the tournament first and then tell people about it because I didn't want to get distracted.
So, it was a wonderful memory because it felt like my son and I were playing together and since nobody knew; it felt like our little secret. I came 200th, losing Aces to Queens. Still, it was a good cash and I was so happy afterward because it was such a great experience. I was lucky in life and not getting lucky in poker didn't feel that important at that moment.
PokerNews India: Do you have a favorite starting hand?
Jennifer Shahade: Other than the obvious Aces, I like Ace Five suited.
PokerNews India: What has been your ultimate 'tilt' moment?
Jennifer Shahade: I don't really get tilted. The only time I get upset is when players get angry at the dealer or when players get abusive. If you can't take the ups and downs of poker; you probably should be playing some other game.
PokerNews India: Who's your favorite poker player?
Jennifer Shahade: It's a really tough question because there are so many great poker players out there. I really respect Daniel Negreanu because he continues to work on his game despite being one of the best and winning so much. Also, he decided to learn about the Game Theory Optimal aspect of poker even though he was already a winning player without it. I like this attitude of constantly learning despite being one of the best.
I think it's really amazing what Liv Boeree is doing through her charity REG (Raising for Effective Giving). It's a great initiative that she's taken up.
PokerNews India: Do you think there is a divide between women and men poker players anymore?
Jennifer Shahade: I think the only difference at the moment between women and men is the bankroll because some of the bigger players at the moment are men. Otherwise, it's an even playing field now. That's the best thing about poker.
There are both pros and cons. There's a lot of criticism and praise too, for women poker as well as chess players. It's all about being focused on the game and not getting distracted. Try to take the positive without the negative- easier said than done!
PokerNews India: Tell me about your PokerStars Platinum Pass Adventure #mychesspokergame.
Jennifer Shahade: The PokerStars Platinum Pass Adventure was absolutely amazing. PokerStars was giving out a $30,000 Platinum Pass to the PokerStars Players No Limit Hold'em Championship (PSPC) in The Bahamas to the winner of #mychesspokergame. The Platinum Pass includes the $25,000 buy-in to the Main Event, six nights' accommodation at the Atlantis Resort in Nassau, room folio and travel expenses.
One needed to invent a new game which incorporated elements of both chess and poker. There were so many entries and it was really interesting to see so many great ideas. Sadly, there could be only one winner.
The judges comprised of Daniel Negreanu, Liv Boeree, Frank Lantz, Michael LeGrand, Danny Rensch and Greg Shahade. I shortlisted six entries, which included popular chess streamer Alexandra Botez, author and chess champion Alisa Melekhina and chess manager and promoter Jennifer Vallens. As you can see, women were quite creative when it came to this challenge. Out of the six finalists, the judges chose Warren Sheaves from North Carolina. His game ChessDraw resonated with the judges for encompassing the best aspects of poker and chess. I can't wait to give it a go in the Bahamas!