Sacheen Ramchandani Is The WPT India 2018 7K Ship IT Event Champion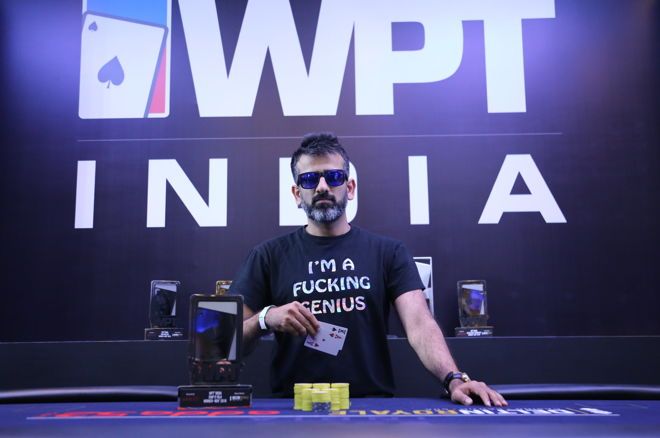 Sacheen Ramchandani has been crown the new champion of the WPT India 2018 Ship IT Event. Last year, it was Neeta Banker who beat this years' 35K SuperStack event winner, Abhishek Jalan in the final heads up matchup. This year, every event has surpassed the number of entries and it was no different for the Ship IT event. There were a total of 110 entries and the tourney was divided into 11 tables of 10 players each. There was 1 re-entry allowed in Level 1 which was a Flip between all the players. Then, the tables broken into two with 5 and 6 players respectively. Finally, we had a final table of 9. The top 12 players were going to get paid.
Abhishek Jalan was having a field-day as he was multi-tabling the Ship IT as well as the Main Event Day 1C Turbo qualifier. After Round 1, the 11 players started with a stack of 12K.
In the end, it was down to Sacheen Ramchandani and Mayank Jaggi in the final heads up battle. Sacheen had
while Mayank was dealt the
. Jaggi was already behind and the flop was of no help to him. It ran
. The turn and the river too didn't help him out. They were
. Ramchandani got top pair with top kicker and with it, the trophy to the WPT India 2018 7K Ship IT event.
This will make it Sacheen Ramchandani's first WPT title and his second major cash. Ramchandani gets a handsome INR 2,35,000, while pro Mayank Jaggi gets INR 1,41,000 for coming runner up.
Here's the final standings of the WPT India 2018 Ship IT event:
| Rank | Name | Prize (in INR) |
| --- | --- | --- |
| 1 | Sacheen Ramchandani | 2,35,000 |
| 2 | Mayank Jaggi | 1,41,000 |
| 3 | Ansar Khan | 88,000 |
| 4 | Kabir Uppal | 60,000 |
| 5 | Ankush Agarwal | 45,000 |
| 6 | Kalyan Chakravarthy | 36,500 |
| 7 | Lokesh Budhiraja | 30,200 |
| 8 | Abhishek Jalan | 25,500 |
| 9 | Yudhishter Jaswal | 23,500 |
| 10 | Kunal Kubba | 22,000 |
| 11 | Dinesh Kukreja | 21,400 |