PokerNews India Exclusive: A chat with Alexander "assassinato" Fitzgerald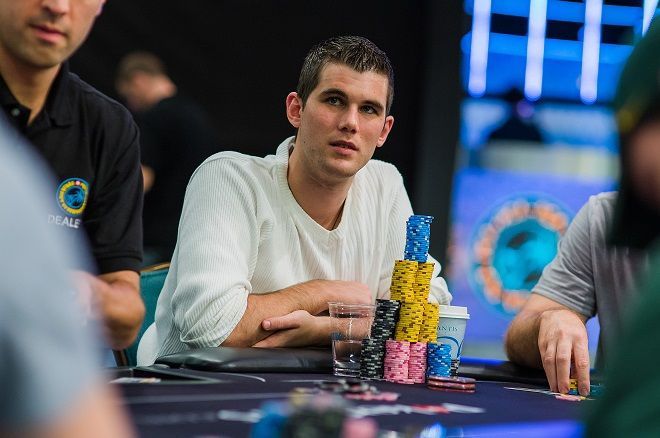 PokerNews India met with one of the finest poker coaches on the global poker circuit, Alexander Fitzgerald. Alex has trained over 1000 students from 60+ countries and has authored two brilliant books on poker; "The Myth Of Poker Talent" and "Exploitative Play In Live Poker" and also contributed in Jonathan Little's book "Excelling At No-Limit Hold'em". He has $3.5+ million in tournament cashes and has published hundreds of training videos, articles and webinars. Following is our conversation:
PokerNews India: How did your poker journey start?
Alexander Fitzgerald: I didn't have as much money as the people I grew up around. I was always frustrated by that, so I fixated on money. I was always trying to put money together. I thought that was what separated me from an easy life.
I moved Persian carpets as a teenager. I cleaned boats. I worked as a landscaper to pay my rent in high school. I also worked as a security guard and a commercial fisherman. I worked for about a year at a fast food restaurant. Most of this was before I turned 18. I started working at 12.
One day, in my high school, some kids were playing Hold'em. I didn't even know the hand rankings, but I played. My father taught me to play cards when I was younger, so it was easier to beat the kids at school.
Someone paid me $5.00 after 20 minutes in that game. It took me an hour of cleaning toilets in a restaurant to earn $5.00. I was hooked!
PokerNews India: How did you get into poker coaching?
Alexander Fitzgerald: I was terrible with money I was younger. I made an EPT final table, won some 100 rebuys, and just thought I was the best player ever. When reality came crashing down, I realized I needed to have a backup plan.
I started coaching honestly because I needed consistent money to pay for groceries, electric bills, and rent.
Once I started coaching, however, I found I actually really enjoyed it. I learned a ton when I had intelligent people questioning my theories every day. It gave me the motivation to study more.
I got really into the craft around 2009 and 2010. I started making lesson plans. I'd prepare lectures before my students showed up. Apparently, people loved this, because I found my client base kept growing.
Teaching really made me love the game again. I could not have won my WCOOP or SCOOP events without my students questioning my theories, nor could I have had my WPT or FTOPs final tables without their input.
Teaching made me a much better player. It helped me make some great friends. I consider myself incredibly lucky to have found this profession.
PokerNews India: What does your coaching focus on?
Alexander Fitzgerald: I do a lot of work with lower and middle stakes tournaments. I find that's what I can really help people with. Anything up to $215 tournaments online, $1,000 live. I have taught some players who are on Indian sites as well; I find my methods work there. It's the Asian markets I'm learning now. I feel I understand Europe and North America well.
PokerNews India: What does a typical day look like for you? How often do you play poker now?
Alexander Fitzgerald: For a while, I was trying to play poker every day again, but I've cooled off lately to focus on projects.
What I really love about my job is no two days are the same. There are some consistencies, however. I work out most days. I lift weights at least three times a week. I try to run on other days. Sometimes, my girlfriend drags me to her boxing gym, where I get my ass kicked by women half my size.
I usually coach one or two students a day, spend some time answering emails and working on my projects, play a small cash session, and then I spend my nights with my girlfriend. I read a couple of hours every day.
I try to go to one live event a month, and I do that as long as I can until I get tired of it. This year I did the WSOP, WPT Montreal, WPT Atlantic City, and WPT Maryland. Next year, I hope to do more.
PokerNews India: What resources would you suggest to newbies who are just starting out in poker?
Alexander Fitzgerald: A complete beginner should just love the game and play as much as possible, honestly, with low stakes competition. Then I'd recommend they read The Theory Of Poker once they start feeling comfortable. I read that book three times when I was starting.
After that, I'd focus on materials regarding the games you're playing. Low stakes coaches. Watch them play on Youtube or Twitch. Find someone you trust. Don't try to apply high stakes plays at low stakes.
PokerNews India: Tell me about your hugely popular "The Myth of Poker Talent" book.
Alexander Fitzgerald: I found that I had a substantial edge on most of my competition because I studied more than them. It had nothing to do with raw intelligence, as I'm actually a fairly slow learner.
People kept telling me how talented I was at the game and I kept correcting them. "No, this took me a long time to learn," I kept telling them. "I still make mistakes."
Finally, I wanted to do a book that would show my students hard work could help you look "talented" at poker. In the book, I show how to use Cardrunners EV and Flopzilla to count combos, and how you can combine that with 8th-grade arithmetic to understand the game.
I then showed how I used the poker tools to unravel and understand preflop raises, three-betting, continuation betting, double barreling, and triple barrel bluffing, along with myriad other topics.
People really loved the evidence-based format, even if it was a little complex. I am grateful I got to do the project.
PokerNews India: Do you have any favorite poker books? Which books did you read while learning poker?
Alexander Fitzgerald: I'm really into the poker tells books right now, because I feel that's a part of my game that I can improve upon. Zachary Elwood was nice enough to personally reach out to me and help me with some things.
Matthew Janda's work blew me away and continues to blow me away. He's very complex, but if you can take the time, he will teach you a ton. Tri Ngyuen's books changed how I viewed poker. Tricia Cardner wrote a couple of books that helped changed my life. She let me see how my poor lifestyle choices were destroying my poker game.
Jonathan Little is incredibly good at explaining advanced poker strategy to the layperson. I love his books as well. He's a great person to read when you're starting out.
PokerNews India: Do you know any Indian poker players? Do you know about the poker scene in India?
Alexander Fitzgerald: No. I live in my own bubble now. When I analyze poker hand histories, sometimes, I don't even get the pros names. I just have "Player 1" and then I see if I can parse out a new strategy.
I am extremely excited about the poker scene in India because the country is so large. I also think India has the potential to do great at poker. Being able to understand poker training materials in English or Russian is incredibly helpful when you're starting in the game.
I've always thought poker is perfect for countries where currency leveraging is possible. $3,000 a month is a salary you can certainly make in poker. That is might not be much to someone in Sweden or New York, but in India that could really help a number of young men and women support their families.
I would love to see that happen. I would love to see India provide the poker world a number of superstars and people supporting their families. I think that would help the rest of the world see what possibilities this game holds.
PokerNews India: Any plans of visiting India soon? Poker or otherwise.
Alexander Fitzgerald: I'm an old man now (laughs). I spent 10+ years outside of the USA. I saw 40 countries during that time. Hundreds of cities. I was on tour for much of that time. I didn't speak my first language for years.
I'm honestly tired of traveling. I like watching baseball on TV and speaking English at my gym. I missed the USA. In a year or so, however, I want to see more of the world. I want to do one more tour of the world before I settle down. India is definitely on the list.
PokerNews India: Do you have a training regime now?
Alexander Fitzgerald: I wake up, forget to shower, stare at hand histories, look at databases, pull my hair out, and take notes.
PokerNews India: Tell me about your social media channels and poker coaching sites.
Alexander Fitzgerald: I do videos for Youtube at Assassinato Coaching. You can check out a short one I did here.
Twitter: @TheAssassinato
I write a daily newsletter. If you write me at [email protected] I can add you to the list. I do training videos for Tournament Poker Edge. My podcast is at www.oneouter.com.
PokerNews India: Tell me about your latest book "Exploitative Play in Live Poker".
Alexander Fitzgerald: My first book was about how to teach yourself poker. How to understand each spot through hard work and combinatoric analysis.
This new book is my attempt to summarize all my findings over the last year. It's short and gets to the point. It's much easier to read than the instruction manual of a first book.
The book is designed for low-stakes and mid-stakes players who want to exploit others through analytics.
One of the first questions I ask in the book is, "how often does the average player in your country threebet?" Many people don't know that percentage, but if you conduct surveys, study hand histories, and watch a ton of poker, you can come up with what that number is likely to be. Then, you can construct strategies around it.
I did this with a number of statistics in live poker, and described the findings I found, along with the strategies I created around them. In the book, I discuss preflop raising and three-betting in completely new terms. I also discuss postflop play, the live circuit, and specialized exploitative plays extensively. I discuss some tricks I use live to get reads.
The first 30 or so reviews are of the book are on Amazon. The average score is 4.6. Apparently, people are enjoying it, which makes me happy.
PokerNews India: What has been your biggest win?
Alexander Fitzgerald: I won $222,000+ in EPT San Remo. Online I have won the WCOOP and SCOOP event. One was for $114K if I remember correctly. I finished third in an FTOPs for six figures as well.
PokerNews India: Do you have a favorite starting hand?
Alexander Fitzgerald: I really like any garbage starting hand. Any idiot can make money with aces. I consider myself a pro when I make 10-5o or Q-2o profitable.
PokerNews India: Who's your favorite poker player?
Alexander Fitzgerald: Matthew Janda.
PokerNews India: Tell me about your students who've made it big in poker.
Alexander Fitzgerald: I can't do that. Many of the bigger players ask that our sessions be kept confidential. If someone knew they were using my strategies, they could exploit them. I'm sorry I can't do a better answer than that.
But honestly, the success stories that make me incredibly happy are the young men who are providing for their families.
He's not really my student anymore, because he's become so much more knowledgeable on his own, but I love seeing Rihards Dobelis provide for his wife and child. Those are the students that keep me extremely motivated.