Top 10 Stories of 2018, #10: PokerStars' Platinum Pass Give-Away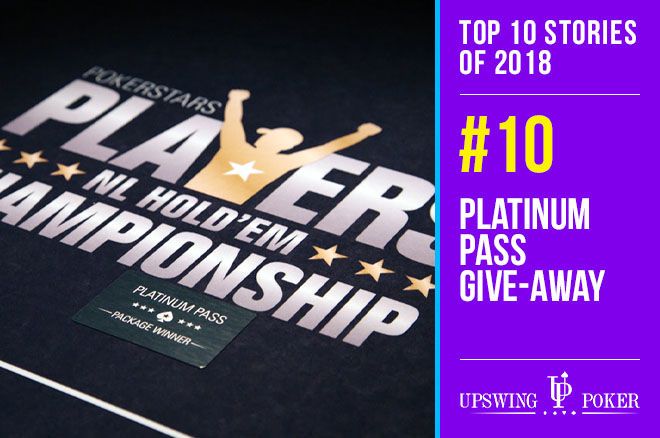 This year's Top Stories are brought to you by Upswing Poker. If you want to improve your skills and confidence at the table, look no further than the free resources and premium training courses on upswingpoker.com.
---
A year ago, PokerStars made a bold move. In an extreme gesture on behalf of the players, the online poker giant announced that they would be hosting a rake-free $25,000 buy-in event before the PokerStars Caribbean Adventure (PCA) in 2019 that would come with a staggering $9 million in added value.
The absence of the rake in the PokerStars Players No-Limit Hold'em Championship (PSPC) is notable in and of itself, but adding $9 million on top of that is simply unheard of. But that's what PokerStars promised to do. While $1 million of the added value would come directly in an extra milly added to the first-place prize, the other $8 million would come in the form of 320 freeroll entries.
The $30,000 Platinum Passes that PokerStars began handing out included a seat into the $25,000 PSPC running Jan. 6-10 plus travel and accommodations at The Atlantis on Paradise Island in the Bahamas.
Chief Executive Officer of The Stars Group, Rafi Ashkenazi shared the vision for the event at the time of the announcement: "We want to demonstrate and reinforce our commitment to the game, and give something back to the players by investing in our live events in a meaningful way. Our objective is to create an event that brings professionals and amateurs together, creating many winning moments and unforgettable stories."
Those stories begin with a freeroll of a lifetime and will blossom through countless stories that develop on and around the felt in the Bahamas, if all goes as hoped.
Determining Pass Recipients
Once the event was announced, poker enthusiasts were wondering how PokerStars would go about determining the lucky winners.
"The goal was by the time we get to tournament, there should be an array of people who should never be in a $25K all the sudden in for the ride of their life, mixed with some who would want to play it but wouldn't because of bankroll restrictions, and then those who would normally be playing the event," PokerStars Director of Marketing David Carrion told PokerNews back in August.
PokerStars attempted to achieve this mix by using a wide range of criteria for determining who would be the recipients of the Platinum Passes. Carrion explained that they wanted the passes to be accessible to everyone, and so, pathways to the passes varied greatly. There were passes that rewarded skill, luck, intelligence, persistence, as well as more creative abilities like cinematography and showmanship.
"The way in which we are going about it is to make it accessible," said Carrion. "That is the reason for all the different qualifying paths. The other one is that we really want to make it inclusive where everyone can really have a shot at qualifying."
Between dozens of online and live qualifying events, competitions, flips and other luck-based games spread across several different continents, the passes surely felt accessible to any player that so desired to hunt one. The strategy has resulted in a wide mix of pass recipients, from millionaire high-roller regulars to low-stakes beginners and everything in between.
And as more passes went out, the more diverse became the pool of qualifiers, with stories building on luck, skill, ingenuity, generosity, and hope. Seeds of inspirational poker narratives planted, and with some mix of hard work, skill, luck and fortune, they will blossom into entertaining David and Goliath clashes at the felt, and end with a handful of rags-to-riches stories for poker fans and bystanders of the game to feast upon.
One thing is certain: the field that results from 320 satellite entries and wild cards, plus the many mid- and high-stakes players who will flock to buy in directly to the event, is sure to provide a never-before-seen mix in a high roller event.
Let the Giveaway Begin: You Get a Pass and You Get a Pass…
Now, a mere two weeks before the PSPC kicks off in the Bahamas, more than 300 Platinum Passes have been assigned, and the final few are trickling out to the last of the lucky winners.
Before 2017 ended, the first lot of the Platinum Passes went out, starting with PokerStars' final major live stop of the year. EPT Prague running as the rebranded PokerStars Championship (PSC Prague) was the first chance for players to win Platinum Passes. Mihai Minole of Romania and Andrejz Tomasz Siemieniak of Poland both bubbled the PSC Main Event, going out during the same hand at different tables.
Their misfortune quickly turned to fortune though as Daniel Negreanu announced they would flip for the $30K pass. Minole told PokerNews' Laura Cornelius that he had a bad feeling because he had been losing every flip all series, but a twist of fate ended in both players getting a pass for the event that felt like light years away at that time.
After a break for the holidays, the giveaways recommenced, one going out to Andrea Benelli for winning the Italian Poker Open, four went to the winners of the PokerStars Winter Series Main Events online, and then it was time for the U.S. to get their first representative for the PSPC.
It was written in the stars and the cards for the Psychology Ph.D. and author Maria Konnikova to keep her poker book project going a year into it when she attended the 2018 PCA. Her mentoring from Erik Seidel was proving useful, and she started making her way into profitland with the help of taking down the 290-entry field in the $1,650 PCA National for $84,600 that came with a $30,000 Platinum Pass.
Hers was also the first widely recognizable name in the game to snatch one. From there, plenty more big names would join the freeroll squad, but scattered throughout are many, many more whose names would not have appeared in the $25,000 buy-in tournament roster if it weren't for their fortuitous winning of a coveted PSPC pass.
Winner, Winner, Platinum Pass Dinner
Many of the giveaways rewarded skill — or at least the ability to get through a live or online tournament field to finish at the top, which usually takes a bit of luck too. Many of the players who won a pass by this route are familiar faces on the mid to high-stakes tournament scene, while others are unknowns.
Among the familiar name winners were Konnikova (PCA National Championship), Maria Lampropulos (2018 PCA Main Event), Kalidou Sow (PSF London Main Event), Mikita Badziakouski (Macau Poker Cup High Roller), Pim de Goede ($55 Turbo Series Main Event - Online), Michael Soyza (APPT Korea Main Event), Gianluca Speranza (SCOOP Main Event High - Online), and Stephen Chidwick, who won his in a good ol' fashioned online satellite.
The Moneymaker PSPC Tour traveled around the U.S. hosting $86 re-buy events with a Platinum Pass added for the winners, and 15 individuals won passes on the tour. Known players who snagged a pass in this manner were Anthony Maio (NJCOOP Moneymaker Special Tourney – Online) and Kenny Tran (Gardens PokerStars Challenge), while most of the others were recreational players.
One of them, Nathan Manuel, had already fired shots at a Platinum Pass in other events and Jaime Staples' #MyUltimateSweat challenge before playing in the $86 Moneymaker Spectacular event held at Run It Up Reno in October. But the pass eluded him until he was the last player standing in the field of 825 entries in Reno.
Luck-Based Passes
A great many of the Platinum Pass winners found themselves in the right place at the right time, and some of those are established players who are no strangers to playing big events. Some say it's better to be lucky than good in poker, but for these players, they are okay with being both.
David Peters won the PCA Main Event Wild Card drawing, Paul Tedeschi won a pass in the EPT Monte Carlo Main Event Flip Out, and Joao Barbosa got his hands on a pass in the EPT Barcelona Event #28 Crazy Pineapple Hand Challenge.
As for the others who lucked into a pass, you can bet that you'll become plenty familiar with some of their names as storylines develop in the Bahamas, should you follow along in January.
Creativity and Cunning Rewarded
For players who couldn't lock up a pass through one of the poker tournament avenues, the Team PokerStars pros Platinum Pass Adventure challenges provided another avenue for those who could showcase skills other than poker prowess.
The Vlogger In Paradise competition saw amateur players posting creative weekly vlogs and Oliver Biles of the U.K. and American Matt Keifer were both awarded passes for impressing Jeff Gross and Andrew Neeme with their productions. Jason Somerville's Next Great Twitch Streamer contest awarded a Platinum Pass to Hristivoje "ALLinPav" Pavlovic for proving himself in the Twitch poker streaming streets.
Recent $10,000 WSOP Circuit Global Casino Championship Warren Sheaves won Jen Shahade's #MyChessPokerGame by coming up with what was judged as the best game that combines poker and chess. Time will tell if Sheaves' "Chess Draw" game will pick up, but for now, he's surely more focused on the $25K no-limit hold'em event he'll be playing in the Bahamas next month.
Malaysia's Natalie Teh won the Liv Boeree and Igor Kurganov Next Great Poker Brain adventure, proving her wits in a series of logic and intelligence tests. Jacqueline Burkhart earned her Platinum Pass in Maria Konnikova's My Poker Story adventure pass for her short story that linked poker with her mother's struggle with Alzheimer's disease.
Paying it Forward
While a lot of people won Platinum Passes by outlasting others in a tournament, solving some puzzle, performing well in a task, creating good content, or by some other avenue, some people were literally just handed passes — for being good people.
The old "pay it forward" adage applies, as PokerStars took it upon themselves to reward many poker lovers who have shown selflessness in their poker endeavors, given of themselves for others, many of whom have also gotten dealt a tough hand in life.
Damon Ferrante was diagnosed with terminal illness and found poker as a much-needed distraction to occupy his mind. That distraction turned into a form of therapy which led to reaching higher levels in the game and making money. He began donating some of his winnings to worthy causes and eventually began playing in charity events as a PokerStars representative. Earlier this week, PokerStars rewarded his charitable work with the chance of a lifetime in the form of Platinum Pass.
Chris Moneymaker made him cry…for all the right reasons. Watch the video . Then learn Damon Ferrante's story and… https://t.co/nw6zqavdc1

— PokerStarsBlog (@PokerStarsBlog)
Benjamin Alvarado of Ecuador won the Lex Veldhuis #PSPCitFWD pass for his charity work with child cancer patients that included donating his long locks for wigs for those who had lost their hair in chemotherapy.
PokerStars recently decided to dedicate a pass for a member of the poker media, to reward one of those hardworking media persons who have dedicated countless hours behind the scenes in the game they love. The Platinum Pass gods quickly learned of Aleeyah Jadavji's story as multiple people on Twitter submitted her name in the nomination process.
The poker player turned poker reporter also makes charity work a priority. Last year around this time, she ran a Twitch 24-hour stream that raised $25,000 for charities. After an intense year that included losing 100 pounds on the keto diet and going deep in Jaime Staples' #MyUltimateSweat competition for a Platinum Pass, Jadavji had to drop out of the race in September upon being diagnosed with a cancerous tumor in her stomach.
Shifting her focus to dealing with health issues and spending time with family and friends, Jadavji's PSPC dream had to take a backseat. In the midst of doing radiation treatments and getting closer to her surgery to remove the tumor, Jadavji got the shocking news that she had a $25,000 tournament to look forward to after healing from her surgery that took place Dec. 19.
Feels like I've got a brand new lease on life. Can't wait to get back into ketosis and finish what I started a year… https://t.co/F7u6s7NPry

— Alee Yah (@ElleSriracha)
Platinum Pass Winners Prepare for The Big One
One need not look far down the list of Platinum Pass winners to understand that for many of them, winning a Platinum Pass along with the chance to play in the tournament of their lives in the Bahamas – a trip most will be sharing with their partner and/or families – has already made for a life-changing experience. But that won't stop them from doing all they can to make some money in the process.
Many pass winners have never played in a $25,000 buy-in poker tournament and many still hadn't even dreamed of doing so. That is, until the Platinum Pass possibility came into the picture. So, how do you train for a $25K as a recreational or low to mid-stakes grinder?
Along with the Platinum Pass giveaway bonanza, PokerStars didn't just leave pass winners hanging in terms of getting ready for the big event. A secret club of pass winners has been growing as members have access to some coaching from PokerStars pros via facebook as well as a Platinum Pass winner's forum where members can get questions answered and find advice.
One such nugget of advice was posted by high-stakes regular Igor Kurganov, who suggested that the pass winners push their comfort levels by playing a bit outside their typical bankrolls, in order to develop mental comfort in uncomfortable situations. Think simulating game-like conditions during practice for athletes.
Nathan Manuel, a recreational but serious player, took Kurganov's advice to heart and played in the WPT Main Event at the SHRPO. The $5,250 buy-in was well out of Manuel's sub-$1K average buy-in comfort level, and despite busting late on Day 1 before the money, it was a positive experience.
"It was a great reminder that no matter the stakes we are still playing the game we love, talking trash at the tables and dragging the occasional pot: A great reminder as I enter the largest tournament of my life," he told PokerNews.
But Manuel is doing more than just playing bigger tournaments to prepare himself; he's also been investing time and money in coaching from Raise Your Edge, taking the course designed by online crusher "BenCB789."
"That work also led to coaching with Patrick 'IrEgption' Tardiff which we have been streaming every 2 weeks and has vastly improved my understanding of ranges and hand equities," Manuel explained. "On top of that lab work, I have been developing specific strategies with Andy 'the timid' Camou andJimmy 'Untitled2JC' Cappucci to address the unique dynamics of the PSPC."
Matt Kiefer, co-winner of the Next Great Vlogger competition, has taken advantage of Facebook live coaching sessions with players like Kurganov, Felix Schneiders, Chris Moneymaker and Maria Konnikova and it seems to be helping. The low-stakes recreational player has cashed in three of the six tournaments he's played in since winning the pass. One of those was a $400 $50K guarantee in Cincinnati where he finished second of 143 for his biggest cash of $8,600.
One Platinum Pass winner who is relatively new to playing in high-stakes tournaments, Maria Konnikova, has had the good part of a year to continue prepping for the big one as she won her pass at this year's PCA in January. Already having undergone some intense poker training from her book subject Erik Seidel in the months leading up to the 2018 PCA, Konnikova has had little reason to slow down that study (besides having her next book to finish writing).
In a recent PokerNews video interview at EPT Prague, Konnikova shared that she's still under the tutelage of Seidel, and has added some other study tools to her arsenal as well.
"I've been working more with Solvers, just because I know that the players that I'll be playing with there use them a lot."
And like Manuel, Konnikova has also been playing a little higher than she normally would, jumping in a $25K and also playing a few extra $10Ks that she may not have played if she weren't getting ready for the PSPC.
Tailoring Expectations
From the PokerStars perspective, they're not sure exactly what will transpire at the PSPC, but all the Platinum Pass winners have already won, regardless of their finish in the event. Moneymaker told PokerNews he thinks the tournament will change a lot of lives, regardless of the results.
"First off, the trip to the Atlantis is a dream come true trip for many Platinum Pass winners. Secondly, just cashing for $25k will change lives. Whoever wins the event will obviously have a life-changing experience, but I will be more excited to see this bubble more than anything else."
For players like Nathan Manuel, whose Platinum Pass was the product of much personal sacrifice and resource investment, securing the PSPC trip was the primary goal, so the pressure of cashing in the event is relatively light.
"I have already been paid for that work in the form of this experience: playing in a $25k buy-in event and a trip for my wife and I to the Bahamas; Anything more will be gravy."
For Konnikova, cashing is all well and good, but she's gunning for more.
"I'm not going for the cash; I'm going for the final table."
Some ending that would make for her upcoming book that prompted her foray into poker in the first place.
For most of the Platinum Pass winners, they are heading into the freeroll of a lifetime. Many of them are aware of their underdog status, and just hope to cash. But underdog or not, poker fans around the world will be hoping for another Moneymaker, and PokerStars has made it at least a possibility by assuring a good mix of unlikely heroes to be among the runners vying for a multi-million dollar top prize. And if PokerStars and the fans get their dream, someone like low-stakes rec player and family man Matt Kiefer will lift the trophy in the end and become a millionaire in the process.
"I don't just want to run deep or make the final table; I want to win," Kiefer told PokerNews. "And not for the money, but for the history of poker. I want to be the 2019 Moneymaker: The 2019 Matt Kiefer effect, where years from now people say, 'remember that guy that won a seat with a video camera and ended up winning it all? Where is he now?'"
Keep dreaming, Kiefer, because in a couple short weeks when the cards are in the air and the coverage starts rolling, the poker world will be dreaming with you.
The Stars Group owns a majority shareholding in iBus Media.
---
Upswing Poker gives you access to the tactics and strategies that world-class pros wish they could teach their younger selves. Check out the free resources and articles on upswingpoker.com to level-up your skills without spending a dime.
---
Top 10 Stories Since 2011
Top 10 Stories of 2011
Top 10 Stories of 2012
Top 10 Stories of 2013
Top 10 Stories of 2014
Top 10 Stories of 2015
Top 10 Stories of 2016
Top 10 Stories of 2017