PokerRaj goes International with The 100 Series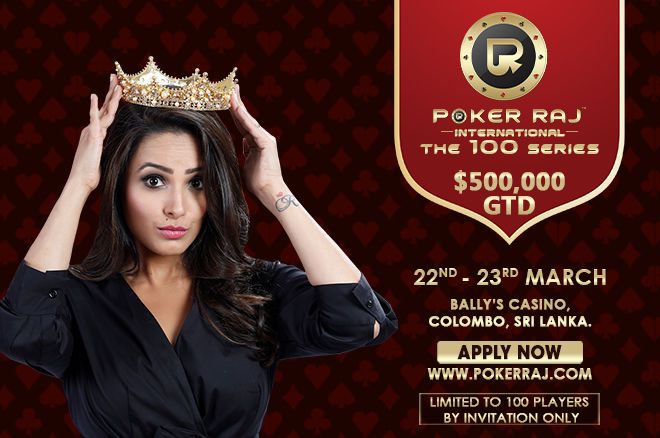 Viaan Industries Ltd. (BSE: 537524), a popular licensing, entertainment & gaming company promoted by leading entrepreneur, Raj Kundra, and celebrity Shilpa Shetty Kundra, recently launched their online poker website www.pokerraj.com now go International with the announcement of 'PokerRaj International- The 100 Series' to be hosted in Sri Lanka.
PokerRaj International- The 100 Series is scheduled to take place at Bally's Casino in Colombo, Sri Lanka on the 22nd - 23rd of March with a GTD prize pool totaling 500,000 USD. The event is going to host a number of celebrities and poker enthusiasts from around the world.
Players can apply to take part on the Poker Raj website. The two-day event will see 100 top players participating to win a slice of the $500,000 prize money with an exclusive closing party!
The invite-only event will have 100 players competing against each other for the extravagant prize pool. With just 100 players participating the probability of being in-the-money is obviously higher. The tournament will be played in Texas Hold'em format.
Speaking about the development Raj Kundra Chairman Says: We have created this IP as an exclusive 100 player only tournament and will travel with it around the world hosting 4-5 events a year. It's a unique offering and an event that promises to bring glamour, poker and some of the best players together.
You can submit your details on the Poker Raj website and if selected someone will contact you with participation details.
About Viaan Industries Limited:
Entrepreneur Raj Kundra and his celebrity wife Shilpa Shetty Kundra founded Viaan Industries Ltd. In Mumbai, India. The company has a strong and growing presence across the promising sunrise sectors of Entertainment, Gaming, Licensing, and Animation. The company's vision is to drive a lifestyle change in masses through its technology offerings. Their unique business offerings enable the stakeholders, distributors, and customers to be a part of the Indian growth story.
To know more about Viaan Industries Limited, visit their homepage