Chad Brown and George Danzer Explain Stud 8/b and Omaha 8/b Tournament Strategy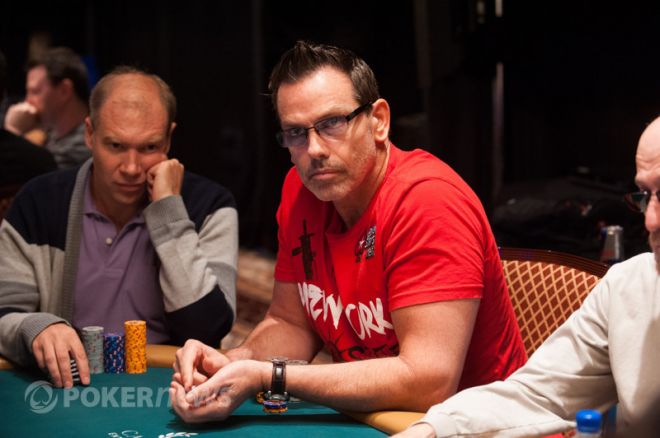 Day 1 of the World Series of Poker Event 5: $2,500 Omaha/Seven-Card Stud Hi-Low 8-or-Better started Friday with eight levels of play in the Rio Amazon Room. Top pros like Jennifer Harman, Maria Ho, Norman Chad, Justin "Boosted J" Smith, David Bach, and Scott Clements were all eyeing a piece of the $850,850 prize pool.
Team PokerStars Pro Chad Brown was also in attendance. Considered a mixed-games specialist by his peers, Brown has 10 WSOP final tables to his credit over the years, including a third-place finish in the 2002 $1,500 Omaha Hi-Lo Split event; a runner-up finish to Ted Forrest in the2004 $1,500 Seven-Card Stud event; and second place result in the 2005 $2,000 Seven-Card Stud Hi-Lo event.
We caught up with Brown during Level 7 of Event #5 on Friday to ask him how he approaches these types of tournaments during the early levels and beyond.
You've made a few WSOP final tables in both Omaha and stud. Are you doing anything differently in this event than you did in the past?
The strategy you play is always based on the players you have on your table. So no, I'm not necessarily doing anything differently. You will always have to adjust. One of the keys in any game is adjusting to your table. If you are playing a lot of amateurs in the early levels and then end up playing a lot of pros in the later levels, you want to adjust and make changed to your game accordingly.
What is the strategy for playing early levels in this type of event?
One of the strategies is always where normally you might just call when you have a good starting hand in Stud 8. If there's an amateur that comes in and you know he is a readable opponent and they want to isolate so you don't want to let another pro come in the hand because you'll be able to outplay that player. So one strategy with an amateur is to reraise, whereas later in the tournament when you are playing against more pros, you'll just want to flat in that situation.
How would your strategy compare to later levels if you run deep?
Later it is almost always going to be where you are at a table with more pros. Now you are playing against players that play the game really well. Every little decision is so critical so you try not to make the pot too big so that when the big bet streets come, like in Stud 8 on fifth street, where there's not that much money in the pot where if you have a marginal hand you can just muck it as opposed if there are a lot of raises on third and fourth street, now you are priced in a lot of times to call. You don't want to be in that position if you can avoid it.
Can you explain a little bit about hand selection in both stud and Omaha?
In Stud 8-or-Better you really want to avoid playing middle pairs and you want to start with straight and low flush cards. If you have aces with a low card, that's a great hand. In Omaha hi-lo, in position if you can play four low cards and double suited like
that's a big hand. Position is really key because a lot of times I'll reraise with that hand and it'll come across like I have aces in my hand but I still have so many different flops to hit that will make my hand.
So is position as important in these games as it is in no-limit Hold'em?
No. Position is always important but in no limit it is definitely more important. In this game you are talking about the only different is one bet. You can save a bet or earn an extra bet and in no limit you could have a whole pot-sized pot.
Fellow Team PokerStars Pro George Danzer recently won the PokerStars Spring Championship of Online Poker Player of the Series. Like Brown, Danzer focuses mostly on mixed games, and even took second place in this very same $2,500 Omaha/Seven-Card Stud event at last year's WSOP. He also final tabled the 2012 $10,000 No-Limit 2-7 Draw Lowball event, finishing in third, and in 2011 he finished in the same spot in the same event. We got to ask him a few similar questions in regards to mixed games tournaments.
So, you just recently won SCOOP Player of the Year and came close to winning this event last year. Does that add pressure to you to play well in this event?
It's the opposite. It makes it easier because it was a very big goal of mine to win one of those leaderboards, either the SCOOP or World Championship of Online Poker (WCOOP) and I came very close a lot of times finishing third, fourth or fifth. This year I managed to win a title and top of the leaderboard so it was a big relief. For the WSOP I've come close a few times too so if I grab one title, I'm hoping another will follow. I'm more relaxed than previous years so I think I'm in better shape this summer.
What is your strategy for the early levels of Day 1 in this event?
The levels count. The structure changed from two years ago from having deep early levels where you could do whatever and it wouldn't affect your chip count. The first table you draw you are stuck with for a little while but if you get a good table then it's perfect because you get fall into spots where you can quickly accumulate chips but if you get a bad table it makes it a little more tough because you have to manage the table a little better and are less likely to chip up early on as not much is happening. Today I got a good table, I think.
If you run deep, how will your strategy change?
Later in the event you have to play the table. Every pot is crucial so you have to choose the player you want to get in pots with. If you want to make a bluff it has to be against a thinking player that is capable of folding so you have to be absolutely sure. Just making a four-bet can crush your stack because you are only paying with seven or eight bets in an average stack. Thinking ahead is important so if you are risking your stack then you have to have a good reason to do so. On Day 1 though you can try making more moves.
Can you tell me a little bit about hand selection for both Omaha and Stud?
In Stud 8 hand selection is very important and in Omaha 8 you can play any crap (laughs). People always say, "Why are you playing that junk? You cannot play those hands." But every hand has good equity. For example, if the other guy has ace, ace, deuce, something, and you have
then you are not as in good shape as you wish to be but it is still OK in Omaha 8. It could turn into a great hand and you could make it something if you hit two pair or it could be a high flop or maybe you can even bluff him out, or maybe you catch a straight; there's many combinations you can beat a very good hand with. Hand selection is not as important in Stud 8 because you have something called reversed implied odds. If you are stuck with the worse hand in the opening but you have to call very street then it gets expensive. In Omaha you can evaluate the hand if you like the flop then choose to put more money in or give it up.
Do you have a favorite starting hand in Omaha?
Aces with a deuce I play all the time but I play a lot of other hands too. If I like the spot I open my range a little more. I won't play them in early position but if I am in the blinds or in stealing position then you will see me playing with pretty bad hands.
Follow PokerNews on Twitter for up-to-the-minute news.