20 Rounds Part VII: Yakovenko's Step-by-Step Strategy Guide for Pineapple OFC Poker
Nikolai Yakovenko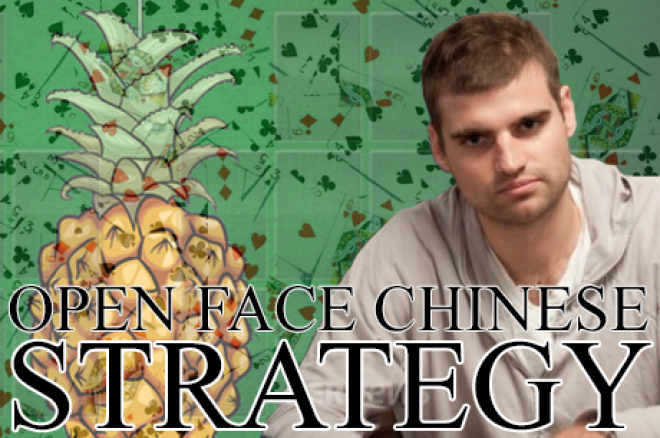 Open-face Chinese has become one of the most popular games in poker. Top pros like Jason Mercier, Barry Greenstein and Shaun Deeb have become unofficial ambassadors for the game, while dozens of other pros can be found playing the game either late into the night or on their tablets. One of those players is Nikolai Yakovenko, who helped create the ABC Open Face Chinese Poker iPhone app.
Yakovenko, also known as "Googles," is originally from Moscow, Russia and is now a poker player and software developer that resides in Brooklyn, New York. After several years at Google New York working on ranking algorithms, he's been developing independent software projects ever since while making both World Series of Poker and World Poker Tour final tables. Here Yakovenko, who has $313,598 in WSOP earnings, walks you through 20 rounds of Pineapple OFC (which he actually played) and offers strategy and his thought processes throughout. This is the seventh and final piece in a series of articles that has run every Tuesday and Thursday on PokerNews
To catch up on the action, and to learn how these articles are formatted, check out the first two pieces in the series:
For more on Yakovenko, check out the recent in-depth interview he did with PokerNews.
Round 652 (button, in Fantasyland) – What I Got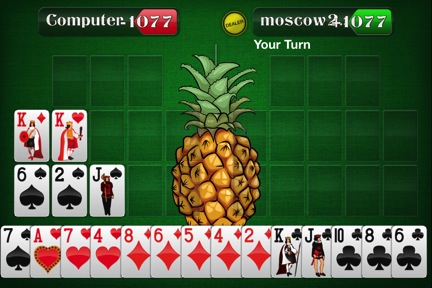 The computer is setting up to punish us, but we've got two flushes, a turntable, and a microphone.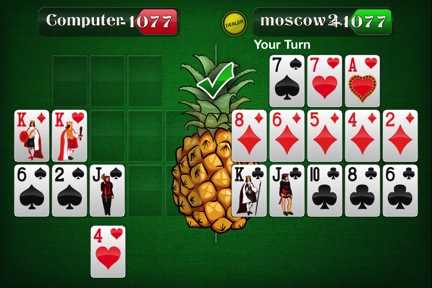 The fact that we didn't get dealt any queens is a bit scary, and also we only threw away one spade. Let him make the flush, just no Fantasyland, please.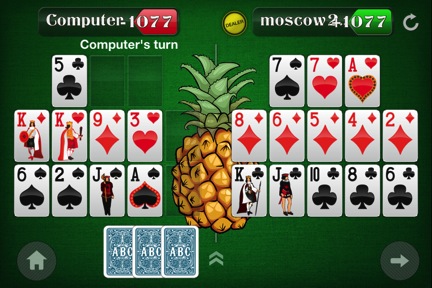 Halfway through, and no queens for the Computer!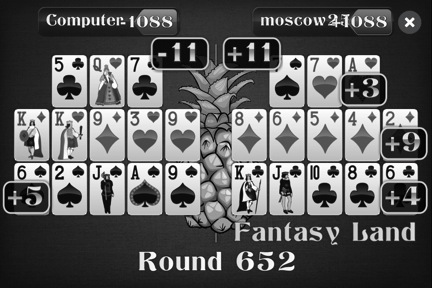 No scoop, but we survive! The computer had a perfect start to spoil our Fantasyland.
That's the thing about Pineapple — being in Fantasyland guarantees you no victory. Over the long run, Fantasyland is worth quite a bit, almost as much as in Regular OFC, but most of that value comes from massive hands in The Land, and from staying in Fantasyland. In a small sample, being in Pineapple Fantasyland can seem like no advantage at all.
It's part of why I think that Pineapple with Fantasyland would make for a great OFC tournament. Being up against Fantasyland, even as a short stack, is not a death sentence. It seems like there would be a ton of strategy around deciding when to sell out for a big hand, and when to stay conservative. Our last few rounds provided a couple of such examples.
Round 653 (first to act) – Turning Down the Gambit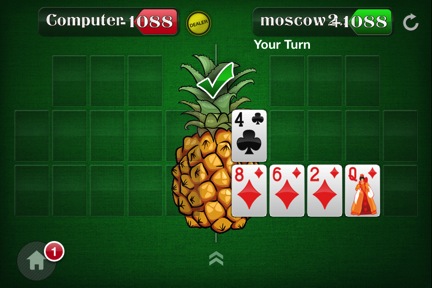 I have no mathematical reasons for playing this one soft.
My only reason would be that with an eight, a six and a deuce on the bottom, there aren't any good two-pair plans as fallbacks. Also, I'd hate to back myself into a three-flush corner, to see that my opponent already has two or three diamonds of his own.
1. //(
),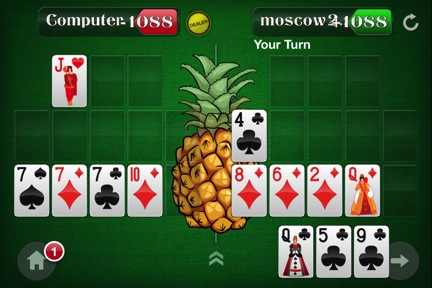 1. /(
)/(
), (
)//(
)
2. /
/
/
One could argue for two clubs in the middle here. Not unreasonable, but my bottom flush will likely be queen-high. It's a lot harder to make a flush in the middle, if it can only be jack-hi or worse.
Better to put a queen on top, as still there are still two more queens left to pair it.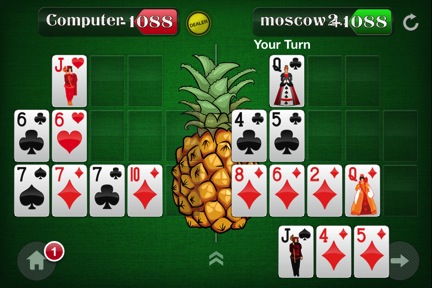 1. /(
)/(
), (
)//(
)
2. (
)/
(
)/
/
,
/(
)/
/[?]
3.
/
/
/
This late in the hand, and with so many diamonds played, it's not wise to gamble for a bigger middle. Besides, we aren't even a favorite to make queens up top.
It's a dud draw, and our chances for a big hand are practically over.
1. /(
)/(
), (
)//(
)
2. (
)/
(
)/
/
,
/(
)/
/[?]
3.
/
(
)/
(
)/
,
(
)/
(
)/
/[?]
4.
(
)/
(
)/
/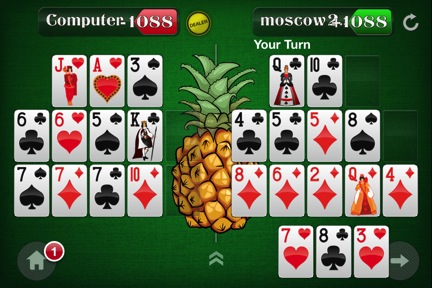 In a parallel universe, we could have made Fantasyland, by playing the
up early, making a smaller flush with the five, then pulling the case seven for a gutshot in the middle on the final draw.
This may be a bad example, but as strategy for OFC evolves and top poker minds are playing thousands of hands of Pineapple on the ABC app a week, this kind of super-aggressive strategy seems to be getting more and more popular.
A friend was recently complaining to me that one of his regular opponents, a well known and very aggressive poker player, seemed to be getting very lucky against him, usually on the last draw. Talking through his strategy, it seems like the player was always setting himself up to have a good shot at Fantasyland, going into the last round of every game.
Maybe he was running good to hit these draws every time, but there is certainly some skill in planning out your hand early, setting it up to make a big hand late.
Only time, and perhaps a lot of simulation with stronger AI's, will show us what is the best strategy, but over this match, I sure am beginning to think that I've tried too hard to be freerolling for Fantasyland, rather than setting myself up with more dynamic hands. Though again, needing a one-outer for a gutshot straight might be a poor example.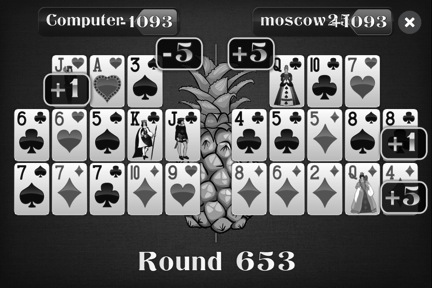 Round 654 (dealer) – Eastbound & Backwards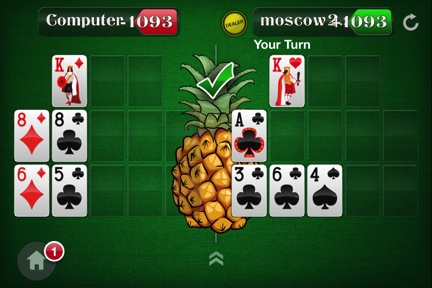 Both me and the computer start with some suspect plays. The
in the middle is just a bug in the computer's logic. Not even something that can be seen two different ways.
My not playing the
on the bottom is a subtler mistake, although also clearly incorrect.
The rest of the hand sets up to prove why these are bad moves. In a nutshell, both players try too hard for Fantasyland, but base their dreams on a weak and inflexible foundation on the bottom.
1. (
)/(
)/(
), (
)/(
)/(
)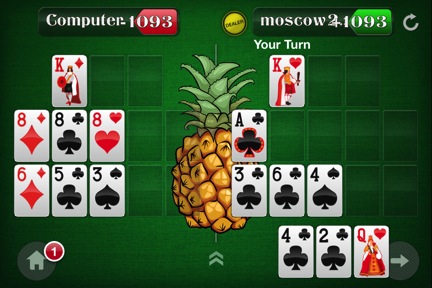 1. (
)/(
)/(
), (
)/(
)/(
)
2.
/
(
)/
(
)/[?],
/
/
/
The deck immediately shows why both first-five sets were wrong, but given that the first five can not be changed, both players might as well follow through with their flawed original plans.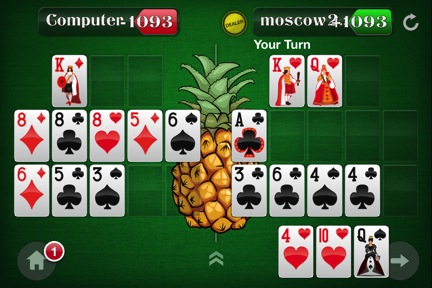 1. (
)/(
)/(
), (
)/(
)/(
)
2.
/
(
)/
(
)/[?],
(
)/
/
(
)/

3.
/
(
)/
/[?],
/
/
/
By needing the bottom straight, the computer is dead once we pull that third four.
Our hand is actually pretty good now, and with aces live, we might as well gamble. It would have been nice to have the king in the middle and a flush on the bottom, but this hand isn't bad. Easily 50/50 to pull an ace over two more draws.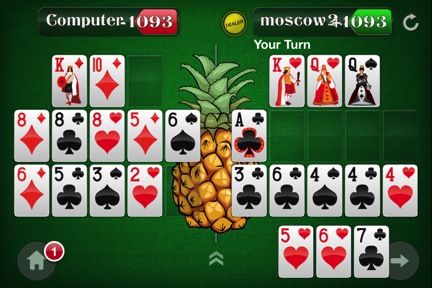 Less than 50/50 now…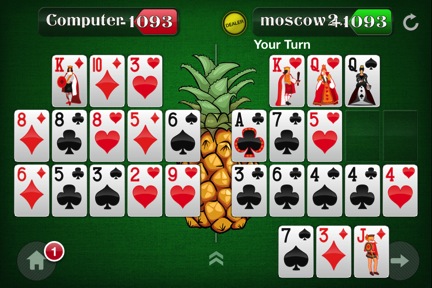 …and we miss. Both players foul.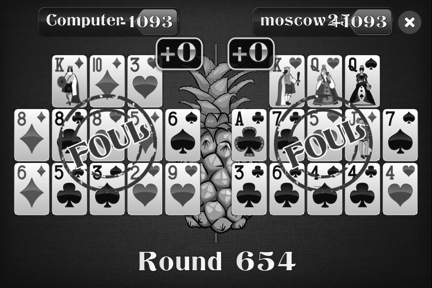 This concludes our 20-hand match against the computer.
We ran bad at times, zigging when we should have been zagging, and we made some mistakes…
… wait! A double-foul is no way to end a match! Let's play one more hand.
Round 654 (first to act) – The Encore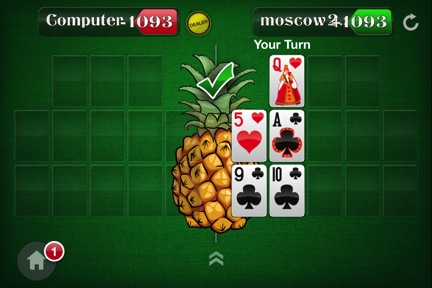 We end the match with a nice pyramid hand. I like these arrangements, because just about every card that you could draw from the deck has a logical place. That will change, as our hand becomes more defined. But for now, we have ultimate flexibility.
1. (
)/(
)/(
)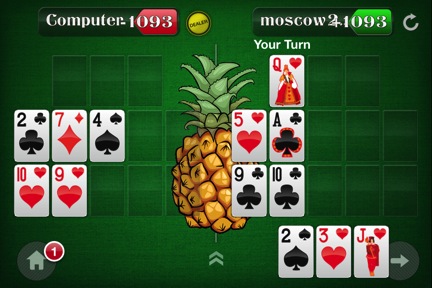 1. (
)/(
)/(
), /(
)/(
)
2.
/
/
/
No clubs, so we go for the straight-straight theme. Somewhat un-intuitively I play the dead deuce over the live trey in the middle. The deuce is more useful to us for the wheel, and I'd still rather make a pair of aces in the middle as my first option.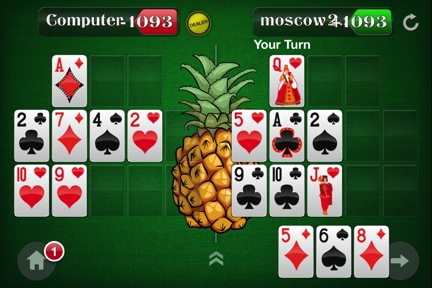 1. (
)/(
)/(
), /(
)/(
)
2.
/
(
)/
(
)/
, (
)/
(
)/
/[?]
3.
/
/
/
The ace isn't coming, so we pair the middle with fives. Not a great hand, but also not terrible.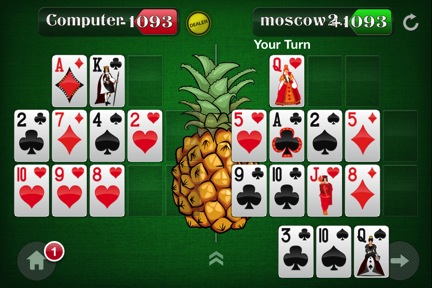 1. (
)/(
)/(
), /(
)/(
)
2.
/
(
)/
(
)/
, (
)/
(
)/
/[?]
3.
/
(
)/
(
)/
,
(
)/
/
(
)/[?]
4.
/
/
/
Our odds for Fantasyland aren't high. We settle for a straight.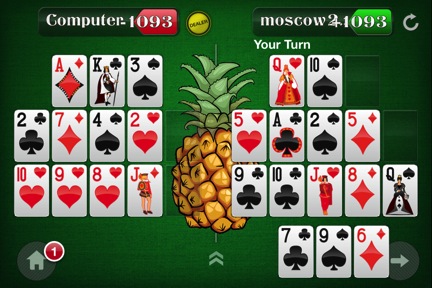 And thus ends our match. We could have made the straight on the last card, but not the two pair we'd need in the middle to qualify for Fantasyland.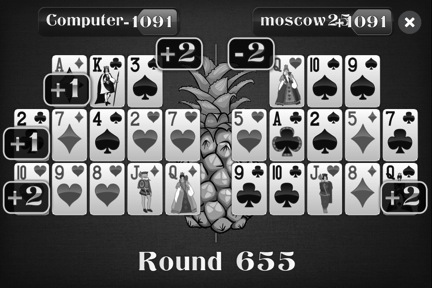 The computer matches our queen-high straight on the bottom, so we tie there, and settle for a safety.
We started this match up 1,065 points, and after 21 rounds, we're up an additional +26 points on the computer. It's way too small a sample to draw any conclusions, but hopefully you've enjoyed following some of the rounds.
Nothing really weird happened, and these 21 hands were pretty representative of what can happen in a Pineapple OFC match. Usually there are more Fantasyland rounds, and in a match this long, it's not unusual to see someone stay in Fantasyland, but what's more telling is that in just about every hand, we had a chance to go to Fantasyland. Either a draw didn't quite get there, or we played one reasonable arrangement while a different reasonable arrangement would have gotten to Fantasyland.
Pineapple OFC games revolve around trying to make big hands, in the same way that blackjack sessions revolve around trying to make natural blackjacks, or finding big spots to double down against a weak dealer up card.
Of course there's a lot more skill to OFC than there is to blackjack, and there are certainly more choices, but the swings and the variance are very similar. Hands in a match are only loosely related, but it sure feels like sometimes you're hot, and sometimes you can't catch a break.
I've spent a lot of time in these pieces second-guessing my play throughout the match, but this is how playing OFC feels. Like fishing, you tend to remember the big hands that got away. You end up making a lot of big hands, but you almost make a big hand in just about every game.
Throughout the match, I found it increasingly important to know what my opponent had discarded. Although, unless I build in a feature for it to do so, the computer isn't telling.
I hope you've enjoyed riding the OFC roller coaster with me as a reader, as much as I enjoyed it as a player.
Get all the latest PokerNews updates on your social media outlets. Follow us on Twitter and find us both Facebook and Google+!