9 Poker Books You Need To Become a Winning Player
Rahul Singh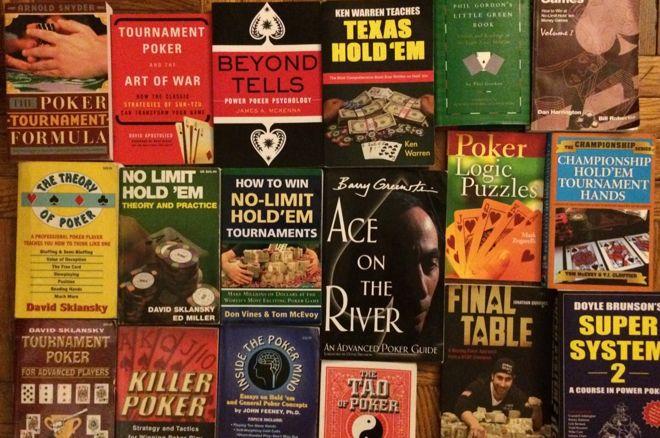 In poker, like other sports or mental games; a lot of the learning happens when you're off the table. I have been a student of poker for the past 10 years now and have learned a lot from videos and watching live games online. However, the best way I improved my game was by reading good ol' fashioned Poker books.
Now, how do you choose from the plethora of books and e-books out there? I compiled them based on my own understanding, critical reception, and expert advice. Please note that all poker players are at different stages in their poker journey; so, a book which is of profound insight to one might seem trivial to another. In case a particular book isn't listed below, it doesn't mean it's an inferior resource. So, here goes; my selection of the top 9 poker books in random order:
The Tao of Poker by Larry W. Philips
The Tao of Poker is one of the most comprehensive books on poker I've ever read. It covers almost every concept and topic ever conceived in poker and is written in a very relatable manner without using esoteric jargon. A newbie, as well as a seasoned player, can extract immense value from this resource.
The Tao of Poker is the sequel to "Zen and the Art of Poker". The latter is a very good mental guide on poker as well as life. Larry creates amazing parallels and similarities between Zen philosophy and poker strategy.
The Theory of Poker by David Sklansky
This is a timeless classic with theories and concepts which are still relevant today. This book contains all the strategic fundamentals which can help you play rock-solid poker. All serious Poker players swear by it; however, recreational players too can derive immense value from it.
Strategies for Beating Small Stakes Poker Tournaments by Jonathan Little
Jonathan Little is a 2-time World Series of Poker winner with over 6 million in winnings. Personally, he is my favorite author and this book is his masterwork. There are innumerable books out there which claim to help you win huge tournaments.
Mr. Little, however, keeps everything realistic and shares his valuable experience with awesome tips and tricks to win small stakes poker tournaments. This short book uses a lot of poker terminology, so make sure you have a good understanding beforehand.
Reading Poker Tells by Zachary Elwood
This book is a little different from the ones mentioned in this article, however, equally important. It's the only noteworthy book on reading "tells" since Mike Caro's books.
Apart from having a great understanding of poker; reading body language of your opponents is an invaluable tool in your arsenal. This book addresses exactly that and correlates behavioral dynamics to poker backed by scientific analysis.
Not only does it teach the reader about identifying the opponents tells; it also helps one stop leaking information to others.
Ace on the River by Barry Greenstein
This isn't a run-of-the-mill poker book. It talks more about the world of poker than simply poker strategy. This book educates the reader on various important topics like bankroll management, avoiding traps, staking, myths, burning out and increasing the longevity of your poker game.
This book elucidates important facets that one may overlook or is unaware of in their poker journey. It teaches one to play 'life' in the poker world.
Essential Poker Math by Alton Hardin
This gem teaches fundamental poker math and explains how to use those skills to become a winning player. Beginner players will gain crucial knowledge while advanced players will gather new insight which gives them an advantage over their contemporaries.
This amazing book will teach the reader to play according to the probabilities and odds. Important concepts like expected value, pot equity, ratios, calls etc. are explained in a very simple manner. Alton Hardin provides examples, scenarios, exercises, reference sheets to help make poker math less intimidating.
Every Hand Revealed by Gus Hansen
Gus Hansen is one of the biggest live game winners. He wrote this book to explain every hand he played in the 2007 Aussie Millions tournament. The premise of the book is that it presents poker strategy based on practicality rather than theory.
He narrates a live experience and provides relevant information rather than just rehearsed theories and advocates an aggressive style when it comes to bluffing, slow playing, calling out large bets etc. Not only this, Gus also includes the mistakes he makes and shows how to learn from them.
The Mental Game of Poker by Jared Tendler
This no-nonsense book puts you on the spot. It helps you assess your awareness and approach to the game and helps you clearly delineate your strengths and weaknesses.
This is one of the best resources for someone who wants to improve their game provided they are willing to put the yard work. Unlike snake oil salesmen, this book doesn't offer quick fixes and in my opinion is one of the most realistic poker strategy books.
The Mental Game of Poker requires prior experience and knowledge about strategy to successfully reap its benefits.
The Myth of Poker Talent by Alex Fitzgerald
This is a very interesting title by Alex Fitzgerald who is a renowned poker coach in the poker world. Like the title, this book debunks misconceptions one might have about becoming a successful poker player.
This book follows a very clear and hands-on approach towards poker. It will help the reader assess various spots, identify mistakes being made on the table and learn holistic fundamentals of the game to become a better player.
HONORABLE MENTIONS:
Honorable mentions which are storehouses of poker knowledge and deserve a read are: Doyle Brunson's Super System series, any title by 2+2, Harrington on Hold 'em series, Phil Gordon series, any title by Jonathan Little, titles by David Sklansky, Small Stakes Hold 'em: Winning Big With Expert Play by Ed Miller, David Sklansky, Mason Malmuth.