Level Info
| | |
| --- | --- |
| Level | 27 |
| Blinds | 30,000 / 60,000 |
| Ante | 10,000 |
Players Info
| | |
| --- | --- |
| Entries | 345 |
| Prize Pool | 690,000 AUD |
Main Event
Day 3 completed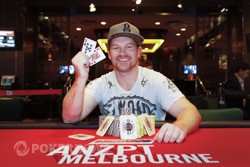 Paul Hockin was crowned the first champion of the first leg of the PokerStars.com Australia New Zealand Poker Tour after a long, hard battle! The winner of the Melbourne Main Event took him a beautiful A$101,275 first place prize. But it wasn't easy for the 25-year old part-time professional!
The action at the final started off slow, but after two levels of treading water everyone seemed ready to rock. Peter Matusik, who started the final table second in chips, was the first player to go. He shoved his nut-flush draw all in on the flop against Michael Guzzardi who had top pair top kicker. His hand held up and the ANZPT Gold Coast champion was eliminated in 9th place for A$13,800.
Just a few hands later it was the runner-up of last year's ANZPT Player of the Year classification, Anthony Aston, who was eliminated. Aston got his money in pre flop with ace-jack, but Hockin showed a monster as he called his shove. Hockin knocked Aston out with pocket queens, and the youngster received A$18,975 for his 8th place finish.
The players kept dropping left and right, because only five hands later there was a massive three-way all in. Karan Punjabi moved all in under the gun, Ashley Warner called and Igal Augarten called as well. Augarten moved all in on a
flop, and Warner callerd with pocket kings. Augarten had ace-queen of diamonds while Punjabi tabled two red eights. No help on the turn or river which quickly reduced the field to just five players. Punjabi received A$24,150 for his 7th, and Augarten took home A$31,050 for his 6th place finish.
At this point Warner had grabbed a huge chip lead, and Ismail Ismail had been waiting for a good spot to get his money in. Eventually the short stack moved in with ace-king and Michael Lo Giudice called with two black tens. Lo Giudice hit a set right away, and Ismail was knocked out even though he hit two pair. Ismail received A$37,950 for his 5th place finish.
Lo Giudice was still the short stack after knocking out Ismail, and about twenty minutes later he headed for the rail. The hand in which Lo Giudice was knocked out was really unfortunate as he hit the second nut flush, only to be busted by Warner's straight flush. Lo Giudice still had a nice payday and collected A$47,610 for his 4th place finish. With just three players left there was a deal made.
| Name | Chip Count | Deal Amount |
| --- | --- | --- |
| Ashley Warner | 3,460,000 | A$123,000 |
| Michael Guzzardi | 2,070,000 | A$112,000 |
| Paul Hockin | 1,150,000 | A$88,000 |
The ANZPT Player of the Year points were also chopped up. Each of the three remaining players received third-place points. The runner up finisher would receive an additional A$7,000 while the winner added A$13,275 to his already big payout!
The three-handed battle took more than three and a half hours as Hockin and Warner kept doubling each other up. Guzzardi was the innocent bystander, but eventually he was the one to finish in third place. Guzzardi was all in with two sixes against Warner's ace-queen, and the latter spiked two aces on the flop right away. No lucky six on the turn or river for Guzzardi who picked up A$112,000 for his efforts.
Warner lead Hockin 5,460,000 to 1,550,000 when the title fight began, but that was no guarantee for succes. Two double-ups later Hockin had taken a big lead, and Warner was eliminated not too long after that. On his final hand Warner moved in with
and lost to Hockin's
when the board ran out
. Hockin was crowned as the new champion while Warner took home the biggest payout. Warner received A$123,000 for his 2nd place finish while Hockin added A$101,275 to his bankrol. Here's a look at the final table payout.

| Place | Name | Payout |
| --- | --- | --- |
| 1 | Paul Hockin | A$101,275 |
| 2 | Ashley Warner | A$130,000 |
| 3 | Michael Guzzardi | A$112,000 |
| 4 | Michael Lo Giudice | A$47,610 |
| 5 | Ismail Ismail | A$37,950 |
| 6 | Igal Augarten | A$31,050 |
| 7 | Karan Punjabi | A$24,150 |
| 8 | Anthony Aston | A$18,975 |
| 9 | Peter Matusik | A$13,800 |
From the Crown Casino in Melbourne we would like to wish you a very good night, and until next time! The next ANZPT Main Event will start on November 21th in Auckland while the ACOP Macau Main Event is set to kick off on November 7th in the Grand Waldo Hotel and Casino.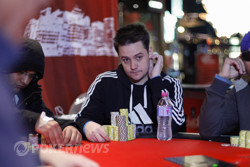 And it's all over! After Paul Hockin managed to double up into a playable stack it seemed to become a long battle, but it couldn't have been any different. A few hands after doubling up they went at it again, and Hockin crippled his opponent.
Ashley Warner raised up to 125,000 from the button, after which Hockin three-bet to 260,000. Warner put in a four-bet to 525,000 and Hockin moved all in. The chip leader quickly called, and a pot worth around 6,000,000 chips was created!
| | |
| --- | --- |
| Ashley Warner | |
| Paul Hockin | |
All Warner had to do was dodge Hockin's out, but the flopped spelled disaster right away as it rolled out
. Hockin had taken the lead, and the turn sealed it when the
peeled off. The river was the
and Hockin doubled into a 10:1 chip lead. Two hands later Warner was all in for his final 550,000 chips and Hockin made the call.
| | |
| --- | --- |
| Paul Hockin | |
| Ashley Warner | |
The board ran out
and Warner was eliminated in second place! The runner-up finisher had a big chip leader when the deal was made, and he will have the biggest payday taking home A$130,000. But Hockin is the new champion, and he will add have a pretty trophy to show for!
The flop read
when Paul Hockin bet 125,000 from the small blind. Ashley Warner called, and the turn brought the
. Hockin bet 300,000 and Warner decided to raise him all in. Hockin quickly called.
| | |
| --- | --- |
| Paul Hockin | |
| Ashley Warner | |
The river was the
, and Hockin doubled up. The stacks are very close with only a 10 big blind difference between the two.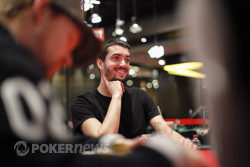 After three and a half hours of three-handed play we're finally heads up. Michael Guzzardi ended up all in pre flop against Ashley Warner for about 1.7 million chips, and the showdown went as following.
| | |
| --- | --- |
| Michael Guzzardi | |
| Ashley Warner | |
The board ran out
, and Guzzardi was knocked out in third place. After the deal was made Guzzardi received A$112,000.
Many small pots are being played and Michael Guzzardi has managed to chip up a little bit.
Paul Hockin raised the button to 130,000 and Ashley Warner three-bet to 280,000. Hockin went for a four-bet and put in 605,000. Warner wanted to play for it all and moved all in, but he didn't get a call.
This big pre-flop pot was shipped to Warner who's back in the lead for the first time since three-handed play began.
Michael Guzzardi raised from the button to 120,000 and Ahsley Warner defended his small blind. The flop came down
, and Warner checked. Guzzardi bet 150,000 and folded when Warner shoved all in.
Level:

27
Blinds:

30,000/60,000
Ante:

10,000