Main Event
Day 1b completed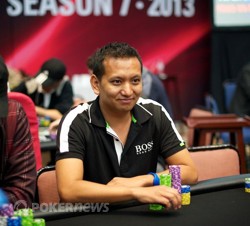 The Waterfront Hotel and Casino played host to another short, but entertaining Day 1b of the PokerStars.net Asia Pacific Poker Tour Cebu Main Event which has now come to a close with Milan Gurung leading the way with 99,900 in chips.
With a delayed start to the day, many were expecting a solid turnout of players that would hopefully provide a total of 200-players entering the event. It would be a little consolation considering they would fall well short of the 246 that played last year.
Seventy-seven players took to the felt today with recent Macau Poker Cup Red Dragon Event runner-up Gie Reyes, 2009 Aussie Millions Main Event fourth-place finisher Raj Ramakrishnan, 2011 ANZPT Adelaide Main Event runner-up and online pro Jesse McKenzie, and Sixiao "Juicy" Li all unable to survive. Two Team PokerStars Pros also took part with Celina Lin and Raymond Wu. Both started well, but unfortunately were eliminated in the second half of the day.
While Aditya Agarwal held the chip lead for most of the day and Choi Young Su made a charge in the latter stages, it would be Milan Gurung that would make the most ground to sit atop the remaining 36 players with a 99,900-chip stack.
Snapping on his heels is Choi Young Su (88,700) before others file in behind: Chane Kampanatsanyakorn (64,400), Aditya Agarwal (63,900), Jim Collopy (38,700), Daniel Laidlaw (34,600) and Kevin Zhang (29,800).
The PokerNews Live Reporting team will be back on the floor tomorrow from 12:15 pm PHT providing all the live coverage as we hopefully play down to the money on a highly anticipated and action-expected Day 2 of the APPT Cebu Main Event!
| | | | | | |
| --- | --- | --- | --- | --- | --- |
| Milan Gurung | | | | 99,900 | 34,900 |
| Choi Young Su | | | | 88,700 | |
| Chane Kampanatsanyakorn | | | | 64,400 | 9,400 |
| Aditya Agarwal | | | | 63,900 | 2,900 |
| Jim Collopy | | | | 38,700 | 1,700 |
| Daniel Laidlaw | | | | 34,600 | 12,600 |
| Kevin Zhang | | | | 29,800 | 17,800 |
| Shingo Cho | | | | 24,700 | 16,200 |
The clock has hit 10 minutes, and the floor staff has announced that we will play four more hands before wrapping up for the night.
Not much has gone Milan Gurung's way in the last couple levels of the day. He has taken a few hits, and while he's still very much healthy with 65,000, it doesn't compare to the 90,000 he had just an hour ago.
We caught up with the latest hand on the turn, with the board reading
. Gurung checked to his opponent, who fired out 9,000 into the pot of 13,000. This was for most of his stack, and it was enough to get Gurung to fold his hand, shaking his head in the process.
The night is just about to wrap up, and that seems like it's a good thing for Gurung right now.
The hand started with Chane Kampanatsanyakorn limping into the pot, as did the player to his immediate left, before the player in the hijack raised to 2,100 in chips. With the decision on the player in the cut-off, he instantly moved all in for his last 15,175. It folded around to Kampanatsanyakorn who sat there for a moment before making the call, forcing a fold from the other two players.
Kampanatsanyakorn:

Opponent:
Board:
Kampanatsanyakorn's pair of queens was able to dodge an eight, as he climbs up to 55,000 in chips with 30-minutes to play.
Milan Gurung has seemingly been invincible today, as his stack has grown every time we've walked by him. However, we just caught him losing a pot that dropped him back down to 80,000.
There was already 6,000 in the middle when we got to the table and saw that the board read
. Gurung's opponent fired out 3,000, and he made the call. The river brought the
, and Gurung's opponent assembled a big bet of 10,500, and dropped it into the middle. Gurung tanked for about 30 seconds before letting his hand go.
Despite the hit, Gurung is still the chip leader by our counts.
We rushed over to the table to see Raymond Wu all in for his tournament life holding
against his opponent who had
It was always going to be tough, especially when the flop came
giving his opponent a flush draw, and when the
and
didn't bring any help, it would send the last of the two starting PokerStars Team Pros to the rail.
Level:

6
Blinds:

300/600
Ante:

75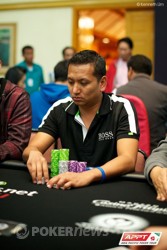 Milan Gurung has just eliminated a player from this tournament to take a commanding chip lead closing in on the final level of the day.
We arrived at the table to see Gurung's
besting the
held by his opponent on a board reading
, after both players committed their chips on the flop.
Gurung sits on a stack of 90,000 in chips.