High Roller
Day 2 completed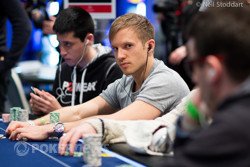 The PokerStars.fr High Roller event was originally scheduled to be a two-day event but after those two days and 21 levels of action it will roll over to a third day tomorrow.
A total of 51 players returned today and they were joined by two new entries meaning 53 players out of the 85 total were in attendance. By the end of the day Martin Jacobson finished top of the remaining six with 1,299,000 chips, and best in with a chance of claiming the €313,000 top prize.
All the remaining players will sleep well tonight as they know they are guaranteed a minimum €47,500. Here's the remaining six and how they stand coming back for day 3:
| Seat | Player | Chips |
| --- | --- | --- |
| 1 | Steven Silverman | 353,000 |
| 2 | Alexandre Reard | 943,000 |
| 3 | Timothy Reilly | 823,000 |
| 4 | Vojtech Ruzicka | 1,051,000 |
| 5 | Martin Jacobson | 1,299,000 |
| 6 | Bryn Kenney | 472,000 |
One player who won't sleep well tonight was the unfortunate bubble boy. Tibor Nagygyorgy shoved his short stack in with ace-ten but ran into two players behind him pocket jacks and pocket aces. Adrian Mateos had the jacks and was also eliminated in the hand but min cashed by virtue of having the larger stack.
Play will resume at 1pm CET tomorrow where the latest High Roller champion of EPT Season 9 will be decided.
Play has ended for the night (morning really) and the players have bagged up their chips. Here are the official end of day chip counts.
Recap to follow.....
| | | | | | |
| --- | --- | --- | --- | --- | --- |
| Martin Jacobson | | | | 1,299,000 | 99,000 |
| Vojtech Ruzicka | | | | 1,051,000 | -199,000 |
| Alexandre Reard | | | | 943,000 | 33,000 |
| Timothy Reilly | | | | 823,000 | 73,000 |
| Bryn Kenney | | | | 472,000 | 104,000 |
| Steven Silverman | | | | 353,000 | -117,000 |
Alexandre Reard's comeback is complete after he got lucky to double up again.
The Frenchman opened to 40,000 from under the gun and the action folded all the way around to Steven Silverman in the big blind. He stared at Reard's stack and then raised enough to set set him in for his 448,000 stack. Reard mumbled something in French and called.
Reard:

Silverman:
The board ran a Gallic
to make Reard two pair.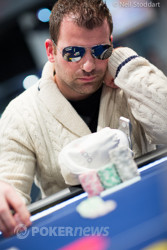 Since losing THAT pot to Martin Jacobson, Alexandre Reard has been nursing a short stack. Those chips now have doubled in amount thanks to a double up through, ironically, Jacobson.
Jacobson opened to 40,000 in early position and the players folded around to Reard in the small blind. Reard announced he was all-in for 245,000 in total and this folded out Timothy Reilly and Vojtech Ruzicka. Jacobson was next to act and he called.
Jacobson:

Reard:
A great time to find Big Slick as it had Jacobson's hand dominated. Neither player paired up on a
board, but Reard's king-kicker came into play and was enough to double him up.
Steven Silverman has certainly held his own on this final table, showing why he has almost $850,000 in live tournament winnings.
Silverman opened to 43,000 in late position and met some resistance from Timothy Reilly in the blinds. Reilly three-bet to 108,000 putting Silverman under pressure. Silverman took a few moments to compose himself before four-betting all-in, which resulted in a quick fold from Reilly, who will look for a better spot to commit his stack.
Alexandre Reard came into the final table as the second biggest stack, but he's the short stack after losing a sizable pot to Steven Silverman.
The two players were in the blinds and took to a
flop where they checked. The board ran out
and Silverman bet 42,000 and 125,000 on each street. Reard called both times and mucked upon seeing his opponent's
for a full house.
Level:

21
Blinds:

10,000/20,000
Ante:

3,000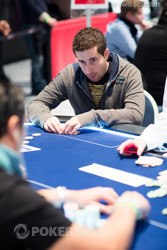 The last remaining Team PokerStars Pro, Jonathan Duhamel, has been eliminated and we are down to six in the High Roller.
Duhamel open-shoved for 55,000 from the cutoff and Steven Silverman asked how much the bet was.
"860,000" joked Duhamel, prompting laughter from the rest of the table.
Silverman called, as did Timothy Reilly in the big blind; it was not looking good for Duhamel.
The dealer spread the
flop onto the table and Reilly check-called a 45,000 bet from Silverman. That was the last of the aggression as the active duo checked down the
turn and
river.
Duhamel:

Reilly:

Silverman:
Reilly's pair of nines won the pot and resigned Duhamel to seventh place. Maybe with the €38,000 he can purchase a new leather jacket here in Deauville, to replace the one he misplaced a couple of nights ago.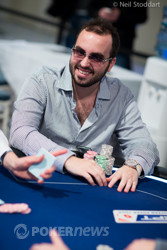 The talented Bryn Kenney is back in with a shout of this title after he doubled at the expense of Jonathan Duhamel.
Martin Jacobson opened to 32,000 from the cut-off before both players mentioned moved all in from the next two seats. Jacobson folded (pockets sixes he said).
Kenney:

Duhamel:
The board ran
.
Kenney was all smiles while the Team PokerStars Pro sat in silence.