5k No Limit Re-buy + Add on
5k No Limit Re-buy + Add on
Day 1 completed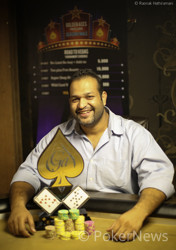 After facing some connectivity issues last night, the PokerNews India is now finally live with the reporting from the Golden Aces Poker League's Season Finale. The first event which kicked things off was 5k Re-buy + Add on which at final count had 53 entries with 55 rebuys and add-ons taking to the felt looking to take down the biggest share of the prizepool, in addition to adding some points to their roll to the leaderboard for the rest of the weekend.
When the last 9 players took to the final table, their stacks looked a little something like this:
Niranjan NJ 118300
Shashank Jain 60000
Madhav Gupta 53000
Rohit Madhur 44000
Vikas Kumar 43500
Vishal Doctor 33200
Dhaval Chandarana 29900
Tryston Sequiera 25900
Sajju Jain 13500
When it was down to 3 players, Madhav Gupta opened up the pot for 8500 chips and he got a call from the small blind Niranjan NJ. On his left, Vikas Kumar re-popped all in for 59000 and Gupta got out of the way as Niranjan called.
Niranjan NJ
vs Vikas Kumar

No fours on the board
meant that Kumar would bust as the 2nd runner up.
A few hands later, Gupta bet out 10000 and got a call from Niranjan NJ to see the flop
. Gupta fired another 15000 into the middle and his opponent raised to 45000. Gupta called and on the turn
he checked and Niranjan NJ moved all in for 105000 chips. Gupta tanked for a bit before making the call and tabling
for a flopped top pair against Niranjan NJ's mid pair with
. A second King on the river
meant that Gupta's hand held and he took down the 5k Rebuy + Add on and added another Golden Aces Poker League trophy to his mantle.
5k No Limit Re-buy + Add on
Day 1 started