Level Info
| | |
| --- | --- |
| Level | 19 |
| Blinds | 5,000 / 10,000 |
| Ante | 1,000 |
Players Info
30k Main Event
Day 2 completed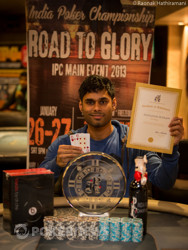 After a two day long battle, Anuruddha Meddegoda has triumphed over a field of 70 players and taken down the Main Event at the India Poker Championship!
The tiny island nation of Sri Lanka is barely an hour away from the southern most part of the Indian mainland and it is from here that young Meddegoda hails. A native of Colombo, Meddegoda is part of a small but active group of homegame players from the island country.
His keen interest in poker led him to visit Goa for the first time and in doing so he claimed Indian poker's prestigious title. When the final table began, there were three serious stacks in contention for the title including Goa regular Husain Lakda, well known online and live pro Aditya 'Intervention' Agarwal and eventual runner-up Sikandar Berry.
Meddegoda who was at the bottom half of the final table chipstack-wise probably would not have fancied his chances to a great extent. But some dogged determination coupled with a slice of luck at crucial moments saw him gain momentum when action was three-way after which he gained the chiplead.
From then on, he won a couple of crucial pots and in the end his riverd set of Sixes took down the final hand of the night and with it the title and honour of being the new India Poker Champion!
It's been an exciting few days bringing you all the action from the IPC and from all of us here at PokerNews India, its good night and we'll see you soon at another event from sunny Goa!
Till then...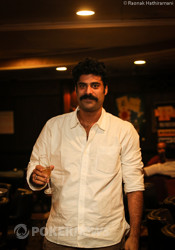 Anuruddha Meddegoda moved all-in from the small blind and Sikandar makes the call putting himself at risk in this headsup battle.
Meddegoda

Sikandar
Board
And that was all she wrote! And with that hand, Sikandar will be eliminated in second place.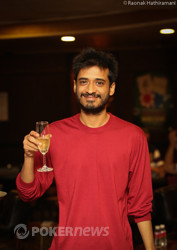 A lucky river for Anuruddha Medugoda when his
hit the river hard on a board of
making runner-runner against Aditya 'Intervention' Agarwal's
.
A crippling blow in that hand reduced Intervention to about 35,000 which he put in the middle with his next hand and Sikandar made the call.
Intervention

Sikandar
No help on a board of
for the Kolkata player and Aditya Agarwal will end his night as 2nd runner up in the IPC Main Event.
Level:

19
Blinds:

5,000/10,000
Ante:

1,000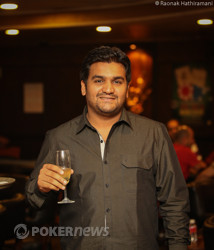 It is a long and arduous road to the final table and even after getting there it's not always certain that you'll go the distance. After a massive pot between him and Aditya Agarwal, Amit Jain made several shoves and managed to chip up a bit but not enough to be a scary stack at this stage. He needed a few more double ups to go his way for that to happen. Unfortunately for him this one didn't and that spelled the end of his run at the IPC Main Event.
Facing a raise of 22000 from Anuruddha Medugoda, Jain looked down to see
and moved all in for 112,000. Medugoda thought about it for a while before plonking down the additional chips and his
was comfortably ahead before the flop. It all but ended for Jain on a flop of
and certainly ended on the turn
and the meaningless river
.
End of the road for the Mumbai player as Amit Jain will exit in 4th place.
It's now down to the final three. Who will be the next India Poker Champion?
Amit Jain made a move to steal the blinds and put his entire stack of 178,000 into the middle with
. Unfortunately for him, it was bad timing because Aditya Agarwal woke up with
.
And those Eights hold steady on a board of
crippling Amit Jain and giving Intervention a massive double. Jain will himself need a few doubleups now to get to a fighting stack at this Main Event final table.
Level:

18
Blinds:

4,000/8,000
Ante:

500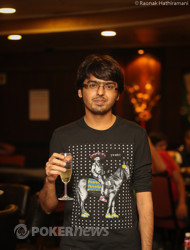 Struggling with a short stack for a while now, Kavish Kukreja moves in with his remaining 52,500. He gets called by Aditya Agarwal in the big blind.
Kukreja

Agarwal

Board
So two pair for both players on the flop but Intervention ahead with his Jacks up which become stronger on the turn when he hits another Jack to make his fullhouse leaving Kukreja essentially drawing dead before the river. A nice little pot for Intervention as he shows Kukreja the door in that hand.