Level Info
| | |
| --- | --- |
| Level | 16 |
| Blinds | 4,000 / 8,000 |
| Ante | 500 |
Players Info
| | |
| --- | --- |
| Entries | 12 |
| Prize Pool | ₹540,000 |
Here are some visuals from the WPPT Main Event:-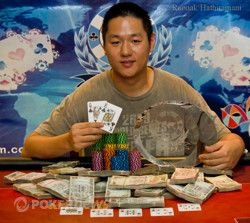 Andrew Ling from San Francisco has emerged victorious in the 50k Main Event of the World Professional Poker Tour's inaugural edition here at the Clubs cardroom.
In the final hand of the evening, Chevalier Gael pushes his short stack into the middle with
and is quickly called by Andrew Ling who held
.
The board
puts Ling ahead and with no help from the rest of the board, Chevalier Gael is the second place finisher.
Andrew Ling takes home the beautiful WPPT Main Event trophy and 1st place price of INR 3,40,000 for his efforts. Many congratulations to Andrew on his win and well done to the players who made it to the money.
That's it for PokerNews India's coverage of the World Professional Poker Tour. We'll be back soon with live coverage from yet another exciting tournament series.
Till then...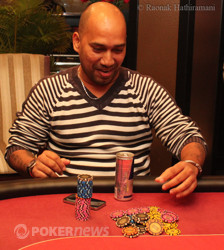 Andrew Ling makes it 20000 and with about 58000, Maurice Norohna moves all-in. Ling makes the call.
Norohna
v. Ling
So Norohna ahead preflop and the flop
keeps him ahead. The turn
widens the gap but the card that Norohna did not want to see pops up on the river
giving his thus far dominated opponent the upper hand in the end. Maurice Norohna will exit the tournament in 3rd place courtesy that beat on the river.
After being involved in several action hands, Patrick M gets eliminated in the following hand:-
Patrick M with approximately 68000 chips moves all-in preflop and gets one caller in Andrew Ling.
Ling
v. Patrick

Board
So Ling hits his Queen on the river and in taking down that pot, he ensures that the Patrick is knocked out in 4th place. And with that, we are in the money!
Patrick M bets out 21500 before the flop and Maurice Norohna goes all-in. Patrick makes the call.
Maurice Norohna

Patrick M

Board
So Patrick's pair of Queens betters to a Queen-high straight on the river.
Level:

16
Blinds:

4,000/8,000
Ante:

500
From the dealer button, Andrew Ling raises to 15000 and Patrick M from the big blind makes the call.
The flop
gets a check from Patrick and Ling makes it 20000. An instacall from Patrick to see the turn
and a check again by Patrick to which Ling bets 50000. Once more a quick call from Patrick and on the river
, after Patrick's check, Ling moves all-in.
While Patrick folds, he does show his hand
and Ling too shows
. So both players ending up with busted flush draws but Andrew Ling was still ahead on that board had it come to a showdown.
Preflop action has Rakesh Sharma moving all-in with his stack of 41000. Action folds around to Maurice Norohna who shows pockets Sevens but refuses to be the one to chip Sharma up.
Patrick M eventually decides to oblige and turns over
against Sharma's
.
The flop
spells doom for Sharma as Patrick hits his set of Ladies. Needing a Four and only a Four to make a fullhouse, Sharma is left stranded as the turn
and river
do not accomodate his miracle.
End of the road for Rakesh Sharma as he will exit the tournament in 5th place. It's now down to 4-way action and one more elimination will bust the money bubble. Who will be that unfortunate soul??
Level:

15
Blinds:

3,000/6,000
Ante:

400
Preflop Maurice Norohna raises it to 13000 and gets a call from Andrew Ling. They see a flop of
and here Ling makes it 20000 and gets min-raised to 40000. Ling makes the call to see the turn
.
This time Norohna is the aggressor who moves all-in and Ling folds. Both players do reveal their cards to the railbirds. Norohna turns over big slick
and Andrew shows he too had some decent hole cards in
.