$1100 Main Event
Day 1a completed
Day 1a of the $1100 Main Event at the WPPT Dollar Poker Festival comes to an end with six players surviving to go ahead to Day 2.
PokerNews India will be back tomorrow evening for the final starting flight Day 1b and all the accompanying action.
Here's the final count of players and their stacks:-
| | | | | | |
| --- | --- | --- | --- | --- | --- |
| Rathveh De Livera | | | | 152,700 | 9,600 |
| Jim Ramchand | | | | 123,800 | -49,800 |
| Ashish Naik | | | | 112,700 | 13,200 |
| Yeswan Aziz | | | | 90,800 | |
| Anu Meddegoda | | | | 85,400 | 19,100 |
| Deepak Bakshani | | | | 32,800 | 11,000 |
As the final level of play comes to an end, we lose 2 players in Ali Tin and Amrit Desoysa.
In the first hand, Ashish Naik raised it up before the flop to 4000 and is called down by Ali Tin. The flop
has Naik putting 7000 chips into the middle effectively putting Tin, who had about 6800 chips, all-in and at risk. Tin makes the call with
for an openended straight draw and Naik turns over
for two pairs. Din fails to hit that straight on the turn
or the river
and that's it for Ali Tin's run in today's Main Event flight.
Minutes later, Amrit Desoysa moved all-in with
and was called by Anu Meddegoda's big slick
. The board
gave Meddegoda an Ace in the window to consolidate his position although Desoysa did have some hope with a gutshot presenting itself on the flop. But no go on the remaining streets and with that we lose Amrit Desoysa from the competition.
Level:

8
Blinds:

800/1,600
Ante:

0
We're headed into the penultimate round of tournament poker action here at the WPPT Dollar Poker Festival. Jim Ramchand continues to remain the chipleader even among the final 8 players that remain on the Day 1a:-
| | | | | | |
| --- | --- | --- | --- | --- | --- |
| Jim Ramchand | | | | 173,600 | 19,600 |
| Rathveh De Livera | | | | 143,100 | 69,000 |
| Ashish Naik | | | | 99,500 | 67,800 |
| Anu Meddegoda | | | | 66,300 | |
| Yasman Aziz | | | | 53,000 | 17,000 |
| Deepak Bakshani | | | | 21,800 | -32,350 |
| Amrit Desoysa | | | | 21,500 | |
| Ali Din | | | | 18,900 | -33,800 |
Level:

7
Blinds:

600/1,200
Ante:

0
Level:

6
Blinds:

500/1,000
Ante:

0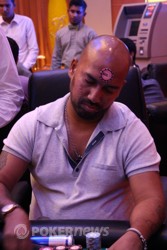 He is all about the action is Maurice Norohna. And this time around the action almost made him pull off what would have been a superb bluff but it eventually wasn't be...
The entire table save one player, limps in to see a flop of
. Norohna bumps it up to 4000 which gets everyone to fold except Rathveh De Livera who reraises it to 10000. Norohna 3-bets it to 21000 and gets a call from Dilwar to see the turn
. Both players check fourth street and the river is
.
With about 50000 behind him, Norohna moves all-in. De Livera goes into the tank for a long time as both players were on similar stacks and a wrong call would virtually end his tournament here tonight. But he eventually does makes a crying call and turns over
to which a disappointed Norohna mucks his hand and gets off the table.
So end of the road for action junkie Maurice Norohna who heads over to the cash tables. We had a chat with Maurice a little while later and it was then that he informed us about his holdings
when he made that monster play on the river.
The action's settled a bit at the tournament table but there are 3 full ring games going in the card room including $10-20 table where more than half the table is sitting pretty deep.
So if you're in the neighbourhood, head on down to Jim's Cardroom at Casino Bellagio for cash and tournament action. Remember the final flight Day 1b is still available tomorrow for players who wish to participate in this Main Event.
Level:

5
Blinds:

400/800
Ante:

0