Event 14: $1,500 No-Limit Hold'em Shootout
Event 14: $1,500 No-Limit Hold'em Shootout
Day 2 completed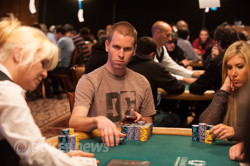 The remaining 120 players came back today to try and repeat what they did yesterday; win a sit 'n' go to advance to the next day. They were spread over 12 tables and it took until midnight for all tables to complete. They will advance to the final day tomorrow where they will play down to a winner.
The final 12 will line up on two tables of six until two players are eliminated. From there they will redraw and face-off against each other, and shootout until one player is left standing. Here's how they will line up tomorrow:
| Table | Seat | Player | Chips |
| --- | --- | --- | --- |
| 447 | 1 | Justin Schwartz | 423,000 |
| 447 | 2 | Dylan Horton | 422,000 |
| 447 | 3 | Jeff Madsen | 431,000 |
| 447 | 4 | Brandon Schaefer | 432,000 |
| 447 | 5 | Jarred Solomon | 426,500 |
| 447 | 6 | Michael Corson | 432,000 |
| | | | |
| 448 | 1 | Zachary Korik | 418,000 |
| 448 | 2 | Layne Flack | 431,000 |
| 448 | 3 | David Chase | 417,000 |
| 448 | 4 | Jon Cohen | 431,000 |
| 448 | 5 | Brandon Steven | 427,000 |
| 448 | 6 | Adam Kagin | 423,000 |
Jeff Madsen turned 27-years old today and it looked as if his birthday present was lost in the post as he lined up at the "Table of Death" along with, and out of position to Lauren Kling, Tom Schneider, David "Doc" Sands, Randal Flowers, Joe Cada, and Ben Jenkins. He ran well and said he played some of the best poker he's ever played to give himself the ideal birthday present.
Madsen's key moment came when he knocked out the very dangerous Sands. Sands had just taken a bad beat to get somewhat short and shoved with
. Madsen looked down and saw pocket pocket aces, called, and took care of Sands.
Other players with high hopes who fell away included: Phil Ivey Erik Seidel, Terrance Chan, Gavin Smith, John Eames, Scott Clements, Davidi Kitai, Melanie Weisner, and Jason Koon.
Once the field has shrunk to 10 players they'll all be shifted from the Amazon room to the Pavillion room where the remaining action will be streamed live on WSOP.com. Play is due to start at 1:00pm local and we implore you to join us as the dynamic of having 12 even stacks will make for exciting viewing.
Zachary Korik has just won his table, eliminating Thomas Fuller. With that all the tables are done for the night.
Michael Corson has just bested his opponent James Van Alstyne, and is one of the lucky twelve playing on tomorrow.
Justin Schwartz will be moving on after his
beat Todd Bogsian's
. After both players got all in preflop the dealer spread a
board. Schwartz hit broadway on the river and now will be advancing to tomorrow.
Brandon Schaefer and Dylan Horton have just won their respective tables after coming back from break.
Matthew Ezrol managed to get all in and called, but things didn't go his way as
couldn't hold against his opponent's
on a
board.
Level:

9
Blinds:

3,000/6,000
Ante:

1,000
Players are on their final break of the night.
Vanessa Peng had a big advantage heading into her heads-up battle with Jon Cohen but could finish of the job. Cohen dug in and ran well when it mattered. It was hard for him to run much better on the final hand.
Cohen opened to 9,000 and faced a Peng three-bet to 19,000. He shipped all-in and Peng called all-in for 125,000.
Peng:

Cohen:
The board ran
to make Cohen quads!