Event 30: $1,500 2-7 Draw Lowball
Event 30: $1,500 2-7 Draw Lowball
Day 2 completed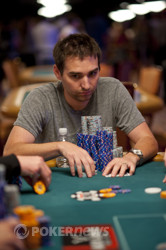 Event 30: $1,500 2-7 Draw Lowball played down to a final table today from the 66 that started at 2:00 PM. The field was star-studded from the off and it'll be no different heading into the final table tomorrow. Brandon Cantu came into today as one of the biggest stacks and ended the day as clear chip leader.
Michael Mizrachi won a huge pot right at the beginning of the day and used his chip prowess to apply pressure all day long, before late slide saw him drop back to third spot. He did set the final table though when he knocked out John Pham in 8th place.
Cantu had a very similar day too, and for a while took over the chip lead from Mizrachi, before it was wrestled back off him. Cantu finished super-strong and regained it in the last hour of play. His aggressive style worked well in this No-Limit format and when he needed hands he found hands, and when he didn't, he drew very well.
Cantu knocked out Bryan Devonshire in 9th, Leo Margets in 22nd, and also Galen Hall in 32nd. Other notable players who cashed included, Stuart Rutter, (10th), Erik Seidel (13th), Jennifer Harman (19th), Scott Fischman (25th), and David Sklansky (33rd).
Those not so lucky to even cash today included Liv Boeree, Michael Binger, Ted Forrest, Bryce Yockey, Michael Watson, Greg Raymer, and Bertrand "ElkY" Grospellier. None was more unlucky than Todd Bryson, the bubble boy. He was one of the many who failed to overcome Cantu in a hand.
Play resumes at 2:00 PM tomorrow on the secondary feature table in the Pavilion room. Here's how the final seven players players will line up tomorrow:
| Seat | Player | Chip Count |
| --- | --- | --- |
| 1 | Erick Lindgren | 185,600 |
| 2 | Ryan Tepen | 51,100 |
| 3 | Rep Porter | 233,400 |
| 4 | Brandon Cantu | 336,100 |
| 5 | Michael Mizrachi | 206,800 |
| 6 | Andrew Lichtenberger | 161,100 |
| 7 | Larry Wright | 116,200 |
The PokerNews team be on hand all day and the live stream will also be available for your viewing pleasure on WSOP.com.
| | | | | | |
| --- | --- | --- | --- | --- | --- |
| Brandon Cantu | | | | 336,100 | 26,100 |
| Rep Porter | | | | 233,400 | 8,400 |
| Michael Mizrachi | | | | 206,800 | 6,800 |
| Erick Lindgren | | | | 185,600 | 22,600 |
| Andrew Lichtenberger | | | | 161,100 | 1,100 |
| Larry Wright | | | | 116,200 | -9,800 |
| Ryan Tepen | | | | 51,100 | -3,900 |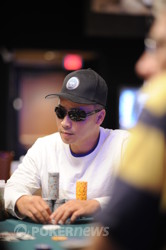 From the hijack John Phan just moved all in for his final 24,800 chips, and he got called by Michael Mizrachi who was on the button. Larry Wright tanked for quite some time from the big blind, but eventually he folded his cards.
Phan took one card and Mizrachi stood pat.
| | |
| --- | --- |
| Michael Mizrachi | |
| John Phan | |
Phan needed a ten, nine, six, five or four in order to stay alive, but he turned over de
ending his run in eight place. Phan will get $7,748 for his efforts as we have reached the final table!
Level:

16
Blinds:

1,500/3,000
Ante:

700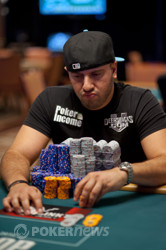 Michael Mizrachi is not sitting still on the final table bubble, he just played another interesting hand and this time Andrew Lichtenberger was his opponent.
Mizrachi raised to 5,000 from the hijack, and he got three-bet to 16,000 by Lichtenberger who was in the cutoff. The action got folded back to Mizrachi who called.
Mizrachi took one card and Lichtenberger stood pat.
"Forty-thousand," Mizrachi announced as he slid out four stacks of purple 500 chips.
Lichtenberger went in the tank for quite some time before folding to this big bet. Mizrachi got some chips back, but he's still down a lot compared to what he had an hour ago.
Michael Mizrachi won a small three-way pot before he lost a bigger one to Brandon Cantu.
Cantu opened to 5,000 from the hijack and called when Mizrachi three-bet to 15,000 from the cut-off. Both stood pat before Cantu calmly check-called a 30,000 bet from Mizrachi.
Cantu opened
and Mizrachi mucked.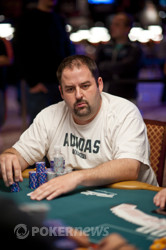 On the first hand on the last table Michael Mizrachi started off by raising it up to 5,000. Andrew Lichtenberger called as did Rep Porter from the big blind.
All players drew one cards.
Porter checked to Mizrachi who bet 16,000 and Lichtenberger folded. Porter counted out a raise and threw in 31,000 total, which put the pressure on Mizrachi. He didn't waste much time before making the call.
Porter turned over
and took down this big pot.
A few hands later it was Porter who raised from the hijack, and Mizrachi decided to three-bet to 16,200 from the small blind. Porter called.
Mizrachi stood pat and Porter took one card.
On the second and final round of betting Mizrachi put out 20,000, and Porter made the call.
Porter showed
and won another serious pot of Mizrachi. He's now second in chips behind Brandon Cantu.
There was a lot of debate about whether or not players should play on two four-handed tables, or one eight-handed. It was decided that they'd play on one table but with one player sitting out each hand, so as to keep it seven players per hand.
This is how they line up:
| | |
| --- | --- |
| Seat | Player |
| 1 | Erick Lindgren |
| 2 | Ryan Tepen |
| 3 | Rep Porter |
| 4 | John Phan |
| 5 | Brandon Cantu |
| 6 | Michael Mizrachi |
| 7 | Andrew Lichtenberger |
| 8 | Larry Wright |
This table draw is how they will line up tomorrow, minus the person who finishes eighth of course.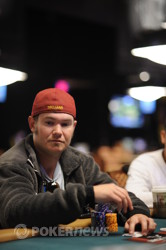 As we were writing up Stuart Rutter's bustout there was also plenty of action going on just a couple of feet away from us.
Apparently Bryan Devonshire had got himself all in against Brandon Cantu who added some more chips to his stack. "It was a smooth hand," Cantu declared afterwards and unfortunately that were all the details we could get. Luckily for all of us Devonshire Tweeted shortly after his bustout.
devopoker Bryan Devonshire I bust 9th place for $5955. Sigh. Folded to Cantu in SB, he raise, I shove 43k in BB, he calls, 1:2, he makes a 9, I make a K. #wsop30 June 16 2012
We are now down to just eight players and there will be a redraw.