Event #5: $2,500 Omaha/Seven-Card Stud Hi-Low 8-or-Better
Event #5: $2,500 Omaha/Seven-Card Stud Hi-Low 8-or-Better
Day 2 completed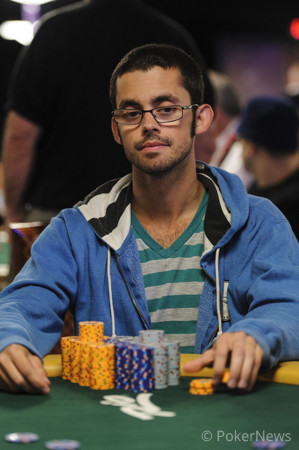 Day 2 of Event #5 $2,500 Omaha/Seven-Card Stud Hi-Low 8-or-better had one of the most stacked fields you will see for this low a buy-in, and after ten levels of play today, we still have a handful of well-known pros. With 19 players coming back tomorrow, our chip leader at the end of the night is Mike Gorodinsky, bagging up an impressive 330,500 chips. However, Kristopher Tong is nipping at his heels with 319,500.
With 173 players coming back today, and only 40 of them making the money, there were going to be a ton of disappointed players. Some of the players who fell under this category included David "ODB" Baker, Brian Rast, Brian Hastings, Chad Brown, Eli Elezra, Jennifer Harmen, Allen Kessler, Scott Clements, Robert Mizrachi, and Norman Chad, just to name a few.
Once the money bubble burst, we also lost Blair Rodman (35th), Max Pescatori (32nd), Matt Glantz (29th), Amnon Filippi (28th), Tom Schneider (27th), Kevin MacPhee (25th), Chris Bjorin (23rd), and Jeremy Ausmus (20th), who busted in one of the final hands of the night.
Despite losing all of these fine pros, we still have a few faces that are familiar to the masses who are trying to chase this bracelet. Amongst them is George Danzer (187,500), who is looking to make the final table of this event in back-to-back years, after finishing runner up in this event last year. Another player who is familiar with final tabling this event is Owais Ahmed (121,000), who won this event in 2011, beating Michael Mizrachi heads up for the bracelet.
In addition to these two pros, we also have that guy Daniel Negreanu you might have heard of. He's still in contention for his sixth gold bracelet, and will be coming into tomorrow with 106,500. Mike Matusow is also still alive, and he will be pursing his fourth bracelet, but he will have his work cut out for him, coming back with a short stack of 57,500. Rounding out the notables still alive are David Levi (61,500), Julie Schneider (61,000), Ralph Perry (50,500), and David "Bakes" Baker (41,500).
Well tomorrow figures to be a very exciting day with so many big names still in contention for the title. As always, Pokernews.com will be here with all of your live updates. Play will kick off at 2 PM local time, so be sure to tune in then. Until then, so long from Las Vegas!
| | | | | | |
| --- | --- | --- | --- | --- | --- |
| Mike Gorodinsky | | | | 330,500 | |
| Kristopher Tong | | | | 319,500 | |
| Dustin Leary | | | | 254,000 | |
| Alexander Lakhov | | | | 218,000 | |
| George Danzer | | | | 187,500 | |
| Roman Verenko | | | | 158,500 | |
| Mack Lee | | | | 150,000 | |
| Andrew Kelsall | | | | 147,500 | |
| Matthew Ashton | | | | 147,000 | |
| Randall Pace | | | | 136,500 | |
| James Van Alstyne | | | | 128,000 | |
| George Fotiadis | | | | 125,000 | |
| Owais Ahmed | | | | 121,000 | |
| Daniel Negreanu | | | | 106,500 | |
| David Levi | | | | 61,500 | |
| Julie Schneider | | | | 61,000 | |
| Mike Matusow | | | | 57,500 | |
| Ralph Perry | | | | 50,500 | |
| David "Bakes" Baker | | | | 41,500 | |
Stud-8
David Baker:
(third through sixth street)
Alexander Lakhov:
(third through sixth street)
Lakhov defended his
bring-in after Baker's complete. Baker check-called bets on fourth and fifth before Lakhov took the lead on sixth. Lakhov opted to check, leading to a Baker bet. Lakhov check-raised and Baker called, doing so again so seventh street.
Lakhov showed down cards of
for a six-high straight and 6-5-4-3-2 low, scooping the pot.
Two hands later, though, Baker doubled up.
Baker:
(third through sixth street)
Lakhov :
(third through sixth street)
Baker was all in on fourth street and his starting cards were
for a pair of queens. Lakhov held
for a flush draw and pair of nines, catching the
on seventh to make two pair. Baker turned over his seventh street, the
, to make kings and queens to double up to about 42,000.
We missed the hand, but last year's Main Event 5th Place finisher Jeremy Ausmus busted in one of the last hands of the night to Owais Ahmed.
Omaha-8
Alexander Lakhov raised from the cutoff and Chris Bjorin three-bet from the button. Lakhov called and the flop fell
.
Lakhov checked to Bjorin who bet, but he was was quickly met with a check-raise. Bjorin called, then called another bet after the
turn.
The
river fell and Lakhov bet again, resulting in Bjorin calling all in for his last 4,000.
Lakhov tabled
for a flush with the nut low, besting Bjorin's holdings to score the elimination.
Stud-8
Danzer:
/
/

MacPhee:
/
/

Negreanu:
/
/
We caught up with the action on fourth street, and saw Danzer bet and get called by Daniel Negreanu and Kevin MacPhee. The same thing happened on fifth street, but on sixth, MacPhee raised all in after Danzer bet. Negreanu tanked for about 30 seconds before relutantly folding, and Danzer calling, saying "I'm drawing well."
MacPhee showed the
in the hole for a straight and eight low, while Danzer held
for a made seven low and a flush draw. Danzer got his last card, and rather then sweating it, elected to immediately flip it up:
. That left MacPhee drawing dead, and he was the last person eliminated before the final three table redraw.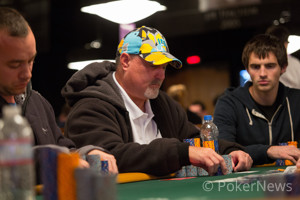 Omaha-8
With the board reading
, Tom Schneider had 5,000 left and folded to his opponent's bet, showing
for a wheel and low draw that bricked.
The following hand, he got his remaining chips into the middle against Randall Pace and Matthew Ashton. The board ran out
and Ashton tabled
for an 8-7-5-3-A low. Pace showed
for a nine-high straight and Schneider took a final look at his hand before he mucked.
Level:

18
Limits:

5,000/10,000
Ante:

0
| | | | | | |
| --- | --- | --- | --- | --- | --- |
| Mike Gorodinsky | | | | 312,000 | 97,000 |
| Matthew Ashton | | | | 170,000 | 65,000 |
| James Van Alstyne | | | | 145,000 | 102,700 |
| Dustin Leary | | | | 142,000 | -13,000 |
| Alexander Lakhov | | | | 127,000 | 52,000 |
| Mike Matusow | | | | 121,000 | -4,000 |
| Jeremy Ausmus | | | | 120,000 | -15,000 |
| Daniel Negreanu | | | | 111,000 | -19,000 |
| Kevin MacPhee | | | | 100,000 | 7,000 |
| George Danzer | | | | 85,000 | 15,000 |
| Ralph Perry | | | | 75,000 | 3,000 |
| Julie Schneider | | | | 66,000 | -1,000 |
| David "Bakes" Baker | | | | 65,000 | 52,800 |
| Owais Ahmed | | | | 46,000 | -55,000 |
| David Levi | | | | 46,000 | 6,000 |
| Chris Bjorin | | | | 35,000 | -55,000 |
| Zimnan Ziyard | | | | 28,000 | -12,000 |
| Tom Schneider | | | | 22,000 | 7,000 |